By Julian Murdoch
President Obama made the overhaul of the nation's electrical infrastructure a vocal part of his 2008 campaign. In an interview with MSNBC's Rachel Maddow just days before the election, he outlined his promise of involvement:
"One of, I think, the most important infrastructure projects that we need is a whole new electricity grid. Because if we're going to be serious about renewable energy, I want to be able to get wind power from North Dakota to population centers, like Chicago. And we're going to have to have a smart grid. If we want to use plug-in hybrids, then we want to be able to have ordinary consumers sell back the electricity that's generated from those car batteries, back into the grid. That can create 5 million new jobs, just in new energy.

But, it's huge projects that, generally speaking, you're not going to have private enterprise would want to take all those risks. And we're going to have to be involved in that process."
Last week, the administration finally made good on its promises, announcing an award of $3.4 billion in grant money to 100 cities, utilities, equipment makers, systems developers and other organizations around the country (out of 390 applications). The grants were awarded in six different project areas: advanced metering infrastructure, customer systems, electric distribution systems, electric transmission systems, equipment manufacturing and integrated and/or crosscutting systems.
Ranging in size from just under $400,000 to $200 million, each grant represents only a fraction of the proposal's estimated cost. But in every case, there are matching resource commitments from other sources, bringing the actual fully funded investment from the program to over $8 billion.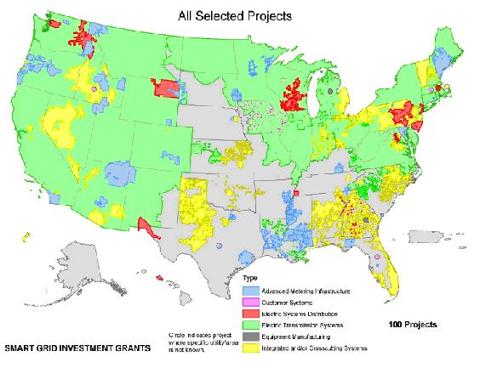 Source: U.S. Department of Energy
The projects are all over the map—both literally and figuratively. Rather than a government handout to a few obvious, entrenched players, the funding will be sprinkled across multicompany collaborations and private/public partnerships.
In particular, the money will buy millions of smart electric meters at a hodgepodge of utilities, pushing new tech into the field and even newer tech out of the lab and into commercial testing. Some awards even fund security research on how to prevent terrorist attacks on this new smart grid.
With all of these new projects starting, what's it mean for commodity investors?
Smart Grid's Ripple Effect On Demand
For commodity investors, the development of a smart grid in the U.S. is all about ripple effects. The Electric Power Research Institute has estimated that smart grid technology will allow consumers to reduce electricity demand by 4 percent by 2030—which will mean less demand for coal and natural gas for electricity production.
In fact, if smart grid technology delivers as theorized, demand for natural gas could decrease disproportionately to that for coal, since natural gas is the go-to fuel used to create additional electricity during summer's peak use times. A smart grid, however, would smooth out these peaks by changing consumer behavior, through better data and higher fees for usage during these times; this, in turn, would lower demand for natural gas as a result.
But let's be realistic: While globally important, a theoretical 4 percent reduction in demand over 20 years isn't going to make a tremendous difference in the price of natural gas at the Henry Hub in Erath, La., next week.
Playing The Smart Grid: Stocks Vs. ETFs
The traditional, obvious way to play "big news" like this would be to run through the winners list (or you can cut to the chase and read through Jeff St. John's excellent recap of the investable winners at Greentech). The list is a who's who of utilities and tech providers: Southern Company (NYSE: SO), Centerpoint Energy (NYSE: CNP), FPL Group (NYSE: FPL), Exelon (NYSE: EXC) and so on.
But it's also a long list, and given the collaborative nature of most of the projects, trying to "chase the list" and determine which company will benefit out of proportion to the others seems like a bit of a mug's game. There are, however, ways to make the play without the guesswork and legwork: ETFs.
Unfortunately, though, there are no pure plays. The ETF most often cited when mentioning smart grid technology is the PowerShares Cleantech Portfolio (NYSE Arca: PZD), which holds 77 companies, ranging from giant industrials to small biofuels firms. PowerShares' other related "green" ETFs, like the PowerShares WilderHill Clean Energy ETF (NYSE Arca: PBW), suffer from similar dilution issues.
Another option is to focus on individual sectors, such as alternative energy producers or utilities. For example, playing an alternative energy fund like the Market Vectors Global Alternative Energy ETF (NYSE Arca: GEX) gets you access to the major wind, solar, hydro and energy-efficiency players all at once. Or you could invest in a utilities ETF like the Vanguard Utilities ETF (NYSE Arca: VPU), which holds several of the big winners from last week's announcements.
Chasing The List?
All that said, I'm reluctant to suggest chasing government funding. While the long-term success of the smart grid will indeed have real, positive impact on the global economy, the short-term impacts on individual companies and commodities is unpredictable. For example, the announcement of a $200 million grant to PECO did nothing for parent company Exelon's stock last week, which remained depressed from a mediocre third-quarter earnings report.
For the most part, the smart grid will be implemented by behemoths in the utilities space, which are bought and sold for their traditional, income-heavy businesses. Yes, there will be some smaller, scrappier winners (and losers), just as there are in every industry. But betting just based on who got a grant? I'd rather stick to my indexes.