By Ramsey Su
Let's stop kidding ourselves. Let's not waste time on worthless indicators like job creation, household formation, pent up demand, housing starts, or new and existing home sales. We have entered an era in which all that matters are public policies and there is nothing more influential than the Federal Reserve's policies.
We know now that QE3 has been extended to eternity. What are the true ramifications?
During the first 50 weeks of QE3, the Fed has purchased $822.4 billion of agency MBS. At the announced $40b per month, the Fed should only have purchased only $460 billion. Where did the extra $362 billion come from? They are re-investments of purchases from previous QE iterations that are being pre-paid. Instead of letting the bonds mature and roll off the Federal Reserve's balance sheet, the funds are deployed for repurchases. The current QE3, therefore, is a combination of the $40b/month and an indefinite continuation of previous QEs.
Putting it in perspective, how big is the current QE? The following excellent table is from the latest quarterly report by Freddie Mac. For the first two quarters of 2013, Freddie Mac (OTCQB:FMCC) purchased or issued $65 billion in "relief refinances (such as HARP)", $146 billion in normal refinances and $51 billion in new purchase loans, totaling $262 billion. During the same period, the Fed purchased $421.1 billion of agency MBS. In other words, for the first six months of this year, the Feds purchased 100% of what Freddie originated and still had $159.1 billion to spare.
For the entire period after the original QE operation in late 2008, Freddie Mac has only originated $370 billion purchase loans per annum. The Fed has gobbled up the equivalent in the first six months of this year and still has $51.1 billion to spare.
---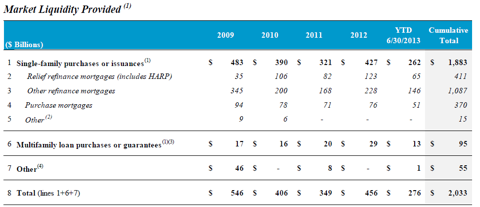 Click to enlarge
(Click to enlarge)
Freddie Mac mortgage purchases.
---
Refi-madness is an epidemic caused by the Fed that has received little attention. Look at this chart from Freddie Mac.
---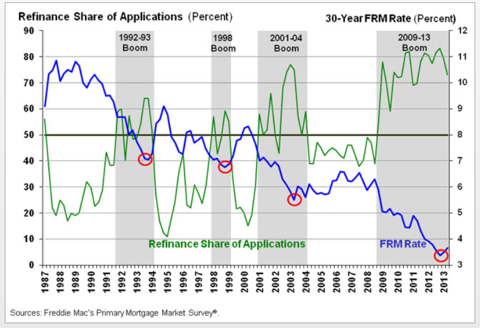 Click to enlarge
(Click to enlarge)
Freddie Mac: refinance share of applications vs. 30 year fixed mortgage rate.
---
The refinance boom triggered by QE 3 is unmatched. Ten years ago, there was the sub-prime refinance boom. That boom was driven by the housing bubble, resulting in borrowers taking out mortgages far beyond the value of their home. The mortgage equity withdrawal, a.k.a. the housing ATM, temporarily bought Greenspan the title "Maestro" until the world realized the chairman had no clothes. The sub-prime refinance boom gave the world hedonistic pleasures in consumption, using vapor money created by Fed policies.
This refi boom is a long term housing subsidy, locking in an artificially low rates. Many of these refinances have resulted in sub-4% mortgage rates. Millions of loans had their monthly payments reduced, some substantially, yet there is very little to show for it in the economy. Consumers are still struggling to repair the household balance sheets that Fed policies destroyed.
Going forward, this wave of refi-madness has created a dis-incentive to sell.
To understand the ineffectiveness of the current QE operation, take a look at this interactive interest rate chart from Mortgage News Daily.
---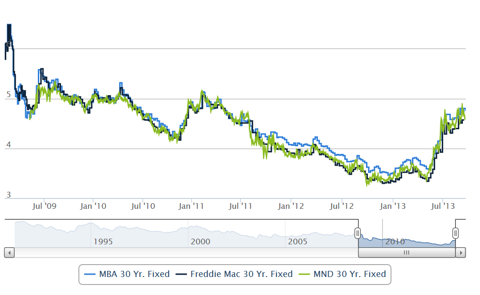 Click to enlarge
(Click to enlarge)
30 year fixed mortgage rates by Mortgage News Daily.
---
On the far left of the chart above, the 30 year mortgage rate was at 6.5% when QE1 was launched during November of 2008. The Fed purchased $600 billion of MBS and rates dropped. As rates started to head up during the last quarter of 2010, the Fed launched QE2, which consisted of the purchasing of $600 billion of long term government debt. Both QE1 and 2 were successful in driving mortgage rates down.
Once again, rates started heading up in August of 2012. In response, the Fed decided to just buy $40 billion of MBS every month indefinitely. This time, the 30 year rate hit rock bottom and thereafter no longer responded to Fed action. In fact, on the one year anniversary of QE3, mortgage rates have risen over 100 basis points. To think that the "no taper" decision is enough to drive rates back down may be overly optimistic. Even if rates were to drop below 4% again, there will be little stimulating effect. It would still be above the lowest rate achieved during the latter part of 2012.
Then there is the question of supply of agency MBS. The refinance business has tumbled since mortgage rates started to climb. All the older applications with locked in rates have been completed, or have expired. HARP refinances will soon run out of eligible applicants. As for purchases, Freddie Mac only originated $51 billion of purchase loans during the first six months of 2013, when rates were low. The Fed can gobble that up in just over a month.
Compounding the problem are the agency reforms in process. CFPB is about done with its QM guideline. QM, or Qualified Mortgage, is nothing more than a massive bureaucratic way of redefining agency conforming guidelines. If you are thinking of a career in the mortgage lending business, read the CFPB rules first. While they do nothing to protect the consumer, they will certainly restrict agency loans while the industry tries to understand the rules. The agencies, Freddie, Fannie (OTCQB:FNMA) and FHA are all talking reform at the moment. We know FHA is basically a sub-prime product that will never meet CFPB's QM guidelines. If the Corker-Warner bill (pdf) is adopted, the role of Freddie and Fannie would greatly diminish, reducing the MBS pipeline to a trickle. Where is the Fed going to find $40b of agency MBS to buy every month?
In conclusion, we are at the tail end of a mini housing bubble. The bubble was small but it was very costly in terms of accommodating policies. As a result, QE operations are no longer a short term stimulus but an integral part of the real estate market and in total control of real estate financing. Consumers have adjusted to living with lower rates and now consider it the norm. The addicts are now used to the dosage and no longer getting high. They need another boost. Not tapering QE3 is likely to be insufficient to keep rates low. Any Fed exit would trigger an immediate collapse of the real estate financing market. I eagerly await the new ideas from the next Fed chairman.
Charts by: Freddie Mac, Daily Mortgage News