What a way to start the week! Northern Tier Energy (NYSE:NTI) has probably been my weakest performing energy related stock YTD. The company has been seeing worsening trends, specifically a narrowing of crack spreads and increased prices for Bakken and Canadian sourced crude. This has caused the stock to significantly decline in value, dropping nearly 35% since its March highs. However, almost to add insult to injury, Northern Tier Energy very recently reported a fire at its Minnesota refinery. This may be a major event for the stock, as this refinery is Northern Tier Energy's primary asset.
Northern Tier Energy experiences a fire at its Minnesota Refinery
Late Sunday, Northern Tier Energy announced that it had experienced a fire in one of its crude oil units at its St. Paul Park, MN refinery. This fire took place at around 11:30 am Central Time and was completely extinguished by 2:16 pm Central Time. Thankfully, no injuries were reported. Do note that a local news report mentioned that air leak may have ignited the fire. The company noted in its press release that it will be providing an update after more information has been gathered.
Needless to say, this fire appears to be a major negative event for Northern Tier Energy. The St. Paul Park refinery accounts for the VAST majority of Northern Tier Energy profits, with it being the company's only refinery. YTD, this refinery has accounted for about 94% of Northern Tier Energy's operating income.
In my previous article on Northern Tier Energy, I noted that the stock carried outsized risks. However, I was initially more concerned about crack spreads and environmental issues than operational issues.
This fire may lead to future reduced throughput and additional unplanned maintenance. This is unfortunate for Northern Tier Energy as the company recently completed a large plant turnaround, which significantly reduced profits during Q2 2013, but increased facility capacity by around 10%.
Do note that Northern Tier Energy does have insurance which covers property damage and businesses interruptions on the refinery. We still do not know how badly the refinery was damaged or how the fire may impact throughput. While we wait for a more detailed update from the company, this insurance should protect the company in terms of the more severe downside scenarios.
Crack Spread Update and Q3 2013 Outlook
As many know, crack spreads have declined significantly in recent months. This has been caused by increases in WTI based crude prices while Brent based crude prices have flatlined. Northern Tier Energy is somewhat protected from these changes as it sources crude from Canada and the Bakken, sources that have typically traded at discounts to WTI. AS of Q2 2013, Northern Tier Energy's feedstock was about evenly split between Canadian (and other International sources) and domestic sources.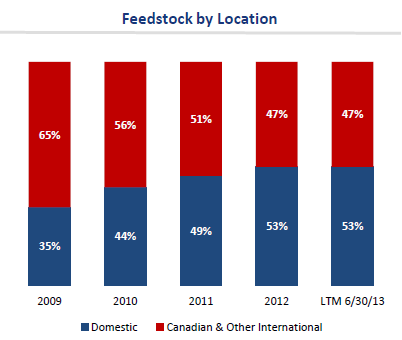 However, lower crack spreads will most likely negatively impact Northern Tier Energy's Q3 2013 results. While the company was able to increase throughput due to its recent turnaround, the recent fire will probably mute any volume gains.
Conclusion
As an investor in Northern Tier Energy, I am eagerly awaiting its update regarding the fire. I would like to see how much throughput will decline in Q3 2013 and if any maintenance will be required. I would also like to see how this fire will impact Q4 2013. Also, this may be a good time for Northern Tier Energy to provide guidance for its Q3 and Q4 2013 distributions.
I think the old adage "when it rains, it pours" currently defines Northern Tier Energy. Lower crack spreads had already decimated the stock. Hopefully, this fire does not point towards operational issues.
Disclaimer: The opinions in this article are for informational purposes only and should not be construed as a recommendation to buy or sell the stocks mentioned. Please do your own due diligence before making any investment decision.
Disclosure: I am long NTI. I wrote this article myself, and it expresses my own opinions. I am not receiving compensation for it (other than from Seeking Alpha). I have no business relationship with any company whose stock is mentioned in this article.