In August 2012, the FDA approved Teva's (NASDAQ:TEVA) Neutroval (tbo-filgrastim). The approval, which was based on a full Biologic License Application (BLA) rather than under the FDA's new biosimilar approval pathway, would allow Teva to compete directly with Amgen's (NASDAQ:AMGN) US filgrastim franchise, worth $4.2 billion at the end of 2012.
However, due to a court ruling related to Amgen's filgrastim patents, Teva may not start selling its product in the US until the 10th of November 2013, in just six weeks' time.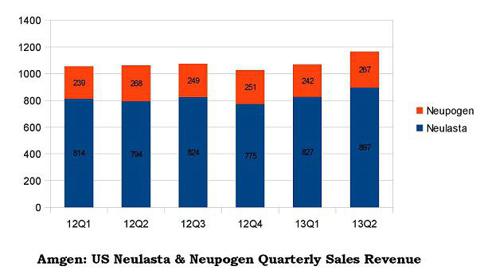 Filgrastim stimulates the production of neutrophils, a type of white blood cells important in the body's fight against infection. One treatment option for individuals with certain types of cancers is myelosuppressive chemotherapy which targets rapidly dividing tumor cells. Since rapidly dividing normal cells, such as bone marrow precursor neutrophils are also vulnerable to the cytotoxic effects of myelosuppressive chemotherapy, lower numbers of neutrophils are produced, a condition called neutropenia, which increases the risk of severe infection.
Amgen launched filgrastim, under the Neupogen brand, in 1991 to decrease the incidence of infection, as manifested by febrile neutropenia in patients with nonmyeloid malignancies receiving myelosuppressive anti-cancer drugs associated with a clinically significant incidence of febrile neutropenia.
Since Amgen's principal European patent related to filgrastim was due to expire in August 2006, the company launched a long acting formulation, a pegylated filgrastim (pegfilgrastim), under the brand name Neulasta in 2002. The move, part of Amgen's product lifecycle management strategy, resulted in Neulasta replacing Neupogen in major treatment centers.
Amgen's US patent for Neupogen expires in December 2013. Although Neulasta's patent does not expire until December 2015, the launch of generic competition could adversely affect sales of both brands.
The recommended dosage of Neulasta is a single subcutaneous injection of 6 milligrams administered once per chemotherapy cycle, so dosing is very convenient. However, average price for a single dose is $3,600.
In the 1st half of 2013, Amgen's US filgrastim franchise generated $2.2 billion. Neulasta, which increased its revenue in Q2 by 8%, sequentially, represented over 77% of the franchise.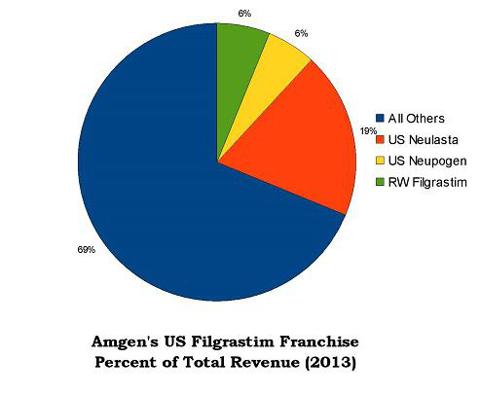 In mid-2013, Amgen's US filgrastim franchise accounted for 25% of total revenue. International sales accounted for just 6% of total. Amgen does not market the product in Japan where Japanese Kyowa Hakko Kirin holds the license for the local market.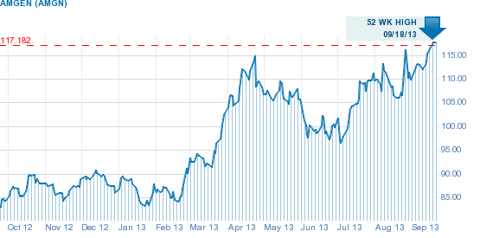 | Company | P/E | P/S | Mkt Cap |
| --- | --- | --- | --- |
| Amgen | 19.7 | 5.1 | $88 B |
| Teva | 78.4 | 1.8 | $31.9 B |
Year to date, Amgen's shares have gained 36% and ended last week highest for the year. At its Q2 conference call, Amgen's management announced that they expect 2013 full-year revenue to be at the upper end of their earlier guidance of $17.8 billion to $18.2 billion. They also raised their guidance on adjusted earnings per share to a range of $7.30 to $7.45 and dismissed any serious impact from a generic launch.
We tend to agree that Teva's filgrastim launch will have minimal impact on Amgen's 2013 revenue and earnings. Being a newly approved product, rather than a generic, it will have to establish itself as a separate independent new entity and develop a track record of efficacy and safety. It also has cost Teva dearly to get approved, so we do not expect initial pricing strategies to be overly aggressive. Teva is a rational player and a price war would hurt all players equally.
Other companies with short-acting filgrastim molecules near commercialization include Celgene (NASDAQ:CELG), Hospira (NYSE:HSP), Merck (NYSE:MRK) and Novartis (NYSE:NVS). However, non of these products have been FDA approved yet, so we do not expect any of them to launch before the end of the year.
Teva is a serious player in the international biosimilars market and is bound to capture precious market share from Amgen, which has been the only company marketing filgrastim in the US for over two decades. Teva also has two long acting filgrastim formulations in late stage development, Lipegfilgrastim and Balugrastim.
Disclosure: I have no positions in any stocks mentioned, and no plans to initiate any positions within the next 72 hours. I wrote this article myself, and it expresses my own opinions. I am not receiving compensation for it (other than from Seeking Alpha). I have no business relationship with any company whose stock is mentioned in this article.