This morning, Berkshire Hathaway (NYSE:BRK.A) announced the acquisition of railroad Burlington Northern Santa Fe (BNI) for a transaction value of $44 billion and an equity value of $100 per share in cash and stock. Read the public announcement (pdf) and coverage by Bloomberg and Reuters.
Profile of Burlington Northern Santa Fe (BNI)
Burlington Northern provides freight rail transportation of coal and consumer, industrial and agricultural products.
Primary Routes*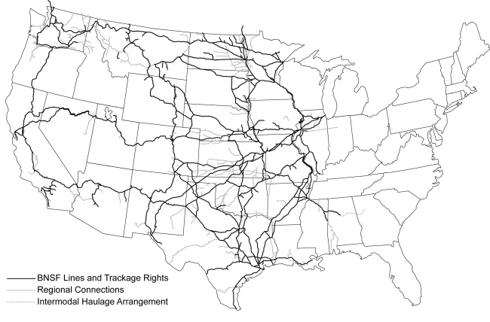 * Includes trackage rights. Source: Company.

Business Highlights
One of North America's largest rail networks, with 32,000 route miles in 28 states and Canada.
Balanced revenue base, with four major sources of freight revenue: intermodal, industrial products, coal, and agricultural products.
Competitive advantage versus trucking. The company's intermodal transport lags the delivery time of trucking slightly but offers big cost savings.
Strong intermodal franchise, with one-third of revenue from consumer products transportation, which interfaces with other types of transportation.
Balanced agri business, with 26% and 8% of segment sales from corn and ethanol, respectively.
May benefit from higher infrastructure spending under Obama, particularly in industrial products.
Business Risks
Industrial franchise exposed to housing slump, as 26% and 37% of segment revenue comes from building and construction products, respectively.
Nearly one-half of consumer products revenue relates to imports, exposing the company to a decline in Americans' appetite for imports.
Affected by coal market dynamics. Declines in coal shipments hurt BNI. Coal is expected to remain strategic to U.S. electric power generation. The EIA expects coal supply to increase one-third from 2007 to 2030 to more than 1.5 billion tons.
Major Holders
Insiders 1% │ Berkshire Hathaway 23% │ Cap Re 7% │ Barclays 3% │ State Street 3% │ Vanguard 3%
Key Operating Metrics, 2006-2008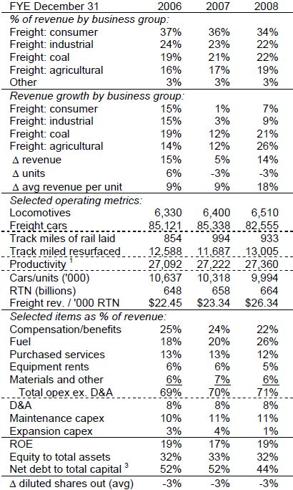 1 Calculated as thousand gross ton miles divided by avg number of employees.
2 RTN = revenue ton miles.
3 Net debt to capital, adjusted for long-term operating leases and other items.

Access Burlington Northern Santa Fe's latest investor presentation here (powerpoint).
Disclosure: No positions.