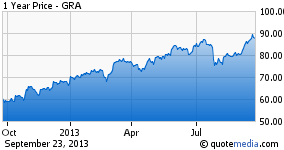 W.R. Grace (NYSE:GRA) is a specialty chemicals company, best known for its catalysts, which are used to convert oil into transportation fuels. The company has been a solid performer this year with its stock price up 20%. Going forward as well, Grace has several catalysts that can improve revenue and keep its momentum intact.
The company released its quarterly results in Jul-2013, which were mixed as it missed on revenue, but exceeded estimates on earnings. The increase in net income wasn't very exciting but, if you're a stockholder, you shouldn't be worried. Let's see why you should hold on to Grace, but before that, let's take a look at its recent quarterly performance.
A brief look at the quarter
The company's revenue came in at $802 million, an increase of 2.9% from last year, while net income improved a decent 19.5% to $83 million. This translated into EPS of $1.12, which was $0.22 higher than the consensus estimates. Pricing actions and a 2% increase in revenue from the Materials Technology segment also had a positive impact on the bottom line.
Grace's revenue missed consensus estimates, primarily because of the under-performance of the company's core business -- Catalysts Technologies. Sales in this segment fell a considerable 11% to $291 million, predominantly because of lower pricing and volumes.
Positive catalysts
Even though W.R. Grace's performance in the reported quarter was not striking, I expect the company to yield good returns in the future as it has good prospects and is making smart acquisitions.
Grace bought a Belgian water proofing company as a part of its ongoing acquisition strategy for expansion. As a result of this, increased penetration of its high-value water proofing products, which are already adding to both revenue and profits, is expected to reap fruit in the future.
The company is also planning to introduce seven new catalysts and additives in the Catalysts Technologies segment over the next two quarters, which would specifically target the unique performance requirements of the customers. These products would enable Grace to recover sales volume lost due to price revision in FCC Catalysts.
In addition to that, Grace also expects the FCC Catalyst capacity to tighten in 2014, primarily because of new refinery start-ups, and the increased need of propylene for petrochemical feedstock. It envisages that industry utilization will be above 90% next year and expects it to be a key driver of improved industry dynamics in 2014.
Apart from that, the Silica Sol production capacity at Lake Charles will be closed in third quarter this year. As a result, production costs would be down by $2 million per year on a continuing basis.
All said and done, the company would fall short of its 2014 earnings target of $850 million, which it set for itself two years ago, by $40 million due to weaker global macroeconomic environment and also because of lower sales in the FCC catalyst segment.
Competitors
The company competes with Albemarle (NYSE:ALB) and Chevron (NYSE:CVX) and a few other niche companies.
Albemarle, in its recent quarterly results, saw a drop in its margins and fell short of consensus estimates yet again. Albemarle has been trying to instill confidence in investors by buying back shares and hiking prices of catalysts, but these initiatives are yet to show any significant benefits.
Saudi Organ-metallic Chemicals Company (OTCPK:SOCC), a joint venture of Albemarle and Saudi Specialty Chemicals, recently set up a plant for the production of tri-ethyl aluminum (TEA) and the plant is anticipated to produce 6,000 tons of TEA every year. Even though Albemarle owns 50% of this venture, the company might face weakness due to a sluggish European economy and face trouble increasing its margins.
Chevron, on the other hand, has a diversified business. With a market cap of $237 billion, Chevron is unquestionably a bigger company than Grace. However, Chevron's chemical business is not big enough to test Grace's resilience. Chevron's under-performance in the chemical business reduced its earnings by $110 million. The margins plummeted primarily because of lower ethylene margins.
For the future, Chevron is planning to make up for this deficit and the company is planning to expand its ethylene production to do so. Apart from this, the company has no further plans to expand its chemical business.
Final words
The quarterly performance wasn't sensational, but as the company continues to grow both organically and through acquisitions, the outlook just keeps getting better. Analysts have estimated a growth of 16% in the next year, which means that a significant enhancement of its margins in the future is highly probable.
Disclosure: I have no positions in any stocks mentioned, and no plans to initiate any positions within the next 72 hours. I wrote this article myself, and it expresses my own opinions. I am not receiving compensation for it (other than from Seeking Alpha). I have no business relationship with any company whose stock is mentioned in this article.