BlackBerry (BBRY) is scheduled to release its second quarterly report for fiscal 2014 on September 27, 2013. On September 20, 2013, one week before this report, BlackBerry management warned shareholders that business has been performing at levels well short of expectations. BlackBerry executives projected quarterly losses of roughly $1 billion upon a mere $1.6 billion in revenue. According to recent surveys out of Thomson Reuters, however, analysts had been expecting total quarterly BlackBerry net sales above $3 billion. BlackBerry Z10 handset inventory write-downs totaling nearly $1 billion are at the focal point of this latest earnings collapse. As somewhat of an aside, BlackBerry will promptly terminate 4,500 employees, or 40% of its current work force. The company has also assumed a $72 million charge, due to this latest round of restructuring.
Wall Street was not pleased. Trading was halted and after the smoke cleared, BlackBerry closed out the September 20, 2013 trading session at $8.73, after taking a $1.80, or 17%, loss in value. At its core, this latest communication confirmed that the BlackBerry business model and brand have been dying throughout the past year. Legions of bulls, who originally refused to acknowledge the writing on the wall, got spanked and abandoned ship. The smart money, of course, telegraphed last March that initial BlackBerry 10 sales estimates were a literal joke. BlackBerry 10 has failed to re-establish creditability for this felled giant within the mobile space. As such, investors should resign themselves to the idea that BlackBerry is no legitimate takeover target. BlackBerry is a strong sell.
BlackBerry Technicals and Speculators
On June 19, 2008, BlackBerry stock established an all-time high at $148.13 per share. Wall Street had then set an $85 billion price tag upon BlackBerry, in terms of market capitalization. A 2008 photograph of President Barack Obama captured the apex of the BlackBerry movement. BlackBerry built its reputation upon no-frills electrical engineering and security features. As such, the BlackBerry brand emerged as a go-to favorite for the likes of IT professionals, seasoned business executives, and political bureaucrats who voraciously read emails and fired off replies. BlackBerry, however, miscalculated that the 2007 release of the Apple iPhone would ultimately swing the mobile market balance of power away from staid technocrats and towards the giggling teenage girls. In a scathing 2012 piece, writer Jesse Hicks and The Verge ripped out-of-touch BlackBerry executives for lording over a "provincial fiefdom." Ironically, BlackBerry once haughtily dismissed Apple as the headliner of "amateur hour."
Again, BlackBerry stock lost $1.80, or 17% of its value, on September 20, 2013, to close out the trading session at $8.73 per share. Within one day, roughly $945 million in BlackBerry market capitalization vanished. In all, Wall Street traders now value BlackBerry at a mere $4.6 billion. Over the past five years, ineffective decisions out of the BlackBerry executive suite have destroyed $80 billion worth of shareholder capital. As an aside, the rapid loss in value would ultimately force prospective buyers to offer a steep premium above the current trading price, in order to avoid lawsuits from angry shareholders. Between September 9, 2013 and September 10, 2013, BlackBerry stock was whipsawed (6.4% gain from $10.84 to $11.53 on 09/09/13; 5.1% loss from $11.53 to $10.94 on 09/10/13.) upon the refutation of rumors that Prem Watsa, Fairfax Financial Holdings CEO, was working to put together a consortium of private equity and pension fund investors to acquire the company. On September 10, 2013, The Globe and Mail ultimately reported that the "major players weren't on board" for any BlackBerry deal. Apparently, Fairfax Holdings had also put its 9.9% stake in BlackBerry on the proverbial auction block.
Be advised that BlackBerry stock is highly susceptible to the whims of speculators and rumormongers. Recent Yahoo Finance statistics have indicated that traders have sold 149.1 million BlackBerry shares short. BlackBerry operated with a mere 524.2 million shares of common stock outstanding during its most recent first quarterly period of 2013 ended June 1, 2013. Remember, BlackBerry is now a $4.6 billion corporation carrying a relatively small float. Going forward, Main Street investors should be careful not to buy into the hype and scuttlebutt of any imagined takeover bid and turnaround program. BlackBerry has been felled by its own arrogance and is on the road to bankruptcy at Waterloo.
The Mobile Market
On August 7, 2013, research firm comScore released its report that summarized June 2013 U.S. smart phone subscriber market share. The title attached to this comScore report was somewhat misleading. The information provided actually listed averages of data compiled for the quarterly period spanning between April 2013 and June 2013. The comScore report confirmed the dominance of an Apple (AAPL) iOS - Google (GOOG) Android duopoly that operated 91.9% of calendar Q2 2013 U.S. smart phone subscriptions. The duopoly actually gained in strength during the relatively quiet second quarter. Apple added roughly 1% in market share on a sequential basis, prior to its September 2013 iPhone 5S and iOS 7 upgrades. As original equipment manufacturers, Apple and Samsung carry respective 39.9% and 23.7% shares to also reign supreme atop the handset market segment.
At the bottom of the smart phone scrap heap, BlackBerry, Microsoft (MSFT) Windows, and the practically defunct Nokia (NOK) Symbian operating systems have been battling it out simply to remain relevant. The BlackBerry operating system may now lay claim to a rapidly shrinking 4.4% of the U.S. smart phone market. An August 5, 2013 report out of International Data Corporation (Pending:IDC) also highlighted the fact that the BlackBerry Playbook is a non-factor within the tablet space. The BlackBerry operating system drove a mere 100,000 tablet shipments during Q2 2013, which amounts to three tenths of one percent of this market. For the sake of comparison, Android operating system tablets tallied 28.2 million shipments during the same time frame.
On September 3, 2013, Microsoft announced the closing of a deal to purchase Nokia devices and services businesses for $7.2 billion, while continuing to license patent and mapping technologies from the Finnish company. Between 2011 and 2012, Microsoft running partner Intel (NASDAQ:INTC) also ramped up research and development spending from $8.4 billion to $10.1 billion, despite the fact that total net sales at the chip maker declined slightly during the period. The increased R&D spending at Intel further signaled its intent to emerge as a real player within the mobile market. As an adjunct to the smart phone platform, Microsoft and Intel will aggressively market Windows tablets throughout the Holiday Season. Intel engineers have designed a Bay Trail chip tailor made to power hybrid mobile devices, such as the Microsoft Surface.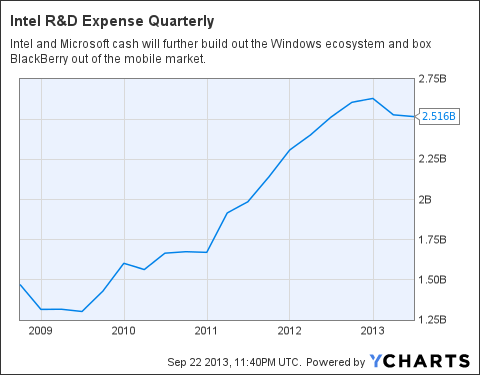 INTC R&D Expense Quarterly data by YCharts
The Bottom Line
Taken together, Microsoft and Intel (INTC) have averaged more than $45 billion in annual cash flow from operations over the past five years. Certainly, Silicon Valley and Redmond executives are well aware of Moore's Law, which states that the number of working transistors that may fit upon one particular integrated circuit will double every other year. As such, the personal computer has ceded leadership away to mobile, as the primary driver of the technology economy. A recent report out of research firm Gartner estimated that the global PC market shrank by 10.9 percent during Q1 2013. In all, Microsoft and Intel both share the financial means and the motives to establish Windows as the third wheel operating system behind the iOS - Android duopoly. The inevitable emergence of Windows mobile will come largely at the expense of BlackBerry.
BlackBerry did summarize its latest turnaround plan within its most recent warning statement. Going forward, BlackBerry will trim its smart phone line up from six to four handsets. The company will classify these four handsets according to "high end" and "entry level" groupings. As such, BlackBerry will remain in direct competition against both the iOS - Android duopoly and upstart Windows. Note that Microsoft has also taken on the value Asha brand, as part of the aforementioned Nokia acquisition. Microsoft executives already referred to Asha as an "on-ramp" for emerging market consumers to enter the Windows ecosystem. Most likely, the BlackBerry business model will degenerate towards dumping smart phones in India at steep price discounts, after they fail to gain traction in the U.S. at premium price points. $1 billion worth of inventory write-downs proved that the Z10 has already been relegated to the bargain bin.
BlackBerry did close out its Q1 2014 books with $13 billion in assets above $3.7 billion worth of liabilities. In terms of liquidity, the BlackBerry balance sheet listed $2.8 billion in cash and short-term investments to help back $3.1 billion in accounts payable and accrued liabilities. In theory, fixed and intangible assets will depreciate towards zero, if they cannot be leveraged to turn real profits. For the quarterly period ended June 1, 2013, BlackBerry posted $6.8 billion worth of combined inventories, long-term investments, property, plant, and equipment, and intangible assets. Within the next year, these BlackBerry asset items may be written down towards $5 billion, while the company continues to bleed cash. As such, private equity and corporate buyers will refuse to pay a significant premium above the current $4.6 billion in market capitalization and rescue BlackBerry from its own self. BlackBerry therefore remains a strong sell, even in the aftermath of the latest rout of the bulls. Remember then, again, that I told you so.
Disclosure: I have no positions in any stocks mentioned, and no plans to initiate any positions within the next 72 hours. I wrote this article myself, and it expresses my own opinions. I am not receiving compensation for it (other than from Seeking Alpha). I have no business relationship with any company whose stock is mentioned in this article.