I'm celebrating the 1 year anniversary of our initiation of AudioCodes (NASDAQ:AUDC), "AudioCodes - A Call Option On Microsoft's Lync/Skype Intentions" (a must read), when the shares were trading at $1.45 and it had a market cap of $56 million. We've come so far, not only on price per share, but also as the company and the sector look poised to hit their stride and be in sync for the next 3 - 5 years as enterprises flock to the cloud and revitalize their communication networks for the now recognized necessity - voice via VoIP. Last year, AudioCodes reshaped its business model to be a complete end to end solution in the VoIP market as its core strength lies in Digital Signal Processing (DSP) which is at the heart of how voice packets travel across IP networks. As a result, it positioned itself as what I call, the voice authority in the Unified Communications (UC) space, a position that doesn't come easily or without a premium on its shares. In parallel, the industry experienced a blockbuster acquisition when tech titan Oracle (NASDAQ:ORCL) bought Acme Packet paying 60 times EPS or 6.5 times revenues and making myself, my Seeking Alpha followers, and a handful of others realize that we were going a lot higher.
At The Bottom
AudioCodes' CEO and his management team spent the last 12 months executing a strategy that is Israeliesque to say the least. At the bottom, it borrowed $15 million to complete a 10% buyback of the company at $2.75 per share and cut 10% of its operating expenses, focusing in on its core strengths and new initiatives. It built a service business taking advantage of its 23 years experience of working on multiple UC platforms both active and rested (it was this division which returned the company to profitability ahead of schedule). Even though it was backed by brokerage coverage, it was never with conviction on either the buy side or the sell side, leaving my perpetual articles on Seeking Alpha as the only guiding light.
Now We're Here
As AudioCodes hits its stride, it seems ripe for major upside surprises in both the near and long term. It just completed its third consecutive quarter of profits and of positive cash flow, allowing it to basically retire the $15 million in debt it took on to buy back 10% of its stock. In addition, it stealthily built a mobile VoIP platform, and introduced new software related and higher capacity products that moved it up the food chain and into the carrier space all of which could bring momentum to the shares in early 2014. The industry seems to be embracing VoIP via hosting as 8x8 Inc (NASDAQ:EGHT), Interactive Intelligence Group (NASDAQ:ININ), and BroadSoft (NASDAQ:BSFT) continue impressive moves, which Wall Street has taken notice of. We applaud the CEO for his brave call and his strong passion to make AudioCodes a pure play end to end voice authority in the delicate VoIP market. As a result, I'm here to make an aggressive call on the back of AudioCodes' well strategized plan over the past 12 months. I believe AudioCodes is in the best position internally (product offering, diverse business platforms, services and an operating leverage business model) and externally (Microsoft Lync, hosting, and a strong enterprise upgrade cycle) in its 23 years of existence. I believe it will command a new 6 month price target of $14 per share and if one of a few key catalysts hits, then I see a $1 billion valuation over the next 12 months or $20 - $25 per share.

Here's my case for AudioCodes reaching $14 in the next 6 months with the potential to hit $1 billion in the next 12-14 months:
Migration to the Cloud
Global enterprises are becoming increasingly comfortable putting their networks on the cloud. In fact, the rate at which enterprises are flocking to the cloud is astonishing - the compound annual growth rate (OTCPK:CAGR) is placed at 85% while the overall Unified Communication market ($12 Billion) CAGR is 12% . The common oversight made in evaluating AudioCodes is to focus solely on the UC CAGR, which while it would still show value in the shares, does not create overall excitement in the sector. However, when enterprises' move to the cloud they still need equipment and software on premise along with consulting and maintenance services. As mentioned previously, VoIP networks are very delicate and it takes a company with strong IP and years of experience to master. When these enterprises take on Lync voice or other hosting platforms then AudioCodes is a prime beneficiary of the on premise purchases and I believe the CAGR for AUDC will comfortably be 20-30% at some point in Q1-Q2 2014, backing up the CEO claims on the Q1 2013 quarterly conference call of "hockey stick growth in 9-12 months". This is proof that AudioCodes has a strong secular tailwind behind it.
Microsoft's Acquisition of Nokia's Handset Business
Microsoft (NASDAQ:MSFT) after years of side stepping around the handset arena has finally stepped in with a $7.2 billion acquisition of Nokia's (NYSE:NOK) handset business. But is it what meets the eye? I think the heart of this move is based solely on Microsoft's Lync/Skype intentions and adding the missing link to the enterprise food chain. Simply put, this gives Microsoft the mobile element. As one savvy telecom investor put it; "Microsoft didn't lay out $7 billion to fight for pennies in the consumer handset market. I think it is doing what is necessary to secure its market share in UC - Enterprise, and that requires a mobile element."
Voice subscriptions for Lync have been growing rapidly this year as Scott Gode, a senior director at Avanade Inc, (a large Microsoft partner) said in a recent interview;
"The technical implementations of enterprise voice were challenging early on. Now, though, those technical challenges are getting easier to overcome, the user support issues are diminishing and customers are demanding enterprise voice as part of their Lync implementations. A year ago only 10 percent [of our customers] used enterprise voice, now, over 50 percent of the new Lync business that's coming our way is enterprise-voice-related."
I believe that, Microsoft wants to offer enterprises a complete solution within its own Microsoft controlled environment: hardware, desk phone, tablets, and mobile.
This will eventually include AudioCodes Lync solutions, VMAS and more specifically its Voice Experts @ Your Service program which has not yet received much attention. I expect to hear more about this in the months ahead as this offering will be key to helping Microsoft win enterprise confidence in IP voice.
Microsoft Backs Dell Going Private
Microsoft invested $2 billion in Dell taking itself private. In commenting on its investment, Microsoft said; "We're in an industry that is constantly evolving. As always, we continue to look for opportunities to support partners who are committed to innovating and driving business for their devices and services built on the Microsoft platform." With Microsoft and Dell, one hand washes the other and I believe that Microsoft could give Dell the go ahead to buy AudioCodes. Dell purchasing AudioCodes would keep it out of Microsoft's competitors hands while allowing Microsoft and AudioCodes to maintain close ties. Dell recently added AudioCodes' products to its website and it would be a perfect fit for Dell as it would enable Dell to build out its product offering while enhancing it services.
Michael Dell on a recent CNBC interview made some comments that suggest acquisitions like AudioCodes could be forthcoming;
"We're really focused on our customers and building out end-to-end solutions by enhancing the enterprise solutions and services capability, investing in research and development and continuing the acquisitions that Dell's been doing for the last several years."
If Dell purchased AudioCodes today, we could get a buyout price of $11 - $12. If it waits until next year it could be $15 - $20.
AudioCodes' Mobile Platform Has Been Spotted
I have been pounding the table on the potential for AudioCodes to have a sexy over the top (OTT) mobile VoIP platform that should attract large cable and fixed line carriers looking to curb churn in their subscriber base. Unfortunately, the company has not provided anything to back up my enthusiasm, but I believe that I have found a carrier that recently launched the AudioCodes OTT mobile VMAS solution. That carrier is Bezeq, an Israeli fixed line carrier that launched the Bphone this past June/July and allows Bezeq subscribers to make calls on their smartphones at WiFi spots across the globe at discounted pricing. Here's a look at the service:

I believe this is AudioCodes platform from the MailVision acquisition and since the service just commenced in June/July we could start to see incremental licensing fees of $4 - $5 per download. I would like to remind investors that it doesn't take many downloads at 85-90% margins to add $0.01 of earnings to AudioCodes' bottom line.
Enterprise Phone
What truly excites me about the Bphone is that it's a proof of concept to the larger carriers across the globe that are looking for a mobile strategy or another feature for current subscribers to reduce churn. In addition to large carriers, I believe that we could also see an enterprise version of the phone that will have more features such as enhanced encryption, security, and other enterprise specific applications. I see enterprises that are already using Lync Voice or another VoIP hosting system being very attracted to this kind of OTT mobile offering instead of Viber, or other third party OTT apps.
Deferred Revenues
As the Oppenheimer analyst highlighted in his recent research report "Raising Price Target: Expect Momentum to Build", AudioCodes is winning larger Lync deals with longer durations; this brings more visibility and stability to its business model. I believe it's important to note that both medium and large enterprises allocate for IT budgets, but they don't allocate for IT personnel. Therefore, AudioCodes' One Voice with Microsoft Lync should in theory be the piece that solves that puzzle both today and in the future as Lync shows proof of market share. AudioCodes showed the importance it is placing on its Services business with its recent hire of Ofer Nimtsovitch as Vice President of Global Services last quarter. We await a more fortified backlog and an opportunity to see higher cash flows off it on the next conference call.
Cash Flow
I believe cash is king! At the end of the day, institutions love to see a return of cash to the balance sheet. AudioCodes has not disappointed as over the past three quarters it has generated approximately $15 million in cash or $0.40 per share. In addition, I'm going to be the first to call for explosive cash flows from AudioCodes in the future, but especially in the 2nd half of each calendar year as its service business gains traction and we see contracts get closed aggressively in late Q3 and all of Q4 as enterprises are forced to spend to satisfy their IT budgets. Analysts are not factoring in the new service revenue model and how it equates to cash. As a result, I'm increasing my Cash Flows for 2013 and setting a new 2014 and 2015 cash flow estimate.
Cash Flow (Estimates)
-
2013:
$20MM
$0.52 per share
2014:
$26MM
$0.67 per share
2015:
$35MM
$0.88 per share
Net Cash Position (Estimates)
Previous New
Q1:
$37MM
$37MM
$0.97 per share
Q2:
$39.6MM
$39.6 MM
$1.02 per share
Q3:
$42MM (est.)
$44.5MM
$1.14 per share
Q4:
$45MM (est.)
$55MM
$1.41 per share
CHARTS
A Pullback to Remember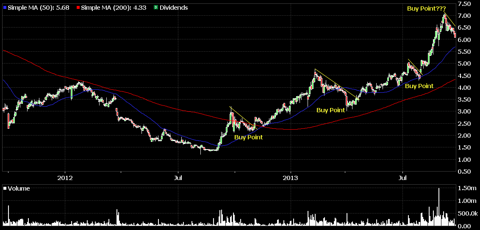 On three previous occasions, I have made the call to buy AudioCodes on a pullback. The dates match the Buy Points highlighted on the chart above; 11/02/12 "AudioCodes - A November to Remember", 04/08/13 "AudioCodes -A Pullback to Remember" and most recently on 07/30/13 "AudioCodes - Let Institutional Accumulation Begin". The pullback we are currently witnessing in AudioCodes, is in my opinion, the best buying opportunity in the past two years. In my last piece I told you that institutions were accumulating the stock and for this reason I would be aggressively accumulating here. It is trading at a deep discount to its peers in the space and this pullback looks to be the best chance to pick it up while it's still discounted.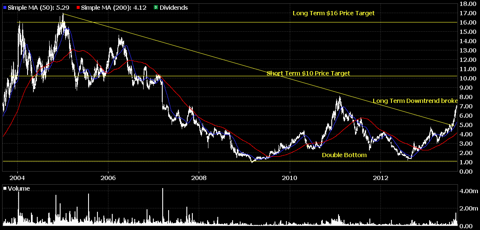 In looking at the above chart we can see that AudioCodes has made its move off the bottom with a double bottom that was confirmed with the breaking of its long term downtrend resistance line. We now look at where it is heading on the upside. There is some short term resistance at $10, but I believe that we will see AudioCodes continue its momentum move to $16, especially if we see institutions come into the stock.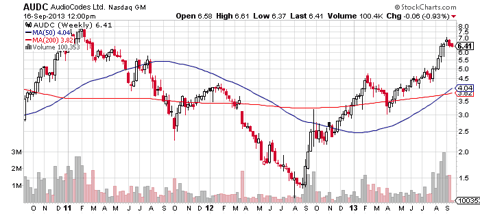 On the weekly chart we can see that the 50 day moving average recently crossed above the 200 day moving average. This is called a Golden Cross and indicates higher prices ahead. The last time we saw a Golden Cross was in December, 2011 when the stock quickly traded up to $8. There is a strong case to make that AudioCodes is in a better position today than it was back then.
Today there are 4 million less shares outstanding.
Microsoft Lync is seeing voice subscriptions running at 50% as opposed to 10%.
Microsoft Lync now has a much larger installed base.
AudioCodes has the cheapest valuation amongst its peers.
AudioCodes has a stronger backlog and business model.
I see AudioCodes trading up to $10 very quickly.
Competitors: Partners & Valuation
AudioCodes is finally getting the attention it rightly deserves, but when compared to its inner circle of peers it still appears to be undervalued. As such, this could be the start of something very exciting in both the short and long term. Here's a list of companies that closely resemble AudioCodes along with their valuations:
Sonus Networks (NASDAQ:SONS) - A complete pure play SBC player with a market cap of approximately $1 billion (post 11 million share buyback). The company trades at 3 times my $300 million 2014 estimate and would trade at 3.6 times if it hits Oppenheimer's $4 price target. Last quarter, it generated approximately 50% of its revenues from legacy products as opposed to AudioCodes which generated only 14% of revenues from legacy last quarter. I applaud Sonus' efforts and its institutional backing, but on an apples to apples comparison AUDC seems to be a cheaper and less riskier investment. Direct competitor to AUDC.
BroadSoft - another complete pure play UC (hosting & VoIP) services company that sells directly to the carriers. It has been an AudioCodes partner for the past 2 years. With a $1 billion market cap it trades at 4.50 times my 2014 revenues of $220 million (Pacific Crest just released a note that 2014 looks extremely bullish and its shares could reach $50 - $70 per share in the next 12 months). Over the past 18 months, it had a market cap as high as $1.4 billion or 6 times revenues. BroadSoft has a killler product and has executed extremely well for the most part over the past 2 years. In addition, the company is very profitable ($1.50 in EPS estimate) and has a highly competitive solution. Strong correlation to AUDC.
Interactive Intelligence - another complete pure play UC (VoIP) services company that sells directly to enterprises. It too is a partner of AudioCodes, with AudioCodes winning its partner of the year award last quarter. With a $1.2 billion market cap it trades at 3.3 times my $360 million 2014 estimate. The company is trading at 100 times its 2014 estimate of $0.60 in EPS. The market has embraced its execution and has confidence in the secular growth trend it participates in. Strong correlation to AUDC.
8X8 - A pure play UC (hosting) services company in the VoIP market place with a $716 million market cap. It trades at 4.50 times 2014 revenue estimates of $155 million. It is not a partner or a direct competitor of AudioCodes, but it could one day be a partner so the comparison is relevant. A couple of analysts have an $11 price target which would put the valuation at 5 times sales. The company is estimated to earn $0.34 next year valuing it at 27 times EPS. A good correlation to AUDC.
AudioCodes: Fundamentals and Valuation
I have tried to give you a snapshot of the valuations of the VoIP food chain in a handful of small to mid cap names that work with or compete with AudioCodes. As you can see the market has strong confidence in the growth rates of VoIP players going thru Hosting and SIP based channels. It's obvious that these valuations are justified as the broadness and the trading volumes prove institutional interest is alive and well. I believe as per my most recent note, "Audiocodes: Let the Instituional Accumulation Begin", that the time has come for the large momentum players to recognize AudioCodes as a key cog in this larger growth trend. I take strong conviction that this has already started as volume over the past 4 weeks post my article has exploded. Furthermore, it's reported that Louis Navellier, an influential and well-known momentum investor who manages $2.5 billion in assets, placed a buy recommendation on AudioCodes last week to his extended subscriber base pushing volume thru 1.4 million shares, making it the highest trading volume day in 6 years. I would say that this puts AUDC on the map.
Market Cap: $250MM
Revenue Estimate
Revenue Multiple
Price Target (3 x Revs)
2013: $138MM
2013: 1.72
2013: $10.70
2014: $158MM
2014: 1.51
2014: $12.00
2015: $180MM
2015: 1.32
2015: $14.00
Cash: $57.2MM
Debt: $17.8MM

($4MM Short-term)

Cash Flow Estimate
Multiple to Cash Flow
Price Target:

(20 Multiple to Cash Flow)

2013: $20MM
2013: 11.9
2013: $10.25
2014: $26MM
2014: 9.15
2014: $13.25
2015: $35MM
2015: 6.8
2015: $18.00
Shares Outstanding: 38.7 million
Insiders Own: ~25%
Float: 28MM
Float:18-20MM (My estimate)
I have stayed steadfast on valuing AUDC based on 2014 estimates as 2013 was more of a transitional year for the company. AUDC has used 2013 as both a transitional (Legacy is only 14% of revenues) and a growth (One Voice for Lync is bringing larger deals to its pipeline) year and still has the ability to outperform expectations this year. Based on all the companies I highlighted in this sector, AudioCodes should trade at 3 x 2015 revenues or $14 per share.
As mentioned earlier, Oppenheimer upgraded its price target to $7 per share on the premise that momentum is building. I believe that with the valuations in the comps I supplied, with Microsoft's relationship with AudioCodes' One Voice, with Microsoft combining Lync and Skype into one, with Microsoft picking up Nokia's patents and handsets business and with the overall secular tailwinds in enterprises bringing voice to IP it should do two things:
1. Keep AudioCodes as a prime takeover candidate of Microsoft, Dell, HP or others as it would tie in its Lync/Skype/Nokia assets from end to end which would automatically make Microsoft own the new desktop; the IP phone system. It should maintain a takeover premium for the next 3-6 months as its best quarters are in front of it.
2. The Shabtai effect: A man who grabbed the bull by the horns when everyone wrote him, his company and the sector off. He created a business model with operating leverage, now that its focus is on software, services and mobile licensing as opposed to its legacy hardware only model. This is a big wake up call to those who do not know that AUDC is now a potential earnings machine. Do not rule out positive accretive cash deals now that cash flow is alive and well.
That said, there's no reason to maintain a $7 price tag on AudioCodes as I now believe that it is a cash printing machine with a services business, software uprising, a mobile revenue sharing model and a unique last man standing operation that would throw off $50 million dollars in 2014 if Microsoft, Dell, IBM (NYSE:IBM), AT&T (NYSE:T) or another key player wanted to solidify its Voice offering. The $7 target is based on someone not seeing the forest for the trees. Therefore, I believe the new target should be $10 as a floor which would give it a $390 million market cap or 2 times 2014 estimated revenues less its cash. Still a discount to Sonus' valuation by a third.
Catalysts to a $1 Billion Market Capitalization
Microsoft or an industry research firm (Gartner, Infonetics) delivers proof that Microsoft Lync has taken market share from Cisco Systems' UC platform and/or Lync migration to voice is way ahead of expectations. This would undoubtedly place AudioCodes revenues over $200 million for 2015 which would equate to $0.80 - $1.00 in EPS. A 20-30 EPS multiple wouldn't be too far fetched for momentum investors as AudioCodes successes bring its voice authority to light. From 1 to 10: I place it at 7
The mobile VoIP VMAS platform it has been working on wins one or two top carriers in the world supporting a fixed line carrier to offer mobile VoIP to its enterprise/retail subscribers. At my estimate of $4 - $5 per download, maybe more on the enterprise side could drive massive EPS leverage if a Comcast, Time Warner, Liberty Media or collectively a handful of the 100s of carriers in the world adopt VMAS as a mobile VoIP platform. 8
A bidding war in the next 6 months starts between 3 or 4 players as AudioCodes proves to have a strong business model in the VoIP market. I also see a cable carrier or fixed line carrier being a bidder if my mobile thesis plays out. IBM, MSFT, DELL, & AT&T could be potential bidders. 9.5
AudioCodes uses its potential strong cash flows to acquire niche software players that can be significantly and swiftly leveraged into the distribution channels AudioCodes has built over the last 23 years, bringing strong EPS momentum. 10
Conclusion
I'm very fortunate that my research has taken us from the bottom, up to the point where the stage is now set for what looks to be a number of solid quarters ahead as the industry brings voice to Lync. AudioCodes' CEO has done great work, and we must recognize how much work, effort and momentum the AudioCodes team now has behind them as it enters its strongest quarters (Q3 & Q4). Internal momentum is a highly energizing X-factor and with most employees significantly to the good on their options, I look to see positive unexpected deals, partnerships, contracts and/or execution in the months ahead. This is a huge positive intangible to factor in when buying AudioCodes here. That in the end will bring an industry powerhouse to the table to acquire AudioCodes at a price that's undetermined but if that industry tailwind continues to gain momentum along with the personnel momentum at AudioCodes then $1 billion can eventually be here.
Disclosure: I am long AUDC. I wrote this article myself, and it expresses my own opinions. I am not receiving compensation for it. I have no business relationship with any company whose stock is mentioned in this article.