Spectrum Pharmaceuticals (NASDAQ:SPPI) just announced that the Centers for Medicare and Medicade Services (CMS) ruled in favor of the company's radio-immunotherapy Zevalin®. Zevalin is now approved as a first-line treatment for patients with non-Hodgkin's lymphoma (NHL).
This is good news for SPPI as Zevalin will now be reimbursed at an average sales price (ASP) of most other cancer drugs. As I understand it, this ruling means that Zevain should now be reimbursed at a price +5% to +6% from its current price. It should be noted that the new price will be effective as of January 1, 2010.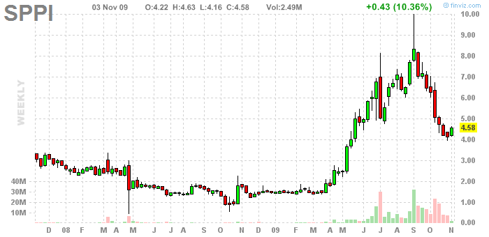 Regarding the ruling, Rajesh C. Shrotriya, MD, Chairman, Chief Executive Officer, and President of Spectrum Pharmaceuticals said:
We are pleased with the CMS policy ruling, as it represents an important milestone toward establishing a consistent reimbursement standard for ZEVALIN.

We believe that securing ASP methodology for ZEVALIN removes a significant historical barrier to its use. This ASP methodology has until now been widely used for injectable chemotherapy drugs and as such, there is high familiarity with this reimbursement standard.

Source: Spectrum Pharmaceuticals
I addressed the reimbursement issue on October 18, 2009.
In November, the Centers for Medicare and Medicade Services (CMS), a component of the US Department of Health and Human Services, will decide whether SPPI can sell Zevalin at the average sales price (ASP) like competitive chemotherapeutics. A favorable decision would allow SPPI to compete with other drug makers, who enjoy the privilege of being able to sell their drugs at ASP. Right now, Zevalin is being sold at (1) invoice or (2) the average wholesale price (AWP) and costs between $24,000 and $31,000 per treatment. Unlike most chemotherapy regimens that can last six months or longer, Zevalin is a one time treatment that takes about three to five hours to administer.
On September 4, 2009, the FDA approved Zevalin to be used as a first-line consolidation therapy for the treatment of NHL. Consolidation therapy follows induction therapy which consists of a combination of chemotherapy and Rituxan®. Rituxan is marketed by partners Biogen Idec (NASDAQ:BIIB) and Roche (OTCQX:RHHBY).
Coupling the first-line approval with the resolution of this reimbursement issue, it certainly appears that SPPI is executing their plan effectively. As result, Zevalin should begin to generate more revenue with increased use as well as significantly grow the company's earnings over the next 12 to 18 months.
Coming Up
In mid-November (11/9 or 11/16), SPPI will report Q3 earnings. At that time, I hope the company will provide some sort of guidance on Q4 Zevalin sales as well as an outlook for 2010.
In the next 4 to 6 weeks, the company should announce the outcome of their meeting with the FDA regarding Fusilev®. Unlike yesterday's announcement from GTX, Inc (NASDAQ:GTXI), where regulators required the company to conduct another clinical trial for the company's prostate cancer drug toremifene, I contend the FDA is more likely to find a way to work with SPPI in order to get Fusilev approved for colorectal cancer. For more details on Fusilev, interested investors should refer to this October 18 article.
Conclusion
Over the past several weeks, there have been a number of arguments against SPPI and namely Zevalin. While I understand the concerns of others, I believe a better case can be made for investing in the company - over the long-term.

Going forward, I remain optimistic about Zevalin and my investment in SPPI.
Disclosure: Long SPPI.