I've mentioned my view about the market's overvaluation recently. The market rally since January is not based on current earnings increases, and this is evidenced by its multiple expansion. The market's P/E is on the high side of its historical average, and in times like these it pays to not overpay, since a correction is more possible.
That is one reason I want to review a growth stock with a reasonable valuation. Questcor Pharmaceuticals (QCOR) has rallied a ton this year to be sure. Even with the recent selloff, year-to-date gains sit at 110%. But the selloff does nothing to erase the long-term prospects for this company or its reasonable valuation, albeit with risks.
Questcor is a biopharmaceutical company that focuses on auto-immune and nervous system disorders. In a way, you could compare Questcor to Coca-Cola, because it has a secret recipe. Questcor's main drug, H.P. Acthar, is a drug that treats multiple conditions, and although generic competitors attempt to copy it, none have been able to do it. There are also historical reasons for this advantage. This enables Questcor to price the product extremely high -- $28,000 per vial.
Controversy And Risks
The odd history behind Acthar - it was initially approved by the FDA back in the 1950s - means that it was grandfathered into current laws and essentially doesn't have to prove that it works effectively on many of the conditions that it is marketed for. This prompted insurer Aetna to refuse to pay for its use on most conditions for its healthcare clients last summer. That announcement prompted the stock value to get cut in half. Investors and industry experts likely expected many other insurers to follow suit, but they have not.
The vast majority of value in this company resides in continued sales of Acthar, and as we saw in last summer's decision by Aetna, a widespread movement by other insurers could have disastrous results on Questcor's stock price.
It is worth paying attention to as insurers may be forced to cut costs as increased competition from health insurance exchanges eats into margins.
Value
Questcor currently sports a P/E of 14.95 and a forward P/E of 9.4. These seem low for a company with growth prospects that Questcor has, and they are. The value is most likely due to risks associated with depending on Acthar sales.
Similar to the P/E's, Questcor's PEG is a miniscule .58. As Peter Lynch once noted, fair value on this metric is around 1, so a ratio of almost half that indicates the discount this stock has compared to its expected earnings.
Questcor has very high margins - thanks to the mark-up on its flagship drug - and equally high returns on equity and assets. The company also maintains very low debt levels, with a long-term debt-to-equity ratio of .06.
With its high margins and low debt it has significant free cash flow. The company has a price to free cash flow ratio of 14.97. In the biotech sector, which consists of a little more than 200 stocks, Questcor ranks 6th with that ratio. What that means is that it can use that cash to buy growth where if it wants to - specifically through by purchasing other companies and patents. That would help to diversify and decrease risk associated with relying on Acthar.
The company also pays a dividend of $1.00 a year, which amounts to a 1.81% yield. This is a pretty substantial dividend for a growth company and allows investors to extract value.
While many traders are still heavily short this name, I believe they are playing with fire as long as insurers don't follow Aetna's lead. That is because sales and earnings continue to expand. With a short float of 16.82% it would take shorts 6 days (at current daily volumes) to cover, probably pushing up the price substantially.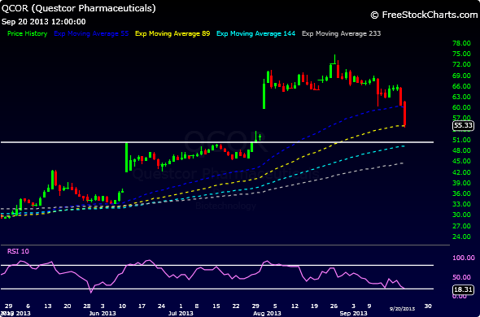 Click to enlarge
The Play
As with most growth stocks, Questcor has the potential for high risks and high rewards. I believe that the rewards currently outweigh the risks, but investors should consider incorporating an option strategy called a Collar if they purchase the stock.
A Collar involves selling an out-of-the-money call on the owned stock to finance the purchase of an out-of-the-money put on the stock. A person would sell on call for every 100 shares of stock that they own. This strategy may limit some of the gain but it also prevents large losses. I would consider a "loose" Collar in order to take advantage of this stock's strong growth potential, and probably sell the calls out about 5%. If you aren't familiar with a Collar, it is definitely worth learning more about.
Disclaimer: We do not know your personal financial situation, so the information contained in this article represents an opinion, and should not be construed as personalized investment advice. Past performance is no guarantee of future results. Do your own research on individual issues.
Disclosure: I have no positions in any stocks mentioned, and no plans to initiate any positions within the next 72 hours. I wrote this article myself, and it expresses my own opinions. I am not receiving compensation for it (other than from Seeking Alpha). I have no business relationship with any company whose stock is mentioned in this article.