IAMGOLD (NYSE:IAG) is one of my favorite gold stocks principally because it is a relatively high cost producer with long lived mines. That paradox arises since high cost producers have the most volatility when gold prices change. If they are operating close to break even, a relatively small rise in gold prices makes them quite profitable. Conversely, when prices fall they bleed all over the floor.
Recently, gold miners have been bleeding and IAMGOLD stock has hemorrhaged in parallel. IAMGOLD's stock price has dropped from the mid teens to the $5 level in just a year, a drop of 67%. It may well go lower, but in my view it might be time to step in.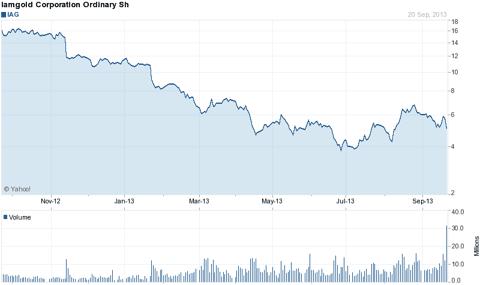 IAMGOLD operates 6 mines with 2013 production estimated by the company between 875,000 and 950,000 ounces.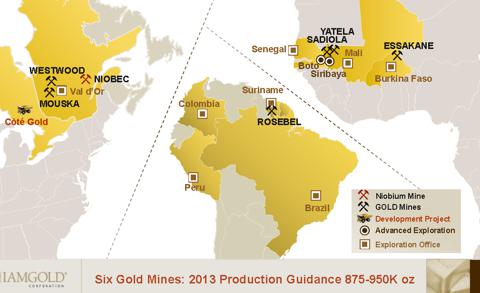 About 43% IAMGOLD'S 2012 production was from mines in North America and the balance split between Africa and South America.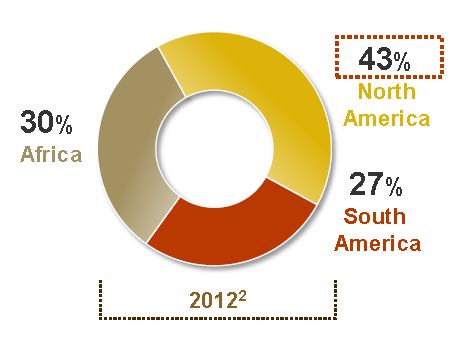 The company estimates its all in costs to be between $1,150 and $1,250 an ounce.

The economics are easy to see. With a gold price of $1,300 an ounce IAMGOLD can earn $50 to $150 an ounce or between $44 million and $144 million. Those earnings are not very exciting for a company with a market capitalization of about $2 billion.
The current gold price is reported by Kitco at about $1,325 an ounce.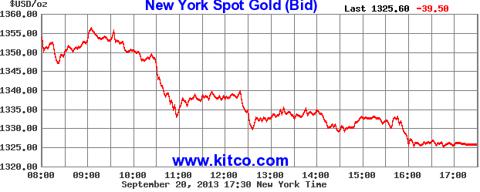 Gold prices have been as high as $1,800 and as low as $1,200 in the past year, and a $600 dollar an ounce swing is a swing of over $500 million in IAMGOLD's earnings picture. You don't have to be a mathematician to see just how highly leveraged IAMGOLD is to the price of gold.
Of course if you are going to be a "gold bug" in volatile times, you are best to choose a gold stock where the miner has adequate liquidity since prices can go down as well as up. In IAMGOLD's case, the company says it has liquidity of about $1.4 billion or about 70% of its market capitalization, comprising $600 million of cash and gold inventory and about $800 million of unused credit facilities.
Reserves and resources are another key consideration. IAMGOLD in February 2013 reported proven and probable reserves of 11 million ounces and measured and indicated reserves of over 22 million ounces.
With production less than 1 million ounces a year, IAMGOLD has the duration to be present if gold prices move higher at some point over the next few years.
Gold prices are notoriously hard to predict. Fear, greed, emotion, currency swings, economic conditions, jewelry markets and a flight to safety are all factors that have been pointed to as influencing the price of gold over time. And, of course, the cost to produce gold for the industry as a whole is a longer term factor since, if prices do not offer a return, miner will stop mining. SA author Hebba Investments has done a terrific job of estimating the cost to mine gold both for the industry as a whole and for IAMGOLD in particular. Hebba sees industry costs of about $1,317 an ounce as of Q1 2013, and about $1,403 an ounce for IAMGOLD as of the same period. IAMGOLD management have embarked on a $100 million cost reduction program and report they are 55% successful so far, and that may represent their differences.
An investment in IAMGOLD is a bet on the price of gold combined with a bet on IAMGOLD's management and its ability to execute. In my view, IAMGOLD has excellent management. I don't have a strong view either way on the price of gold, but I do believe that the longer central banks embark on quantitative easing practices the more likely we will encounter inflation down the road and the more likely fiat currencies will weaken against hard commodities. Gold could be a beneficiary of this trend. If it is, with more than 30 million ounces of gold in its resource base, IAMGOLD is a good way to be represented.
I am long IAG.
Disclosure: I am long IAG. I wrote this article myself, and it expresses my own opinions. I am not receiving compensation for it (other than from Seeking Alpha). I have no business relationship with any company whose stock is mentioned in this article.