Baidu (NASDAQ:BIDU) has made impressive gains in the last 3 months. There are some very insightful articles on SA that argue for a bullish stance based on valuations. There are other articles on SA, which cover the recent acquisition of 91 Wireless. This article is different in that it offers an overview of Baidu's business model in relation to its dependence on online advertising. Understanding the direction of the internet is important to predict future revenue growth. Significantly new competition from Qihoo (NYSE:QIHU) is also something Baidu has never experienced before. There are doubts if Baidu has enough tools to clean up its act and regain market share.
Baidu's future profits hinge on three concerns. The first concern is Baidu's heavy dependence on a growing online advertising market in China. The second concern is whether there is growth in the number of users on the internet. The last concern is competition from other search engines. This article seeks to briefly address these three concerns for investors by analyzing if Baidu can generate higher profits in the future.
The Source of Baidu's Revenue and the Risks
How does Baidu generate revenue?

Baidu generates revenue by offering performance-based online marketing services and display advertisements through both Baidu organic websites and its affiliated websites (Union business).

Source: Baidu investor relations
Businesses of all sizes use a portion of their advertising budget to pay Baidu for their services. Almost all of Baidu's revenue is from online advertising services. There are risks to a business model based on advertising. The television is a major competitor. Baidu's other competitors include different search engines, newspapers, or billboards.
Baidu's annual report in 2012 lists risks to their business model that investors should keep in mind.
1. Revenue is determined by retaining existing customers and attracting new customers for their online marketing services. If online advertisements don't lead to higher sales then Baidu loses customers.
2. Online marketing has to grow in China. Their ability to increase revenue is jeopardized if the market does not grow. There is a need for an expanding internet user base.
3. Facing competition, the loss of users, and losing customers as a result also changes revenue.
The Online Advertising Market Is Growing, But Investors Should Watch For Any Changes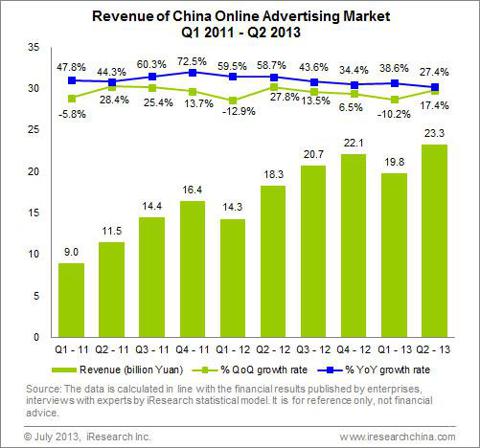 Source: iResearchChina
The latest data on online advertising revenue in China indicates that the market is growing rapidly. Recent Q2 revenue increased 27.4% year over year. Quarterly revenue has doubled to $3.8 billion since two years ago. Data on the online advertising market has been great for search engines like Baidu. One of the main concerns stated in the annual report is the risk of online advertising growth slowing down. It is important to watch for any signs of a slump in these figures. Any changes in the online advertising market will alter Baidu's capability to generate revenue in the future. The trend, for now, is that the online advertising market is growing.
Internet User Growth in China
| | | | | | |
| --- | --- | --- | --- | --- | --- |
| Year | China | US | Brazil | Germany | Russia |
| 2008 | 22.6 | 74 | 33.8 | 78 | 26.8 |
| 2009 | 28.9 | 71 | 39.2 | 79 | 29 |
| 2010 | 34.3 | 74 | 40.7 | 82 | 43 |
| 2011 | 38.3 | 77.9 | 45 | 83 | 49 |
| 2012 | 42.3 | 81 | 49.8 | 84 | 53.3 |
Source: World Bank
The reach of Baidu's services determines its value. China has seen very impressive growth in the number of internet users from 2008 to 2012. The latest World Bank data indicates that the number of internet users has almost doubled in five years from around 300 million to 570 million. The number has reached 591 million people by the end of June of this year. Growth in the number of internet users, however, has been slowing down recently.
It is worth noting that many people do not have access to landline broadband connections. More than half of China's population are not users of the internet. A vast majority of people have no interest in using the internet as they do not see it as an important tool in their lives.
The opportunity for internet growth, as China develops, is substantial. The number of internet users (per 100 people) in China is comparable to other emerging economies like Brazil and Russia. For more developed countries, like the US and Germany, the number of internet users relative to the population is at around 81%. Internet usage in the US is almost two times higher than emerging economies. It is precisely these figures that generate optimism for online businesses, like Baidu, who derive much of their income from the number of internet users their services can reach. Over time as the economy grows and more people gain access to the internet, or can afford internet subscriptions, these figures from developed countries give hope for future revenue growth. The internet is expanding, but it has slowed down in China.
Baidu Is Facing New Competition
Baidu is facing competition like never before. Competition from other search engines will really test Baidu's business model and the size of its moat in the coming years. Qihoo sprang out of nowhere a year ago and has now captured 18% of the market share in the latest estimates. Sohu, Sogou, and Tencent Holdings have formed a strategic cooperation with a merging, and some investments, to combine for 14% of the market share.
It is worth mentioning that Baidu has lost its dominating 80% market share that many people in previous SA articles refer to. Baidu had a 63% market share in August of 2013. There is also the possibility that Google Hong Kong (NASDAQ:GOOG) and Yahoo (NASDAQ:YHOO) can gain more market share at Baidu's expense. Qihoo is certainly growing in popularity. Warren Buffett has mentioned that it is hard to predict the future winners and losers with certainty in the technology sector. The recent rise of Qihoo, in a relatively short period of time, is a great example of the unpredictability of technology. It is essential that Baidu maintains its market share if they expect future earnings growth.
Conclusion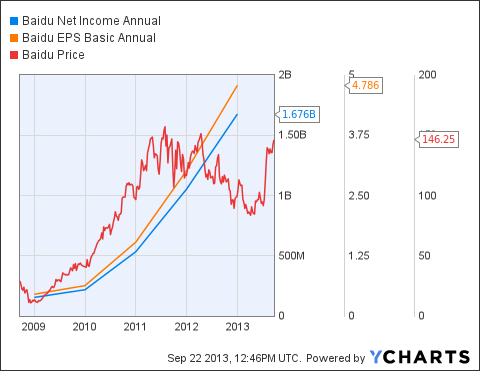 Baidu is in a great position to grow profits if China's online advertising market and internet continues to growth in the future. Baidu has to fend off competitors and maintain a large market share as well if it wants to maintain its position. Baidu has grown profits very well since 2010. It is important to know that Baidu has lost almost 20% of its market share to competitors in a single year as well. Keeping track of the online advertising market in China is important for investors. Look for signs in the advertising market to gauge the future profitability of the company. Significant competition is something Baidu has never seen before so the next few quarters will be interesting in terms of market share.
There has been major gains in a relatively short period of time. It is better to wait and find a better point of entry for investors who did not buy at cheaper prices. It is a great buy for those who believe Baidu can maintain its market share in light of the other concerns. The opportunities a developing country provides in such an industry is substantial. For those who are cautious of technology stocks, like Warren Buffett, it'd be better not to swing at this one at this price.
Disclosure: I have no positions in any stocks mentioned, and no plans to initiate any positions within the next 72 hours. I wrote this article myself, and it expresses my own opinions. I am not receiving compensation for it (other than from Seeking Alpha). I have no business relationship with any company whose stock is mentioned in this article.