As one of the leading partnerships engaged in the transportation, storage, terminalling and marketing of crude oil, as well as in the processing, transportation, fractionation, storage and marketing of natural gas liquids, Plains All-American Pipeline, LP (NYSE:PAA) offers investors a significant opportunity when it comes to both overall growth and sustainable income. In this article I wanted to highlight a number of additional catalysts driving my decision to remain very bullish on the stock.
Catalyst #1 - An Uptrend in Shares Signals a Long-Term Buying Mode
On Friday shares of PAA, which currently possess a market cap of $18.23 billion, a P/E ratio of 19.22, a forward P/E ratio of 19.16, a beta of 1.42, and a forward yield of 4.38% ($2.35) settled at a price of $53.62/share. Based on their closing price of $53.62/share, shares of PAA are trading 4.99% above their 20-day simple moving average, 1.13% above their 50-day simple moving average, and 1.87% above their 200-day simple moving average.
These numbers indicate a short-term, mid-term and a sustainable long-term uptrend for the stock, which generally translates into an aggressive buying mode for most traders. From a cash and debt perspective, Plains All-American has just $16 million in cash and $7.26 billion in debt on its books as of June 30, 2013.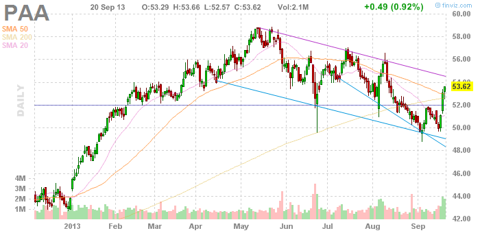 Catalyst #2 - 24-Month Distribution Behavior
Since November 2, 2011, the partnership has increased its quarterly distribution eight times over the last 24 months. From an income perspective, the company's forward yield of 4.38% ($2.35) coupled with its 24-month positive distribution behavior certainly makes this particular master limited partnership a highly considerable option for long-term investors who may be in search of a moderately-yielding play located in the heart of the oil and gas sector.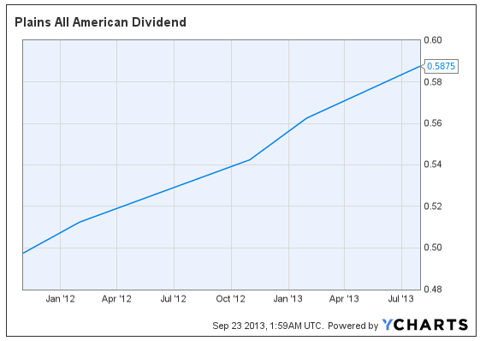 Catalyst #3 - Recent Eagle Ford Expansion
On Thursday, September 19, Plains All American Pipeline and Enterprise Products Partners (NYSE:EPD) both announced their intentions to expand a joint crude oil pipeline located in the Eagle Ford.
The expansion is expected to increase overall capacity to 470K bbl/day of light and medium grades to accommodate additional volumes expected from PAA's Cactus pipeline which is currently under construction and expected to come online by the second quarter of 2015. The Plains All-American/Enterprise pipeline expansion is expected to cost about $120 million and also be in service before the end of Q2 2015.
If costs can be kept at-or-under $120 million and the pipeline be brought online at-or-before Q2 2015, I strongly believe that both revenues and cash flows have the potential to experience considerable upside in the next 18-24 months.
Catalyst #4 - The Proposed Buyout of PAA Natural Gas
On Tuesday, August 27th, it was announced that Plains All-American is proposing a buyout of 0.435 of PAA common units for each issued and outstanding publicly held PAA Natural Gas Storage, LP (NYSE:PNG) common unit in a transaction that would be structured as a merger that would allow PNG to become a wholly owned subsidiary of PAA. The proposed consideration represents a value per PNG common unit of $22.74 based on the trailing 10-day average closing price of PAA's common units through August 26, 2013.
Does the idea of a proposed buyout make sense? I strongly believe the buyout proposal on the part of Plains All-American makes considerable sense given the fact PAA Natural Gas Storage has seen its profit margins struggle over the last few years.
For example, pricing levels and rising costs don't exactly help matters, and given the fact costs during the second quarter increased 18%, a buyout strategy should be one of the most considerable options given the company's recent struggles.
Conclusion
For those of you who may be considering a position in Plains All-American, I'd keep a watchful eye on a number of catalysts over the next 12-24 months as they could each contribute to the company's long-term growth. These catalysts include but are not limited to the company's strong distribution behavior, the timetable behind the partnership's recent Eagle Ford expansion, and lastly, the company's proposed buyout of PAA Natural Gas Storage.
Disclosure: I am long PAA, EPD. I wrote this article myself, and it expresses my own opinions. I am not receiving compensation for it (other than from Seeking Alpha). I have no business relationship with any company whose stock is mentioned in this article.