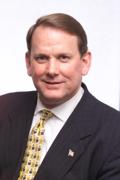 Sam Stovall is chief equity strategist at S & P Capital IQ as well as the author of The Seven Rules of Wall Street and the column Stovall's Sector Watch, a page on www.getmarketscope.com.
Harlan Levy: Is the stock market fairly valued, and is it headed gradually up through this year?
Sam Stovall: I think we are getting closer and closer to fair value, but as of Sept. 19, the price-to-earnings ratio on trailing 12-month operating earnings is still at a high single-digit discount to the median over the past 25 years.
If you look to earnings including write-downs for discontinued operations, we are trading at a mid-single-digit discount to the median over the last quarter century.
Based on projected 12-month earnings, if we returned to the average P/E of 16 since this tumultuous millennium started, we should be trading closer to 1,840 than 1,720 on the S&P 500.
That said, I still think the market has room to move to the upside, based on present economic and fundamental expectations.
H.L.: Do you think the current stand-off between the non-compromising Republicans and Democrats leading to a government shutdown and a U.S. debt default in the next few weeks will crater the stock market?
S.S.: Ask me this question closer to the end of the month, and it might be different from my answer today, but I can't fathom Congress taking Main Street and Wall Street through a roller-coaster ride similar to what we experienced over the past several years. Many investors are frustrated with and tired of the lack of compromise emanating from a dysfunctional Congress.
So while right now I can't see Congress not coming to some sort of compromise, it's not out of the question when you're dealing with people who claim to be standing on principle. Right now the odds still favor compromise, in my opinion, but increasingly look bleak.
H.L.: How can there be any compromise? And if there isn't one, what then?
S.S.: The answer is simple. If there is no compromise, the U.S. defaults on its debt, which initiates a new global financial panic and throws the global stock market into another mega-meltdown.
Obviously, some compromise has to be reached. There's no disagreement that debt remains the cornerstone of concern, because the nonpartisan Congressional Budget Office recently reported that the current debt level of 73 percent of Gross Domestic Product will rise to 100 percent in the coming 25 years if nothing is done. The disagreement comes from how we reduce this debt.
So if the goal is the same, but the journey is under question, then compromise is always a possibility.
H.L.: What do you think of the Federal Reserve's maintaining its $85 billion-a-month bond and mortgage-backed-securities purchases for the time being? And where do we go from here?
S.S.: Standard and Poor's Chief Economist BethAnn Bovino consistently reported that the Fed was likely not to taper in September but to wait until December at the earliest for just the reason stated by Fed Chairman Bernanke -- that the data are not strong enough to support an unwinding of stimulus and that it would be irresponsible to do so ahead of a potentially unnerving lack of compromise from our representatives in Congress.
So, that said, tapering has not been eliminated. It's simply been delayed, and unless we slip back into recession, it's just a matter of time until the Fed begins its tapering program.
H.L.: Is tapering a good idea?
S.S.: It has to be done, because there will come a time when too much stimulus leads to an accelerated in growth and inflation, which are inconsistent with the Fed's mandate to maintain an appropriate level of employment and economic growth while reining in inflation.
H.L.: Do think of the uptick in existing home sales -- despite the rise in mortgage rates -- will continue?
S.S.: It will for a combination of reasons. First off, we are still coming off a relatively low base when compared to the peak of 2006-2007. Also, the number of new homes being built and sold remains substantially below the level required just to keep pace with household formation, based on the trend in U.S. demographics.
So this week's expected increase in new home sales to 420,000 annualized units in August from the 394,000 in July should support the 1.7 percent increase in existing home sales reported last week.
When you remember that two to three new jobs are created with the sale of a new home, I am encouraged that this housing trend will continue to support the improvement in the jobs picture.
H.L.: What's the job trend you see for the next year?
S.S.: S&P Economics projects the job picture continue to improve through the end of 2014, albeit grudgingly. They forecast an unemployment rate that averages 7 percent for all of 2014 but believe the rate will average 6.8 percent in the final quarter of next year.
So, based on the Fed's own statement, we will probably see the Fed Funds rate remain near zero until sometime in the latter half of 2015, by our analysis.
Disclosure: I have no positions in any stocks mentioned, and no plans to initiate any positions within the next 72 hours. I wrote this article myself, and it expresses my own opinions. I am not receiving compensation for it (other than from Seeking Alpha). I have no business relationship with any company whose stock is mentioned in this article.