Telefonica (NYSE:TEF) remains one of my top stock picks for next 2-3 years. A number of indicators exhibit a serious deviation from intrinsic value mainly because investors wait for Telefonica's restructuring efforts to play out. In addition, Telefonica has suspended its dividend and many investors wait for a resumption. Contrarian investors, however, can still buy a premier European telecommunications giant at a great price. Uncertainty about the forward dividend, high leverage ratios and integration issues cloud the true value of Telefonica.
The last two years were characterized by efforts to reduce debt loads which had been taken on by a number of telcos in the previous years. As a result, Telefonica suspended its dividend and used funds to repay debt and get leverage ratios back in line. More importantly, the discontinuation of dividend payments led a large number of investors to flee the telco sector altogether. The ones who where solely in for the dividend were the first to go. Both the defensive nature of Telefonica's business and a low interest rate environment would have actually fundamentally supported an investment in telecommunication stocks with steady cash flows.
Not surprisingly, the dividend freeze led Telefonica to underperform Vodafone (NASDAQ:VOD) and Verizon (NYSE:VZ). With Telefonica's progress to reduce its debt load the relative undervaluation has slightly decreased.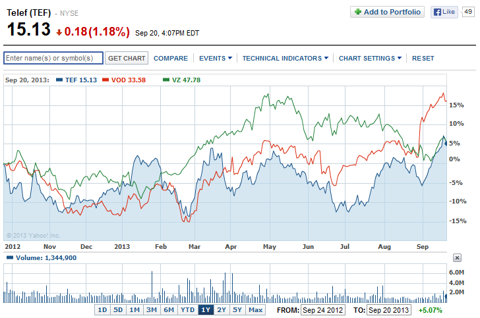 Click to enlarge
The two year chart, on the other hand, still shows that Telefonica is nowhere near the performance of its peers and has a lot of ground to catch up.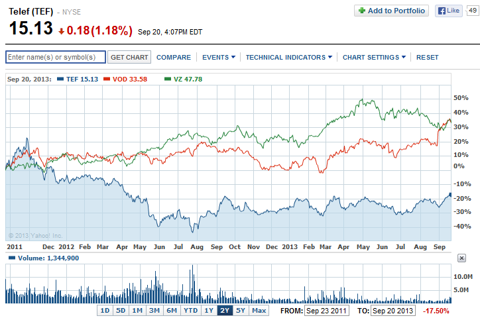 Click to enlarge
Market discounts Telefonica's growth profile
Telefonica has an extensive presence in South America with consistently strong results in Brazil, Argentine and Venezuela. While other telcos in the market place operate in saturated, highly regulated Western markets, the emerging markets are essential to offer incremental free cash flow growth. Given the comparatively huge operations of Telefonica in South America, Telefonica's growth profile is the most attractive of the large cap players in the telco sector.
Low peer group valuation
As mentioned above, a big factor in Telefonica's undervaluation relates to the absence of a recent dividend. Though the company has already announced it will resume dividend payments in the amount of 0.75 euro per share, the market discounts this relatively strong dividend yield of 6.7%. Telefonica quotes at only ten times forward earnings, which equals a 20% discount from the peer group average consisting of Vodafone and Verizon. While it is the lowest valued telco on an earnings basis, it also has the highest dividend yield of 6.70%. A comparative table is provided below:

Click to enlarge
Free cash flow valuation
While recurring dividends are a big positive for a stock, they do not necessarily need to be aligned with company profitability. In order to estimate Telefonica's intrinsic value I employ a (normalized) free cash flow approach. Given Telefonica's defensive business model and high quality recurring cash flow patterns I would estimate the cost of capital to be around 8-9% but add a premium because of Telefonica's high leverage ratio of around 2.4. A higher terminal value growth rate of 4% is justified based on Telefonica's presence in above-average growth markets in South America. The free cash flow valuation model below indicates a fair value per share of $22.18.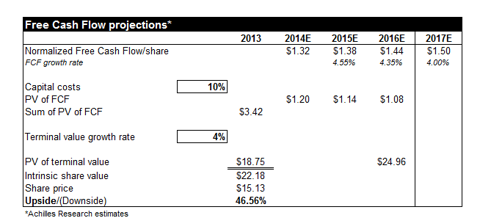 Click to enlarge
Conclusion
On a comparative basis, Telefonica remains the most attractive large cap telco company. Strong operating income growth in South America, an under-way recovery in Telefonica's South Europe core markets, continued deleveraging efforts and the resumption of a healthy dividend all make Telefonica an interesting income investment.
On an absolute basis, Telefonica trades at material discounts to intrinsic value which came out to be around $22 a share. With Telefonica shares presently trading just above $15 the upside remains in the 50% region. While investors can lean back and collect a very likely recurring dividend of nearly $1 a share (nearly because dividends are paid in euro and to non-European investors reflect currency risk). I also assume the dividend to be recurring, since the dividend resumption signals that Telefonica will commit to remunerating shareholders.
Additional benefits down the road possibly include rising dividends/yields and share buybacks. Income-oriented investors who want to diversify a US-$ portfolio and gain access to emerging markets growth might also want to have a closer look at Telefonica.
Disclosure: I am long TEF. I wrote this article myself, and it expresses my own opinions. I am not receiving compensation for it (other than from Seeking Alpha). I have no business relationship with any company whose stock is mentioned in this article.