Apple (NASDAQ:AAPL) announced this morning that it has sold over 9M iPhones during the opening weekend of the 5s. Expectations were for Apple to sell between 5-7.5M of the devices.
Over the last nine months Apple has certainly suffered from decreasing demand for the iPhone and eroding margins, something that may have changed with this recent release.
As you can see in the two charts below, there has been a very strong correlation between revisions to Wall Street and Estimize EPS and Revenue estimates for Apple and its stock price.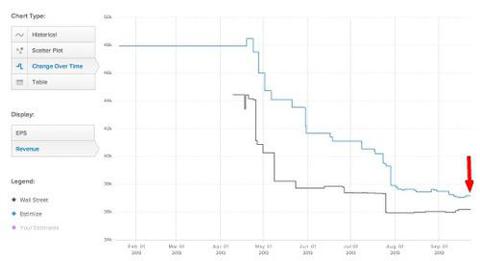 Over the past week analysts from Wall Street and Estimize have been raising their estimates in anticipation of strong iPhone sales this quarter, but the numbers put up by AAPL this weekend are certainly not factored in yet.
I expect that over the coming two weeks these numbers will be rising significantly along with AAPL's share price. There is a strong historical correlation between upward revisions in the Estimize consensus compared to Wall Street in association with positive drift in the stock price relative to the market. Heading into earnings season we now see this pattern in place once again.
There are still many, many questions regarding AAPL's ability to produce another high margin differentiated product without Steve Jobs, but it seems it may have stemmed the outgoing tide of market share with this new release. The launch of iTunes Radio last week was also well received and represents an opportunity to capitalize on a market created by Pandora (NYSE:P).