The shift in the consumer-spending pattern from branded drugs to generic drugs changed the dynamics of the pharmaceutical industry. Generic drugs are not only cheap but also provide higher profit margins for drug stores as compared to patent drugs. This is the reason why generic drugs are more important for companies like CVS Caremark (NYSE:CVS), one of the retail pharmacies operating in the US.
Apart from the high margins, the company also benefits from the increased demand for drugs from aging baby boomers in the US. This has led to the increased demand for prescription drugs over the past few years. The higher government spending on healthcare through programs like Medicare Part D has also played an important role in the company's revenue growth and improving margins. Moreover, the Patient Protection and Affordable Care Act may also indirectly help US pharmacies by encouraging increased drug utilization, which could boost pharmacy sales.
Company Introduction
Caremark is dedicated to helping people on their path to better health. The company serves people at every stage of recovery with its extended network of more than 7,500 CVS/pharmacy and retail drug stores, retail health clinics and Medicare Part D Prescription Drug Plans. The company continuously strives to improve health and lower costs by developing new approaches such as its unique Pharmacy Advisor program that helps people with chronic diseases, such as diabetes, obtain and stay on their medications.
Valuation
In order to evaluate the company's upside potential, I have employed a discounted cash flow model based on Caremark's free cash flow to the firm. The model is based on the assumptions of growth and cost of capital.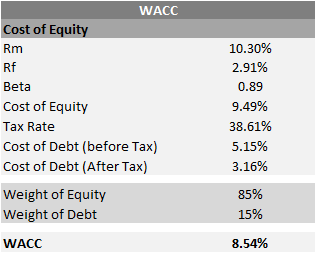 The above table shows the calculation of the Weighted Average Cost of Capital (OTC:WACC). Cost of equity has been calculated using a market return of 10.3% (5-year average return of S&P 500) and a risk free rate of 2.91% (10-year Treasury bond yield). The cost of equity is calculated to be 9.49%. Similarly, the after tax cost of debt is calculated to be 3.16%. Using these costs, a WACC of 8.54% has been derived from the WACC formula.

The above table shows the calculations of the free cash flow to firm model. The operating cash flows are assumed to grow at the five-year historical average of 15.86%. Based on my assumptions, investment in capex is expected to increase by 10% in 2013, 30% in 2014 and 20% in 2015. The long-term growth rate is assumed to be 2%.
Using these assumptions, a two-stage free cash flow model has been applied that uses the historical average growth rate for the first three years (first stage) and the long-term growth rate in perpetuity. Using this model, a target price of $71.2 per share has been derived. The current market price of this stock is $59.60, which means that the stock has an upside potential of 19.48%.
Sensitivity Analysis
As you know that the free cash flow model is based on a number of assumptions, a sensitivity analysis has been applied in order to incorporate any variations in the assumptions of long-term growth rate and WACC.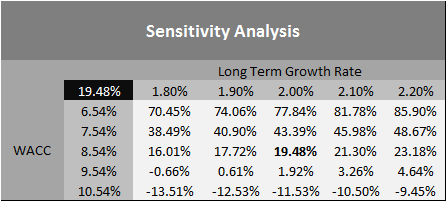 The sensitivity analysis suggests that in the worst-case scenario where WACC increases to 10.54% and long-term growth decreases to 1.80%, the company will have a downside potential of 13.51%. Similarly, in the best-case scenario where WACC decreases to 6.54% and long-term growth increases to 2.20%, the company offers an upside potential of 85.90%.
Conclusion
During the last few years, the company has performed excellently. Due to the increasing demand for generic drugs and an aging population, the company registered a growth of 15% in its revenues in the year 2012. Moreover, the free cash flow valuation also indicates the strong upside potential in this company's stock. Considering all these factors, I propose the investors to take a bullish position in this stock with an investment horizon of at least two years.
Disclosure: I have no positions in any stocks mentioned, and no plans to initiate any positions within the next 72 hours. I wrote this article myself, and it expresses my own opinions. I am not receiving compensation for it (other than from Seeking Alpha). I have no business relationship with any company whose stock is mentioned in this article.