"I'm always fully invested. It's a great feeling to be caught with your pants up." - Peter Lynch
Since Friday March 6, 2009, when the S&P hit a low of 666.79, the U.S. stock market began a slow and steady climb that just recently broke clean through high the S&P 500 made in 2000 during the dot-com bubble. The peak was tested 2007, however once credit markets froze, what is known now known as the financial crisis quickly destroyed over 50% of the S&P 500's market value. Now that the market is up again the question remains, is now a good time to invest?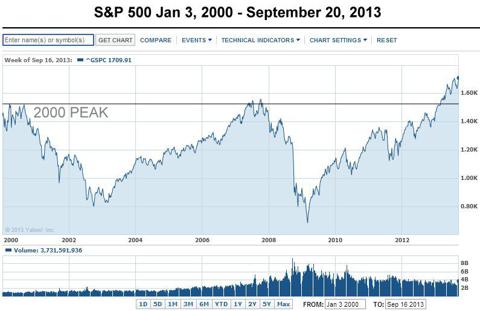 There are three easy-to-understand elements that come into play regarding the market and pricing. By citing all three elements, an investor is able to make more of an educated-decision regarding the risk versus reward of the market and at what levels their investments are prudent.
The first and often most important element of market valuations are investor or market sentiment. Secondly, earnings and historical pricing of the general stock market play a role. The final element that plays a major role in the market is the state of political economy, both on global and domestic levels. By working through these three factors, one could argue that the U.S. stock market, which is up 36.24% over the last five years as measured by the S&P 500, is in the midst of a giant bull run and that stocks in general are ripe for the picking.
This 3-part series of articles will encompass each of the above mentioned elements of market valuation in detail by utilizing knowledge from top investment peers and organizations.
Here is the schedule of the entire series. Please make sure to "follow" me so that you will be notified when each new article is published.
Part 1: Investor Sentiment
Part 3: The State Of The Political Economy
Part I: Investor Sentiment
On October 16, 2008, just one month after the bank run on money market mutual funds and in the midst of the biggest series of global bank failures, Warren Buffett, Chairman and CEO of Berkshire Hathaway Inc. (BRK.B, BRK.A), wrote one of the most widely-known Op-Eds (opinion editorials) in modern history titled Buy American, I Am.
Investor sentiment was reaching a low not seen since the dot-com bubble burst. The S&P 500 had dropped from over 1400 to a range of 865.83 to 947.71, with a close of 946.43. With a baseline of 876 (which looks like 900 on the chart), we can see where the level was in comparison to the recent decade.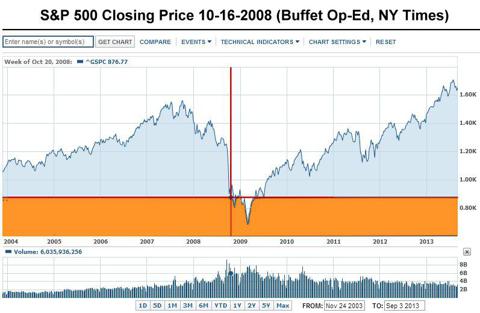 As the chart notes, the market continued to sink after Buffett's remarks until the March 6, 2009 low. Clearly if Buffett liked American stocks between S&P 500 levels of 865 and 947 (the range on 10-16-13), the proceeding dip was even more of a bargain for the man. As we know now, once his "Buy American, I Am" stock level was conquered in 2009, the market never looked back. Based on a truncated closing price of 946 on 10-16-08 and a current value of 1709, the S&P 500 is up over 80% in just under 5 years.
Buffett notes in his editorial was that although investor confidence was at a low and although there would be inherent risks to companies that were weak or highly-leveraged, in the long-term the strong businesses would survive and once again earn record-setting profits. Buffett's now famous words regarding his purchases of American publicly-traded companies were simple, yet profound when taking the market sentiment of the time into consideration.
Buffett stated "A simple rule dictates my buying: Be fearful when others are greedy, and be greedy when others are fearful. And most certainly, fear is now widespread, gripping even seasoned investors. To be sure, investors are right to be wary of highly leveraged entities or businesses in weak competitive positions. But fears regarding the long-term prosperity of the nation's many sound companies make no sense. These businesses will indeed suffer earnings hiccups, as they always have. But most major companies will be setting new profit records 5, 10 and 20 years from now."
Here we are, coming on the 5-year anniversary of his words. The S&P 500 has broke new ground with all-time highs and profit records. Investor sentiment is not like it was in 2008, when the financial collapse left many to wonder if cash under the mattress, gold buried in the yard and guns in the closet were the best viable options.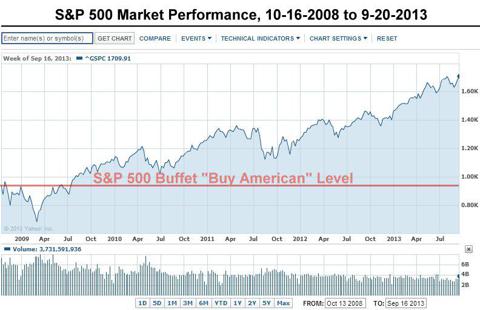 For the investor who had cash to invest, using the lower-risk approach of purchasing stock monthly for several months (as every beginner's investment guide teaches), would be up well over 80% today as stocks actually took nearly a year to break through Buffet's "Buy American" level.
Even with the Oracle of Omaha himself telling the American public to buy stock, investor confidence was gullied as financial contagion affected the entire globe. Investors naturally wondered questions such as "Was Buffet wrong? What does he think now that the S&P is 20% lower than when he said 'Buy American?'"
For this reason, collective investor sentiment is one key to pricing the market. When the newspaper headlines were all stating bad news such as company failures, losses in the market, insolvent banks, home price declines, job losses and lower corporate profits, the astute investor must remember Buffet's words. As he noted (and worth repeating here) "Be fearful when others are greedy, and be greedy when others are fearful."
Portfolio values were dropping and investors were running for the hills. The chase in home prices was over and banks were up to their necks in toxic securities. What made the low stock valuations profitable today was the fact that Buffet stated that "fears regarding the long-term prosperity of the nation's many sound companies make no sense."
Sure enough, the S&P 500 set its earnings record profit in 2012 as U.S. GDP continues to trend higher. The question that remains is a tricky one. What is the investor sentiment now? Where are we at in this bull market and does it have room to go higher?

Ask yourself the question as empirical research on sentiment is key. Is everyone trying to get into the market to buy sector stocks in a fashion similar to the technology excitement in 1997-2000? Are many of your friends buying spec houses with high-risk mortgages dependent on asset appreciation, however okay with it because home prices are destined to go up forever?
Truth be told, unless you are buying Bitcoins, there is no aggregate investor rush to make an investment into any market segment. Stock prices are appreciating surely but steadily and many income investors are still unwilling to take on added equity risk. There is no tulip-mania or giant, widespread fear overwhelming the market.
As noted in the September 19, 2013 article I wrote promoting an imminent U.S. REIT bull market, respected investor and chairman of Oaktree Capital Howard Marks has summed bull markets into three stages. In his March 2013 memo to investors, Marks states the levels as follows:
Stage 1: "When a few forward-looking people begin to believe things will get better."
Stage 2: "When most investors realize improvement is actually underway."
Stage 3: "When everyone's sure things will get better forever."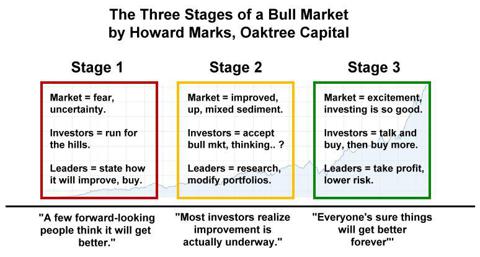 He then notes (regarding early 2013) "we're somewhere in the first half of stage two (of the recovery). Pessimists no longer control market prices but certainly neither have carefree optimists taken over."
Summary
It doesn't take a rocket scientist to figure this out. No tulips, no rush for sector stocks or property. Stage two, check. This market has room to run. The next question to ask must be regarding the price of stocks. Are they in line with historical expectations or are they bid up to levels of unrealistic expectations?
Please make sure to "follow" me so that you will be notified when each new article is published.
Disclosure: I have no positions in any stocks mentioned, and no plans to initiate any positions within the next 72 hours. I wrote this article myself, and it expresses my own opinions. I am not receiving compensation for it (other than from Seeking Alpha). I have no business relationship with any company whose stock is mentioned in this article.