Utility stocks and utility funds have generally not been the place to be this year in a rising interest rate environment but the Federal Reserve's decision to postpone any tapering of its Quantitative Easing last Wednesday has put interest rate sensitive securities back in focus. Nowhere was this seen more than in the utility sector index, as reflected by the SPDR Utilities Select ETF (NYSEARCA:XLU), which rose 3% last Wednesday, far outdistancing the S&P 500, up 1.2%, or the Dow Jones Industrial Average, up 0.9%.
One of the great features of Closed-End Funds (CEFs) for opportunistic investors is that their market prices do not always reflect the performance of their Net Asset Values. Often times, investors will sell off funds that are actually performing very well at the NAV level but because they assume the fund invests in underperforming sectors, they will just go ahead and sell the fund without doing much more research. This can often create bargains for investors who perform due diligence and I believe I have found one of these diamonds in the rough.
Duff & Phelps, an affiliate of Virtus Investment Partners (NASDAQ:VRTS), is a large financial advisory and investment banking firm involved in a number of capacities. One area Duff & Phelps has been involved in for many years is in Closed-End Funds, particularly in funds focused in the utility sector. Three CEFs from Duff & Phelps, the DNP Select Income fund (NYSE:DNP), the Duff & Phelps Utility & Corporate Bond Trust (NYSE:DUC) and the Duff & Phelps Global Utility Income fund (DPG), are all utility sector based.
For purposes of this article, I'm going to focus on the two equity based funds, DNP and DPG, and eliminate DUC because it is a pure fixed-income CEF whose portfolio includes mostly corporate bonds from utility companies. Now, utility stocks may not be the most glamorous name when one thinks of stocks to own, but throw in leverage and a superior management team such as Duff & Phelps, and the results can be anything but boring.
Let's first take a look at Duff & Phelps flagship utility fund, DNP. DNP is one of the largest and most successful CEFs ever having gone public all the way back in January of 1987. At $3.5 billion in total managed assets of which $2.4 billion is common assets (30% leveraged or 42% leveraged depending on which asset base you use), DNP is a goliath among CEFs.
Because of DNP's history and reliability of paying a $0.065 monthly distribution per share since about as far back as anyone can remember, DNP has typically traded at a premium valuation for most of its existence. In fact, DNP's 5-year average market price premium over its Net Asset Value (NAV) is about 25%, one of the highest of any CEF in history. Here is DNP's historical premium valuation graph going all the way back to 1994.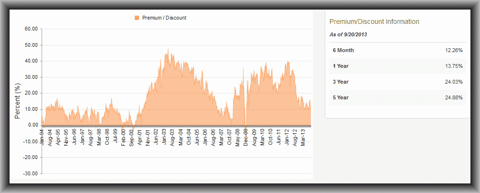 Obviously, we're talking about a very successful CEF over the years. By leveraging the fund's dividend and interest payments from its portfolio of utility stocks (70%), corporate bonds (20%) and Master Limited Partnerships (10%), DNP has been able to offer income investors a reliable $0.78/share per year distribution which equates to an 8.1% current market yield based on a $9.66 current market price as of Friday, September 20th, 2013.
However, keep in mind that new investors in DNP not only have to pay a 10.9% market price premium to own the fund, albeit much lower than its historic premium, but this also results in a lower current market yield of 8.1% compared to its 9% NAV yield that the fund is truly paying. What this all means is that investors are willing to pay a premium market price as well as absorb a yield discount for this fund's superior management and distribution reliability.
Well, wouldn't it be nice if you could get Duff & Phelps' experience with utility sector management at a discount? Not only could you buy the fund's assets on sale but you would also receive a windfall yield over and above what the fund was actually paying. And here is where DPG comes into play.
A New Duff & Phelps Utility CEF Makes Its Debut
Just over two years ago in July of 2011, the Duff & Phelps Global Utility Income fund, or DPG, went public at a $20 inception price and close to a $1 billion market cap, large for a CEF. Now one thing to know about new issue CEFs - they generally include a sales credit of around 4.5%, so this means that the NAV usually starts 4.5% lower than the market price, or in this case, at $19.07. What typically happens is that the market price will eventually drop after going public and will often drop lower than the NAV. This tends to leave a bitter taste in investor's mouths and usually by year end of a CEF's inaugural year, investors are using the fund as a tax-loss.
This can be seen in DPG's Premium/Discount chart since inception below in which the fund quickly moved up to around a 10% premium market price right after it went public and then dropped to a discount of around -9% by year end. After a short recovery in the first quarter of 2012, DPG's discount has essentially been on a ramp down ever since and currently sits at an all-time low -13.3% discount.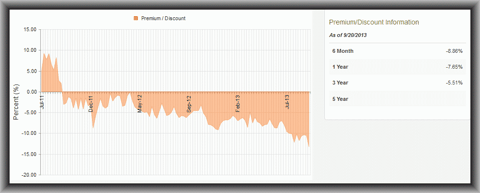 You might think, based on this chart, that DPG must not be doing very well but you would be wrong. From DPG's inception at a $19.07 NAV, the fund now sits at a $21.01 NAV, not even taking into account $3.15 in total distributions the fund has paid since inception. That works out to a 26.7% total return since inception, better than even XLU at 22.9%, which includes all of XLU's dividends. So why does DPG's chart look the way it does? Simply because DPG's market price continues to underperform its outperforming NAV, which means the fund trades at a wider and wider discount and a lower and lower valuation.
You can't blame Duff & Phelps for this. Blame investors for assuming a utility based stock fund must not be doing well. What's even more amazing is that DPG's NAV performance seems to be getting better as time goes on compared to other leveraged utility CEFs, all of which trade at significantly higher valuations to even premiums, including DNP. In fact, here are the five leveraged utility based CEFs I follow and their YTD total return NAV and market price performances. For added comparison, I have included the SPDR utility sector fund, XLU.
Here you can see that DPG's NAV performance is significantly ahead of the others YTD, and compared to XLU, it's not even close. Then consider that DPG offers twice the market yield as XLU. Astonishingly, in a rising interest rate environment, DPG's total return NAV performance of 18.9% YTD is not that far behind even the S&P 500 which is up 19.9%. So why is DPG doing so well at the NAV level and why aren't investors applying a higher valuation? Let's start with why DPG is actually doing so well at the NAV level.
Which Duff & Phelps Utility CEF Is The Better Investment Now?
One advantage that DPG has over some of the other utility based CEFs, including DNP, is that DPG's portfolio is pure equity based, i.e. no fixed-income securities whereas DNP includes 20% fixed-income securities (corporate bonds of utility companies mostly and preferreds). Though one might think that a balanced fund with fixed-income securities would be less risky than a pure stock based fund, in this rising interest rate environment, this hasn't been the case and stocks are generally faring better than bonds.
Another advantage for DPG is that it has an exceptionally low NAV yield at 6.7% compared to DNP at 9%. The advantage of a low NAV yield is that it puts much less pressure on the fund to cover its distribution, thus allowing faster NAV growth, all else being equal. In fact, DPG's organic NAV growth (i.e. after distributions) from a $19.06 inception NAV to $21.01 today could easily put it in position for a distribution raise at this rate. From a market yield stand point, DNP has a slight edge currently at 8.1% vs. 7.7% but this is not appreciably different. DNP also pays a monthly distribution vs DPG which pays quarterly. Taken together, DPG has several advantages over DNP and that's not even taking into account the almost 25% valuation difference (-13.3% discount for DPG vs. 10.9% premium for DNP). Of course, DNP's primary advantage is that it has a 25-year history whereas DPG is rather new at only 2-years since inception.

What also seems to be helping DPG currently is that it has a higher percentage of its stock portfolio located overseas where the impact of higher interest rates here in the US may not have as much of a direct impact.
Looking at DPG's portfolio breakdown by country and sector (right), 49% of DPG's portfolio is in foreign stocks, the highest of all the leveraged utility CEFs. Compared to DNP, DPG has a higher mandate to invest overseas with a minimum 40% and a maximum 75%. DNP, on the other hand, is limited to 20% foreign issuers.
DPG's utility stock portfolio is also weighted more toward telecommunications at 36% whereas DNP has only a 15% exposure to telecom and an 81% exposure in electric, gas and water utilities. This may also be helping DPG's NAV performance as global telecom is more economically sensitive than interest rate sensitive.
Another benefit is DPG's higher Master Limited Partnership (MLP) exposure at around 28% vs. 10% for DNP (see below concerning MLPs).
DPG does use less leverage than DNP, 24% vs. 30%, based on the total managed assets (i.e. including the leveraged amount), but as a pure stock based fund with no fixed-income exposure, DPG compensates for that with more capital appreciation potential. DPG also uses a covered-call option strategy on its equity positions for added income potential. And finally, DPG's leverage is based on a very low LIBOR rate plus margin, thus keeping interest expenses reasonable as well.
Historical Valuations For Leveraged Utility CEFs
All utility based CEFs have seen their valuations compressed this year in a rising interest rate environment. However historically leveraged utility CEFs tend to trade at some of the highest valuations of any class of CEFs, primarily due to their defensive portfolios and consistent distribution payments.
Funds like DNP and the Gabelli Utility Trust (NYSE:GUT) for example have traded at lofty premiums for most of their existence and yet DPG continues to trade at a discount more appropriate for a fund which has either cut its distribution or reflects a dramatically underperforming NAV. It's hard to pinpoint why DPG trades at such a wide discount other than that investors put it in the same domestic utility sector as other electric power and smokestack utility funds. However, there could be a couple other reasons, none of which carry much weight in my opinion.
Why Do Investors Not Apply A Higher Valuation To DPG?
New CEFs, even two years old, tend to have a "show me" valuation that comes with not having a longer term track record. However, as DNP's younger sibling, DPG should actually get a valuation bump in my opinion because of Duff & Phelps' experience in the utility sector. This is a valuation discount mistake being made by investors I believe.
Another possible concern is that over half of DPG's distributions have been historically classified as Return-of-Capital (ROC) which is really a non-event as far as I'm concerned and actually could be looked upon as a bonus because of ROC's tax benefits. As explained in DPG's Semi-Annual Report dated April 30th, 2013, the fund's distributions include a Return-of-Capital due primarily to its investments in Master Limited Partnerships ("MLPs"), which can pass along the ROC benefits to the fund without investors having to worry about K-1 filings. Energy MLPs make up about 28% of DPG's portfolio as reflected in its oil, gas storage and transportation percentage shown above.
This is one of the advantages of investing in CEFs that have high MLP exposure in their portfolios. Many CEFs that invest purely in MLPs actually include 100% Return-of-Capital in their distributions and yet are raising their distributions and trading at premium valuations. If you don't believe me, just take a look at a couple of the largest pure MLP CEFs like the Kayne Anderson MLP Investment Company (NYSE:KYN), link, which trades at a current 6.2% premium valuation or the ClearBridge Energy MLP (NYSE:CEM), link, which also trades at a premium valuation. Note: Each link will take you to CEF Connect for each fund. Hit the "Distributions" tab to see historic distribution payments and ROC percentage.
Conclusion
Higher interest rates are always a concern to interest rate sensitive sectors like utilities and I'm not passing judgment as to where interest rates go from here. However, the Duff & Phelps Global Utility Income fund, DPG, is about as untraditional of a utility fund as you can find with its high global telecom and MLP weightings and overseas exposure. The mistake that investors are making in DPG by valuing it as a traditional domestic utility fund is creating an excellent opportunity for new investors to own a fund that is not only trading at its widest discount since inception but also is showing one of the best NAV performances of any stock based CEF YTD, utility or otherwise.
DPG offers a 7.7% current market yield and closed at $18.22 on Friday, September 20th, 2013, almost $3 lower than its $21.01 NAV.
Disclosure: I am long DPG. I wrote this article myself, and it expresses my own opinions. I am not receiving compensation for it (other than from Seeking Alpha). I have no business relationship with any company whose stock is mentioned in this article.