Qihoo 360 (NYSE:QIHU) has been among the top performers this year, with shares rising more than 150%. The rise came after a string of good news and excellent earnings reports. Qihoo's price performance and growth levels far exceed Baidu's (NASDAQ:BIDU), although Baidu is making efforts to remain number one in China's search market, and possibly take some of Qihoo's market share in other areas. However, Qihoo remains well positioned to take advantage of China's booming mobile market and grow its search market share.
Great earnings cycle continues
Qihoo's second quarter earnings and revenue exceeded analyst estimates. The company also gave guidance which was higher than the consensus estimates. This was in sync with the first quarter, when management guided revenue much higher than analysts were expecting. Second quarter revenue surged 108% to $151.7 million, while adjusted earnings per share rose 135% to $0.40.
During the quarter, Qihoo gained notable search traffic share, said the company's CEO Hongyi Zhou. Mobile security was also one of the very strong segments, with total users reaching 338 million in June 2013, compared with 120 million in June 2012. Profit margins improved significantly. Net margin was 21.8%, compared with 9.6% in the same quarter last year.
As a result of significantly raised guidance, analysts have increased their estimates. This year's earnings are expected at $1.29, while expectations were much lower at just $1.05 three months ago. Next year's earnings expectations were also raised from $1.68 three months ago to $2.13. This is a part of the great overall earnings cycle Qihoo is going through, with outstanding earnings and revenue growth and rising analyst expectations. I was concerned with the shrinking margins, but this is much less of a concern now after a significant improvement in profit margins.
Is the price too high?
Qihoo currently trades at high trailing and forward P/E ratios. Even Qihoo's price to sales ratio is almost twice as much as Baidu's. But this is all a function of Qihoo's outstanding growth. All the metrics say that Baidu provides more value than Qihoo, but Baidu is posting mediocre earnings growth in the recent quarters, and is expected to grow earnings at a far slower rate than Qihoo. Qihoo also has a much higher price to sales ratio, but Qihoo's revenue has grown at an average rate of 103% in the last six quarters, as opposed to Baidu's 57% average revenue growth rate. And Baidu's earnings expectations are trending down, as opposed to Qihoo's rising estimates. If Qihoo can sustain its growth in the next few years, as it is expected to, the current price is still not too high.

However, the stock looks extended and vulnerable, and it would be better to wait for a consolidation or a pullback to the 50-day moving average line.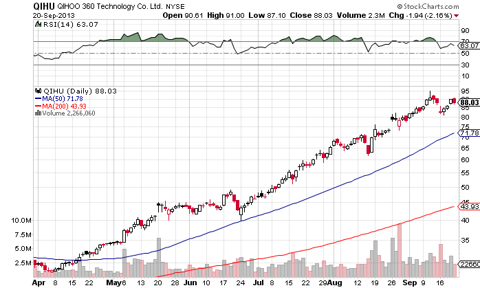 Source: Stockcharts.com
Debt offering - will Qihoo make a big acquisition soon?
In late August, Qihoo announced an offering of $550 million convertible senior notes. This might be another confirmation of the earlier acquisition rumors. The company confirmed earlier this year that it is in early talks with Sohu.com (NASDAQ:SOHU) to buy its Sogou search engine. Qihoo's search market share gains are in line with the company's expectations, and Sogou might be a good addition. It would strengthen Qihoo's position and the company's search market share might surpass 25% by year's end.
However, this acquisition does not seem likely now, since Tencent bought a 36.5% stake in Sogou for $448 million. This strategic partnership will make Sogou a formidable adversary to both Qihoo and Baidu, given the Tencent's plans to promote Sogou throughout its messaging and gaming services.
Conclusion
Qihoo continues to deliver outstanding earnings and revenue growth. The company continues to gain search market share, and other business segments are also doing very well. Even without the Sohu.com's search engine acquisition, Qihoo is doing great so far with its gains in the search market. Another very positive and important development in the latest quarter is the significant recovery of profit margins. Qihoo remains very well positioned to take advantage of the tremendous growth trends in China's search market, as well as in the mobile segment. However, the stock looks extended now, and it would be better to wait for a pullback to the 50-day moving average line, or a consolidation of prior gains.
Disclosure: I have no positions in any stocks mentioned, and no plans to initiate any positions within the next 72 hours. I wrote this article myself, and it expresses my own opinions. I am not receiving compensation for it (other than from Seeking Alpha). I have no business relationship with any company whose stock is mentioned in this article.