NQ Mobile (NYSE:NQ) has finally caught Wall Street's attention, with its share price rising more than 100% in less than two months. The company has been growing revenue in triple-digits since it went public in May 2011, but it traded mostly sideways until late July 2013. The latest surge in share price might be just the beginning of the company's fast ascent.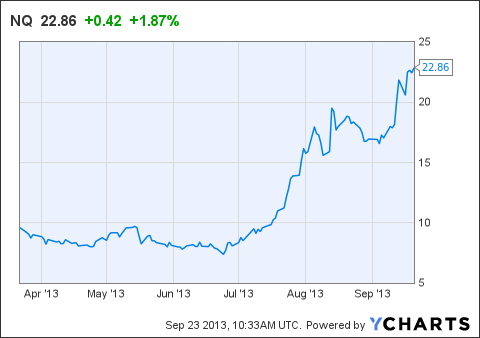 Company overview
NQ Mobile is a leading global provider of mobile Internet services. The company's product portfolio includes mobile security, games, and advertising for the consumer market, plus consulting and mobility services for the enterprise market. As of late June 2013, NQ had a global user base of 372 million registered user accounts and 122 million monthly active users. NQ maintains dual headquarters in Dallas, Texas and Beijing, China.
Outstanding growth
NQ has delivered exceptional revenue growth over the last few years. Revenue has grown from $5.3 million in 2009 to $91.7 million in 2012. The company has delivered triple-digit quarterly revenue growth in the last eight quarters. Adjusted earnings growth ranged from 41%-81% in the last three quarters.
In the latest quarter, earnings and revenue increased 86% and 107%, respectively. Management also raised the full-year revenue guidance to a range of $185 million-$188 million, up from its earlier guidance of $179 million-$184 million. At mid-range of the updated guidance, revenue is expected to grow 103%, which would be another year with triple-digit revenue growth.
This growth is driving the stock higher. In the table below, you can see the growth numbers of NQ, as well as the growth rates of Qihoo 360 (NYSE:QIHU), another beneficiary of the outstanding mobile growth trends. NQ's growth rates roughly match those of Qihoo, but the forward P/E favors NQ.

Source: Yahoo! Finance
Diversifying the business
NQ has taken steps to diversify its product offering. In November 2012, NQ acquired Feiliu (now FL Mobile), which gave it an entry to the mobile gaming industry. FL Mobile is the No. 1 mobile online game distribution platform on iOS in China. FL Mobile's revenue in the second quarter was $7.5 million, blowing away NQ's expectations. FL Mobile also added some large partners recently: Tencent (OTCPK:TCEHY), China Mobile Games & Entertainment (NASDAQ:CMGE), Baidu (NASDAQ:BIDU), and China Mobile (NYSE:CHL), and there are more coming.
In May 2012, NQ acquired a majority stake in NationSky in order to gain presence in China's enterprise market. Recently, NQ purchased the remaining stake in NationSky, and now owns 100% of the company. NationSky works with carriers and smartphone platform providers, and delivers mobile device management services and other SaaS services. NationSky made some large deals in the second quarter, including GE Healthcare China, Anbang Insurance, and The People's Insurance Company of China.
On September 13th, NQ announced the release of "Music Radar", a content-based music information retrieval application. The app is available in China for Anroid and iOS platforms, and the company plans to expand the service into other countries in the near future. Music radar can identify a song being picked up through the device's microphone. It is similar to SoundHound and Shazam. In addition, the app provides on-the-go music listening and downloading capabilities and social sharing.
NQ is also expanding into new geographies, mainly the U.S. and Latin America.
Conclusion
NQ Mobile is benefiting from the global shift from PC to mobile, and from the shift from regular cell phones to smartphones. These secular growth trends provide a great opportunity for the company to grow well into the future. The company is delivering outstanding growth, and analysts expect the growth to continue over the next two years. They have been raising estimates following a very good earnings announcement and higher company guidance. However, the share price looks extended, and vulnerable to a pullback, so caution is advised.
Disclosure: I am long NQ. I wrote this article myself, and it expresses my own opinions. I am not receiving compensation for it (other than from Seeking Alpha). I have no business relationship with any company whose stock is mentioned in this article.