Amarin (NASDAQ:AMRN) had been trending upward of late - moving from the low $5 range up to $7.20 for substantial gains - until the announcement two weeks ago that a U.S. appeals court had reversed an earlier established ruling on generic Lovaza, essentially clearing the way for a generic Lovaza.
Amarin's Current Chart as of 9/21/13
After a minor hiccup in the share price, which pulled back from $7.20ish to $6.50ish, the ship has steadied a bit - and all eyes are on continued prescription data and Amarin's coming catalysts before the end of the year.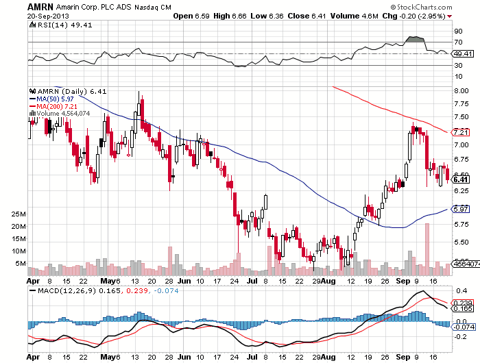 Continued support of Amarin's share price at these levels is going to eventually result in the two moving averages converging, as noted by the 50 day average beginning to curl up for the first time in months.
From its website, "Amarin Corporation is a biopharmaceutical company focused on the commercialization and development of therapeutics to improve cardiovascular health. Amarin's product development program leverages its extensive experience in lipid science and the potential therapeutic benefits of polyunsaturated fatty acids. Vascepa (icosapent ethyl) is Amarin's first FDA approved product and is available in the United States by prescription."
After the drug's approval, the company did not pair with any major pharmaceutical partners, brought on its own sales staff, and is taking a stab at launching Vascepa on its own. In the face of the stock losing a good portion of its value over the past six months, prescription data (provided by Symphony and IMS Health) continues to head in the right direction.
On July 3rd of this year, I announced that I was covering my Amarin short that yielded results over 30% and that in the face of Vascepa data and the valuation of the stock, Amarin was a buy opportunity. Of recent, it's looking more and more like the stock had bottomed in the mid to low $5 range, and we've seen a major trend reversal until the snafu regarding potential generic Lovaza, which I pointed out in my last article we were expecting anyway by 2015.
Prescription Data As Of 9/16/13
Off the heels of reporting data from a holiday week inclusive of Labor Day, where script data has lagged in the past, Vascepa's prescriptions data for the week following looked outstanding.
Total scripts were up from 5,139 to 5,830, an increase of 13.45%. Refills were up from 2,574 to 2,841, an increase of 10.37% - and an increase that is indicative that physicians and patients are both finding some success with Vascepa's efficacy.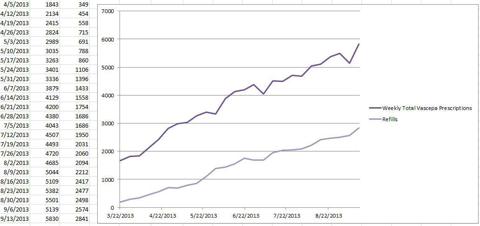 Updated List of Amarin Catalysts
October 16th, 2013 - FDA Advisory Committee
Early November - Q3 Earnings
Decemeber - ANCHOR indication decision
Ongoing - Potential for Vascepa to be granted NCE status
Still Bullish on Amarin
I continue to believe here that Amarin is going to carry its momentum upwards into the second half of this year. I'm contending that Amarin is still a buy as it will continue to rise based solely on emotion leading up to the end of year catalysts coming down the pipe.
In addition, I'm reiterating my sentiment that the recent pullback from above $7 is a buying opportunity, based on continued impressive prescription data through 9/16/13 and more analyst support of the Lovaza ruling being meaningless and likely emotional run-up of Amarin towards its coming binary events.
Best of luck to all investors.
Disclosure: I have no positions in any stocks mentioned, and no plans to initiate any positions within the next 72 hours. I wrote this article myself, and it expresses my own opinions. I am not receiving compensation for it (other than from Seeking Alpha). I have no business relationship with any company whose stock is mentioned in this article.