My last article on Apple (NASDAQ:AAPL) was titled "Great Expectations: The Apple Story", and it revolved around the thesis that Apple continues to not only be the most fundamentally sound company in the world, but they're doing exactly what the market is asking of them and still not getting any love. Sometimes life just isn't fair, right?
Apple has really been doing its part to battle back since it's drop to the $380 level in late June/early July of this year. Investors who were savvy enough to purchase at that bottom have already yielded over 30%.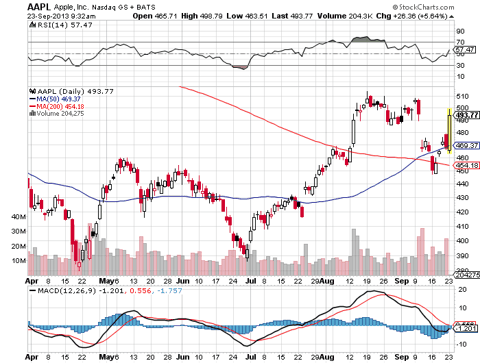 As you can see, the fall off on the chart in med-September was a product of the market not really enjoying what Apple had to show at its iOS 7 event, where it announced it would be launching both the iPhone 5C, as well as the iPhone 5S.
Here's a quick look at some of the differences between the two phones that Apple is offering, versus the "old" iPhone 5:
| | | | |
| --- | --- | --- | --- |
| | iPhone 5 | iPhone 5C | iPhone 5S |
| OS | iOS 6 | iOS 7 | iOS 7 |
| Camera | 8 mpx @ 720p | 8 mpx @ 720p | 8 mpx @ 1080p |
| Processor | A6 | A6 | A7 64-bit |
| Fingerprint | No | No | Yes |
| Weight | 3.95oz | 4.65oz | 3.95oz |
| Colors | Black/White | Five Pastels | Grey, Gold, Silver |
In the time between my last article and now, Apple has officially launched it's iOS 7 - which came out last week - and is now starting to report preliminary sales numbers for it's two new iPhones - and the sales numbers look really, really good.
In my last article, I went into some color about why I thought Apple released the two phones that they did, and what the strategy was in deciding their price points and metrics:
I think we can get a pretty clear idea of exactly what it is that Apple wanted to do here, and I also think it was generally the right decision for the company to make. I'm behind the two new version of the phone, and here's why:

It's likely that just like Mac has the MacBook Pro, Apple wanted to create a retail and a pro version of their phones. They wanted to have one version on the lower end, for retail - and one on the top end, for the people that buy Apple to be - well, snobs. I mean, tech savvy!

As a tech guy, I cannot tell you how much I'm looking forward to actually seeing this Apple A7 processor in action - from all I've read, it's supposed to really be a major difference. I'll likely buy a 5C as my next phone, however, because of the price point and general lack of funding that I have for frivolous things like phones.
Monday, Apple just flexed its muscles big time. As you can see from the chart above, it's great timing, too - as Apple is now showing a bullish technical indicator in a "golden cross". Combined with solid news from the company, this is likely to be the beginning of a sustained uptrend for Apple stock.
Three Ways Apple Just Flexed Its Muscle
1. iTunes Radio Has Over 11M Unique Listeners
Well, you can kiss Pandora (NYSE:P) good-bye. I guess Mel Karmazin was right when he went before the Senate to argue that Sirius/XM was a viable merger and not a monopoly because they'd technically be competing with things like iTunes in the future. I thought it was generally BS, simply to get the merger through - now, Pandora is going to learn this the hard way in the coming years, as iTunes radio gains traction and the "Corporate Strategy" executives at Pandora are likely to start putting in some major overtime.
Apple has, in one fell swoop, just crushed the hopes of dreams of a lot of die hard Pandora longs.
iTunes radio has been released to great reviews, and the blogger consensus echoes that of CNET, who put it best when they basically just said that iTunes Radio has simply crushed Pandora in all metrics:
iTunes Radio may be late to the party, but it's still better than Pandora when it comes to streaming programmed radio on iOS. Like its competitor, iTunes Radio lets you create personalized stations based on one or more artists, songs, or genres of your choice, which makes it an attractive alternative to your personal iTunes library and a nice vehicle for discovering new music. Beyond that, though, it offers seamless purchases through iTunes, a curated selection of Featured Stations, and a music library that easily dwarfs Pandora's.
2. Apple Just Destroyed iPhone Estimates Twice in a Row
The key for Apple? Just ask my friend Michael Blair, he'll tell you - Apple needed to get on their smartphone game, and quick. They needed to stop the major bleeding that was occurring, costing the company precious market share in the mobile phone market.
Not only did they beat their analyst estimates for Q3 iPhone sales:
So much for the worries about the smartphone category. I'd guess that this is the news that is fueling a lot of the after-hours rally that we're witnessing, as well. It was a record June quarter for iPhone sales. Not only did iPhone numbers impress, but the call reaffirmed that customer satisfaction with the phone and customer loyalty were top notch in the industry. Apple tooted their own horn for a good couple of minutes on the conference call, and after analysts painting a dreary smartphone picture, I don't blame them.
...but the first numbers came in this morning for the new iPhone 5C/5S that Mr. Market didn't seem to like, and guess what? They blew out, and in some cases doubled, analyst estimates of sales.
CNBC.com reported on Monday morning:
Apple announced on Monday that sales for its new iPhone had set a record, with consumers snapping up nine million smartphones within the first few days of its launch, allowing the company to hike its revenue guidance.

The tech giant said in a statement that the iPhone 5s and 5c gangbuster sales were accompanied by more than 200 million downloads of the iOS 7 platform, Apple's new iteration of its operating software.
So, it appears that Apple is still "in", and is continuing to find major success with their smartphones - check that caveat off the list, at least for now.
3. New "Conservative" Apple Raises Guidance
Impressive that Apple came out and said that they were going to be on the top end of their guidance estimates. Even more impressive? The fact that this happened under the watch of Peter Oppenheimer, whom I consider to be steering the Apple ship in a conservative manner - without sandbagging.
Three or four quarters ago, Peter Oppenheimer implemented his master plan to make sure that analysts do not get expectations too high - something that has cost the Apple stock price dearly in the past in this investor's opinion. As I've previously noted with regards to Oppenheimer wanting control of guidance, not analysts:
On the heels of CFO Peter Oppenheimer saying last quarter that Apple will no longer sandbag guidance, this is a nice sign, to me, of stabilization in terms of calibration between Apple's guidance, analysts' guidance, and what they're capable of reporting.
The very fact that the company has come out and semi-broken that trend by announcing higher than expected revenues, is extremely unlike the "new" Apple and in this investors opinion, very promising. From the same CNBC.com report:
As a result, Apple said company revenue for the fourth fiscal quarter would be "near the high end" of its previous guidance of $34-$37 billion. Gross margins would also check in near the top of its prior guidance of 36-37 percent.

The numbers defied some of the market's low-ball estimates, and suggests the technology giant still has cachet with consumers as it fends off a stiff challenge from Samsung. Apple fanatics snapped up the new 5c and 5s models in droves, with lines snaking around Apple's iconic retail stores last week. Some ebullient fans even camped out overnight, in order to be the first to get a hold of the new device.
So, it's looking like we're going to have Q4 earnings off in the distance to look forward to as well. Nothing like having a catalyst up your sleeve that's coming down the road in a couple months, to make you feel good about an investment in a company.
iOS 7 Launches to Good Reviews; Some Bugs
Supplemental to the big three listed above, Apple launched its iOS 7 this last week - to a rocky start, but ultimately great user reviews.
Well, we learned something the hard way with Apple's iOS upgrade - something that Sentaor Ted Stevens had known all along - "...the internet is not something you just dump something on, it's not a big truck - it's a series of tubes!"
And, when 54 trillion people try to download iOS 7 at the same time, those tubes can get filled.
CNN.com reported on the chaos:
Users all across the Internet -- including some irate members of CNNMoney's own staff -- have been receiving messages on their iPhone that the update was unable to download, or that the iPhone software update was simply unavailable.

This sounds pretty similar to issues that arise every year with each new major update of iOS. And if history is any indicator, it's a problem which will subside sooner than later.

What's likely happening is that there are more people simultaneously trying to hit up Apple's servers than those servers have the capacity for. And not only do you have to connect to download the software, but you have to connect again for the servers to verify that the hardware and software are legit before you can install iOS 7.
Mass hysteria and everyone's rush to download iOS 7 at once made the first 24-48 hours of the download being available rather shaky, as anxious iPhone users were lauded with many different error messages ranging from "iPhone update cannot be downloaded" to "Check engine - transmission fluid low".
Once installed, iOS 7 was well received by most reputable reviewers, amongst the obligatory pissing and moaning from the usual suspects who are generally in a state of dissatisfaction about any and all changes - regardless of their content.
CNET.com again echoed the sentiments of most of the tech community when they offered their thesis on the new phone operating system:
Provided you take the time to find your way around, iOS 7's new design makes it a compelling upgrade that completely transforms Apple's mobile OS.
They go on to call it a "massive makeover" that makes iOS "feel new again".
Conclusion
Apple remains one of the best vehicles you could possibly put your money into. The company has plenty of room for growth - if not tons of room in smartphones, then definitely tons of market share for Mac and Macbooks still to come.
I also went on to note in my last article, that Apple, while now somewhat predictable, is still moving in the right direction as a company. I commented that even though the market didn't seem to like the launch of the new iPhones, that it didn't predicate as to what the eventual success or failure of them would be:
I think to a degree, what we are witnessing here is still some of the "great expectations" story for Apple. Even going into yesterday, which was clearly billed as strictly an iPhone event, there was speculation about whether or not Apple was going to introduce a watch - or ever a TV - alongside the phone.

Folks, that is the old Apple; young, brash, unpredictable - pizza boxes and beer cans strewn about. This is the new Apple; older, wiser, grown-up - and screaming at those damn kids to get off its front lawn.
Apple pays a healthy dividend, has an enormous cash position, and still hasn't begin to really tap into overseas markets where major sales potential exists.
On the heels of this iPhone's initial success and Apple continuing to hack away at the "smartphone problem", I reaffirm Apple to be a very sound investment and a buy - as we'll likely see it pushing $600 before year's end.
Best of luck to all investors.
Disclosure: I have no positions in any stocks mentioned, and no plans to initiate any positions within the next 72 hours. I wrote this article myself, and it expresses my own opinions. I am not receiving compensation for it (other than from Seeking Alpha). I have no business relationship with any company whose stock is mentioned in this article.