An old Wall Street adage is "no one rings a bell at the top." Did a bell get rung on Friday? Reading several other articles in the Macro View section of Seeking Alpha over the weekend, one would assume that it had actually been a gong that had been rung.
Friday was the negative ending to an overall positive week. The reasons for the sell-off were many, St. Louis Fed President James Bullard told Bloomberg television Friday morning that a small tapering of bond buys is "possible" at the October meeting. Also concerning investors is the threat of a looming debt ceiling battle and potential government shutdown later this year.
So the million dollar question is, was that it? Is the correction everyone has been waiting for now upon us? Or was it the absolute top of the bull market? Every bull market has cycles of accumulation and distribution, better known as "corrections." Calling an individual correction within an overall bull market is one thing, calling the end of the bull market is quite another. This article refers to the end of the bull market overall. The S&P 500 (NYSEARCA:SPY) appears due for a correction at this level, however overall, it doesn't appear to be the end of the bull. Let's take a look at a few different indicators and sentiment measures.
One of the first things I noticed when scanning different market related sites was this sentiment indicator over at MarketWatch.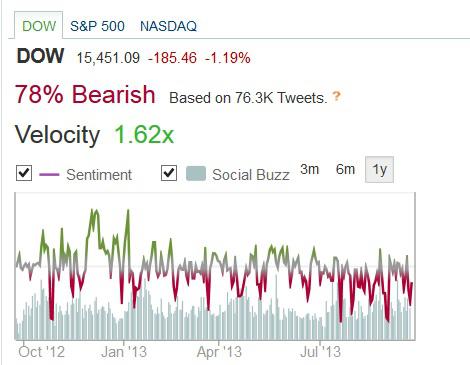 The sentiment indicator is overwhelmingly negative for the Dow. This is a positive for the market as Wall Street continually does its best to confound most investors. Sentiment indicators are usually difficult to quantify and test so I don't use them specifically for what to do, but more for what not to do.
In addition to sentiment, I look at the amount of money available to push stocks up. A readily available source for money being invested in the stock market is the monthly margin debt statistics provided by the New York Stock Exchange. A downside of this data series is that it's 2 months delayed, however, it still can be a useful tool.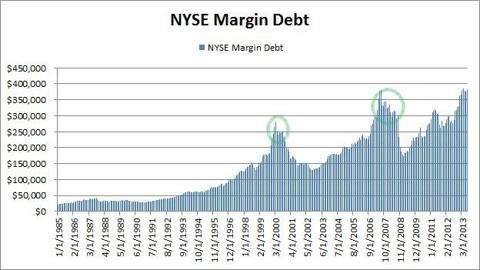 What is significant about this chart is not the absolute level. I use whether margin debt is increasing or decreasing in my analysis to look for confirmation and divergence. I have highlighted the areas around the last 2 bull market tops. What you will find significant is each top had level of margin debt decreasing prior to each ultimate top in the S&P 500. Looking to the latest data, I'm not seeing a significant reduction in margin debt. The absolute amount is, indeed, alarming and cautionary. But until it starts decreasing I would not consider it bearish.
A final but very accurate indicator of "Market Tops"
The first chart shows the Advance/Decline line for the S&P 500 at the market top in 2000. There was a strong divergence where the market index continued marching higher but fewer and fewer stocks were participating in the rally.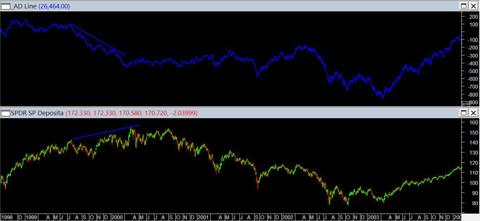 The second chart shows a similar situation occurring at the 2007 top.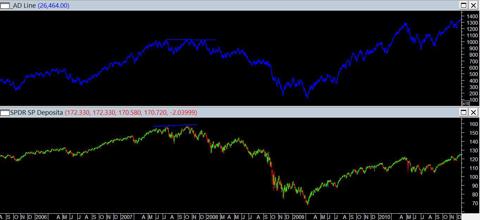 And the current chart. This very important indicator of market tops is signaling a confirmation of the new highs.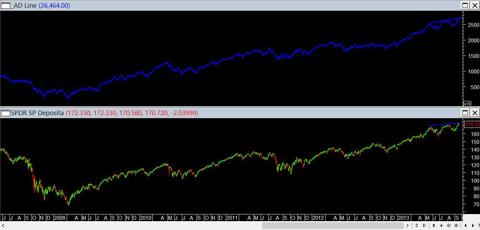 I'm not in the camp that feels that this is the end of the run. Of course, I'm not 100% certain. I hope that when I am wrong, you will at least give me the benefit that I'm doing my best to provide you "actionable intelligence." I can tell you that my indicators tend to act before the market gets a chance to move too far against me, and overall risk can be reduced. This could absolutely be the beginning of a correction, which could lead to the end of the bull.
Two area's of concern that I'm watching very closely is the strong divergence between the interest-rate sensitive Utilities Index (NYSEARCA:XLU) and the S&P 500.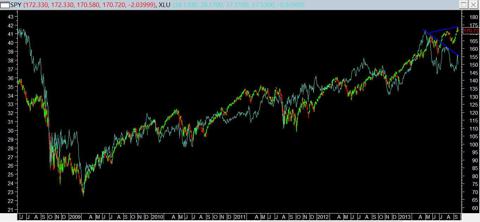 And also the Financials (NYSEARCA:XLF).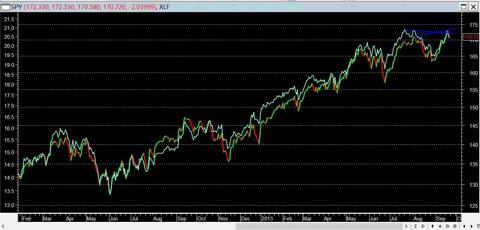 Financial Services is such a large part of the U.S. economy that weakness in this sector is very concerning.
In Summary
It is too early to tell whether this is the end of the bull or a correction within a bull market. While there is much evidence to suggest a correction may certainly be upon us, little evidence points to the end of the bull. A market top is almost always a topping out process of ultimate highs then consolidation with lower highs. There is almost always time to adjust your portfolios accordingly.
For the present time, maintaining an overall asset allocation for your personal risk tolerance is the best course of action. I would not initiate any speculative long positions, and maybe even consider taking some profits there. When we get closer to the 50-day moving average, you could add some long positions with appropriately placed stops.
On a final note, Ray Dalio over at the very successful hedge fund Bridgewater Capital uploaded a fantastic video to YouTube over the weekend explaining how the economy works. I highly recommend it. Enjoy the week!
Disclosure: I am long SPY, MDY, IWM. I wrote this article myself, and it expresses my own opinions. I am not receiving compensation for it (other than from Seeking Alpha). I have no business relationship with any company whose stock is mentioned in this article.