Oracle Corp (NASDAQ:ORCL) stock, one of the original Tech dot-com giants, has been treading water for much of 2013 while the overall market has garnered gains of about 20 percent. Given the fundamentals, it seems the shares deserve better treatment. In this article, we will review some key financials and perform a brief peer comparison to see if this premise holds water.
Introduction
Oracle Corporation is a provider of enterprise software and computer hardware products and services. The company is organized into three businesses: software, hardware systems and services. The software business represents about three-quarters of total sales.
Oracle management views International Business Machines Corporation (NYSE:IBM) and EMC Corp (EMC) its primary computing infrastructure peers. SAP AG (NYSE:SAP) and Salesforce.com Inc. (NYSE:CRM) are its foremost application software competitors.
First, let's review a few selected fundamentals to gauge the financial strength and trends for the company.
Revenue
Top-line sales growth is a key metric for Oracle. Given an Enterprise Value of $140 billion, the "rule of big numbers" makes year-over-year revenue growth more difficult over time. This remains one of the biggest management challenges. While flattening out a bit over the past two years, the five-year revenue compound annual growth rate is nearly 15 percent.
A recent leveling trend has appeared to worry investors. However, I point out that a recession-plagued Europe, which represents about 28 percent of Oracle's FY 2013 sales, has been a significant drag on overall revenue growth. EU markets are beginning to stabilize, and therefore investors may expect to see a gradual, corresponding sales boost from this region. This will help enable the company to resume reasonable sales growth.
Free Cash Flow
While earnings are an important measure for any business, Free-Cash-Flow (FCF) is often an even better gauge. Investment great Warren Buffett largely equates FCF to "Owners Earnings," or operating cash flow less routine capital expenditures. By this measure, ORCL has demonstrated outstanding, sustained performance.
Oracle has routinely generated more FCF per share than Earnings per share. This should not be underestimated. It means that the company is generating more net cash after capital expenditures that its reporting in Operating Earnings. Few corporations can make this claim.
Please find below a FUN (Fundamental Underlying Numbers) graph, courtesy of fellow Seeking Alpha contributor Chuck Carnevale's FAST graph package, that highlights five-year Revenue, Free-Cash-Flow, and Operating Earnings trends.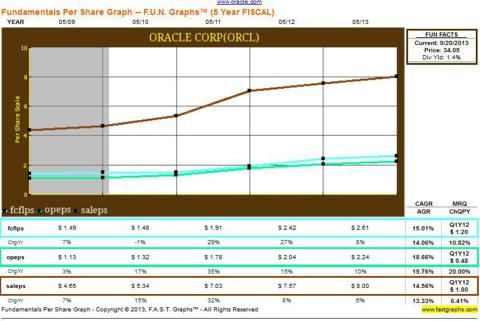 Balance Sheet Strength
Oracle also sports an excellent balance sheet.
Liquidity as measured by the Current Ratio is 3.2x; a very strong figure.
Long Term Debt-to-Equity has hovered between 37 and 41 percent over the past five years; demonstrating good debt management.
Cash and Investments are $8.37 per share, or nearly a quarter of the total market cap.
Return-on-Equity has been trending up for the past five years; the most recent ttm figure is 25 percent.
In addition, balance sheet cash and owners' equity have been strong and moving higher. Here's another FUN graph depicting these measures: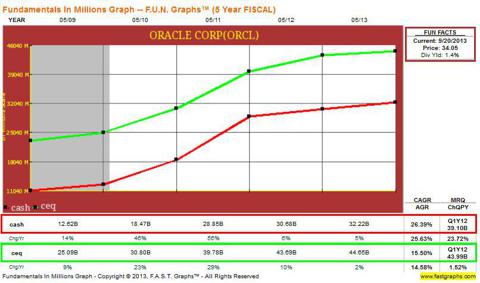 Oracle versus Peer Performance
I've compiled a table showing Oracle's primary competitors versus selected fundamental metrics to see how they stack up:

Oracle appears to stack up pretty well.
Versus the other large competitors, ORCL comes out on top. Notably, IBM has a tremendous return on equity, but it's a result of high leverage and low common equity.
Salesforce.com is a different animal, as we'll expand upon below. However, these figures indicate that while CRM is rapidly growing revenue and free cash, it comes at the expense of high debt and negative return on equity.
The following table of valuation measures will take the analysis one step further:

A casual look at these figures indicates that Oracle is hardly overvalued, and arguable undervalued. It's certainly leans towards the low-end of its peer group on multiples of earnings, cash flow, and book. The company is in-line on its five-year projected PEG ratio.
Salesforce.com remains an outlier. It's much smaller, and hardly undervalued. It's strictly a high-growth story, with a long way to go before even touching the size and scope of Oracle. Most valuation measures place it in the nosebleed section.
It should be pointed out that while the PEG ratio is not meaningful, Street analysts project CRM to grow earnings at 26 percent a year over the next five years. Analysts project Oracle to grow earnings at a significantly lower 10 percent clip over the same period of time. Given the size of base sales upon which Oracle is growing, I am not alarmed by the differential.
Finally, let's utilize two FAST graphs to view ORCL's current stock price versus its historical multiples of earnings and cash flow. This offers additional perspective on Oracle's valuation. I've chosen to use ten-year charts. First, a historical price, operating earnings and PE graph: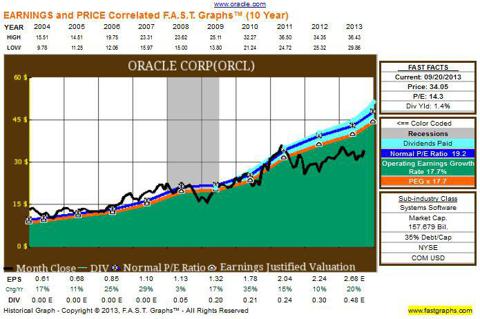 Next, a historical price, FFO and FFO multiple graph: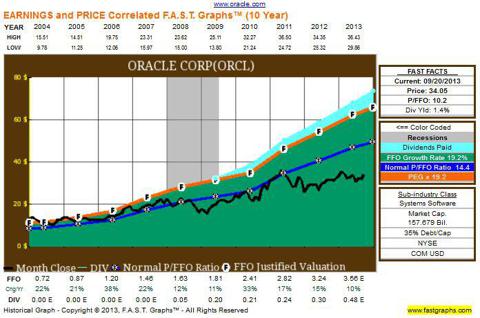 The black lines is the stock price. The blue line is historical, normalized multiples of Price/Earnings or Funds from Operations (FFO is a close cousin of Operating Cash Flow).
We can see that by either measure, the black line (price) is well below the historical multiples of earnings or FFO (the blue line). Therefore, based upon ten year's precedent, the stock is undervalued. One may conclude that over time, the price and earnings / cash flow should once again correspond to historic multiples.
We will complete the valuation review by using a forward-looking FAST graph to see where the stock price may track if the company meets Wall Street earnings forecasts.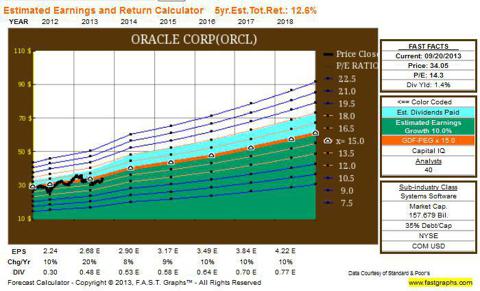 Assuming a forward P/E ratio of 15x, and a FY EPS of $2.90 we obtain a target price of about $40. That's an 18 percent improvement from the current market price of $34 a share. A modest, but rising dividend is extra. Investors also should note that Oracle management continues to authorize significant share re-purchases that have actually drawn down the diluted share count.
Bottom Line
It appears that Oracle Corp has been given a bit of bad rap. The stock continues to grow the top line, albeit slower than in the past. This should be considered normal given its huge enterprise value.
Nonetheless, earnings and cash continue to advance strongly. In particular, Free-Cash-Flow has run consistently above Operating Earnings. This is unusual and demonstrates the underlying cash generation strength of the organization. Coupled with a sound balance sheet, investors may expect ORCL to return significant value to shareholders.
Versus its peers, Oracle appears well-positioned.
While some detractors try to compare Oracle with Salesforce.com, the two companies are in quite different spots: ORCL is a diversified, mature cash machine, while CRM is a small, growth stock.
Given its size, one cannot expect Oracle to grow like Salesforce.com. However, Salesforce.com cannot possess the balance sheet or returns of Oracle.
I am not much influenced much by Street talk about Larry Ellison losing is mojo, the back-and-forth defecting of management staff from one outfit to another, or negative print about co-president Mark Hurd. If I were to be swayed by any of the soft data, I'd place my money on the venerable Mr. Ellison.
Please do you own careful due diligence before making any investment. Do not rely on any one source for information. Good luck in all your 2013 investments.
Disclosure: I am long ORCL. I wrote this article myself, and it expresses my own opinions. I am not receiving compensation for it (other than from Seeking Alpha). I have no business relationship with any company whose stock is mentioned in this article.