Southern Copper (NYSE:SCCO) was profiled on July 5 as the Bear of the Day and as a Zacks Rank No. 5 (Strong Sell). Since then, the company has once again missed earnings and is the Bear of the Day today.
Shares Up Since Last Profile
When I take a quick look back at the chart, I see that SCCO is up about 4.75% since it was last profiled as the Bear of the Day. In that same time frame, the market (S&P 500) was up 6%. So not quite the negative performance you might expect, but it has underperformed.
Company Description
Southern Copper is in the business of mining, exploring, producing, smelting, and refining copper and other minerals in Peru, Mexico, and Chile.
Earnings History
The last two quarters have not been that good for SCCO. The March 2013 quarter was a miss of three cents of 4.8% below earnings expectations. The follow quarter was another miss of $0.03, but since the estimates were lower, the percentage of negative surprise rose to 6.4%.
More importantly, the company has missed on the top line in each of the last three quarters. The most recent quarter reported on July 22. 2013, had a top-line miss of $112M, which translates to a negative sales surprise of 7.4%. Investors do not want to see negative sales growth from companies as it will force management to cut costs deeper and deeper. This can lead to lower margins and lower earnings.
Earnings Estimates
In March, the Zacks Consensus Estimate for 2013 was calling for $2.63. Since that time, the estimates have continued to decline. A move to $2.04 in June was followed up by a move to $1.92 in September. Clearly, estimates are trending in the wrong direction. 2014 doesn't look any better, with the Zacks Consensus Estimate moving from $2.73 to $2.15 to $1.86 over the same time horizon as mentioned above.
The Chart
The price and consensus chart for SCCO shows how lower earnings estimates over time will lead to a lower stock price. While the price seems to have stabilized, the earnings picture has not. Despite short-term improvements in stock price, investors would want to see estimates move higher before they buy this stock.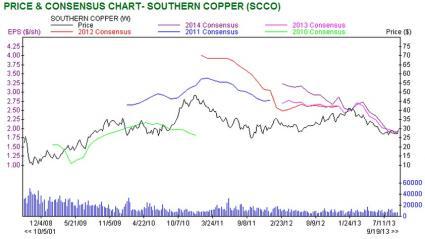 Southern Copper: Free Stock Analysis Report (email registration required)