Almost a full year ago, we wrote about Micron Technology (NASDAQ:MU) and how it was going to be a solid-state giant. At that time Micron was trading in the 5.80's range. Currently Micron is valued at 17.05. This rapid rise poses the question: Is Micron due for a pull back? If the stock does pull back - Does it still present a very attractive long-term investment given how much the SSD industry is projected to grow?
(Quite a 1 year run for MU)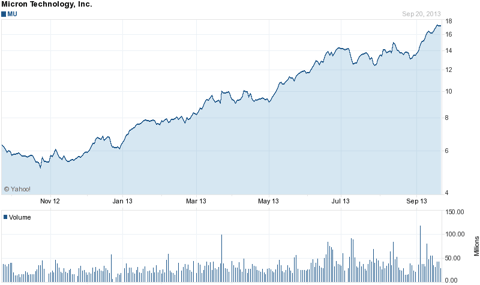 Click to enlarge
SSD Growth Will Parallel Graphics Card Growth of the 1990's
In the 1990's graphics cards hit the market and literally blew away gamers with the shift from software graphics to hardware based graphics. Gamers embraced them in droves. SSD's will mimic this growth.
Back in 2009 (when I bought my first SSD) the technology was on the fringe, expensive, and not very stable. The year 2010-2011 began the 1st year that many people were starting to wake up to what SSD's even were. We see that 2012 is the year that gamers embraced them and they are taking off in data centers. Certainly 2013 will be the year of massive growth in the SSD market... and its only the beginning.
According to Storagenewsletter.com growth for SSD's are projected at a blistering 48%!
"Spanning 2012 through 2017, HDD shipments in PCs are anticipated to realize a negative compound annual (growth) rate of -2.9%, while PC SSD shipments are forecast to see a compound annual growth rate of a robust 48.0%" and "Worldwide SSD shipments are set to rise to 83 million units this year, up from 39 million in 2012. Shipments are set to continue to rise 239 million units in 2016."
Global SSD Unit Shipment Forecast
| | | | | | | |
| --- | --- | --- | --- | --- | --- | --- |
| Year | 2011 | 2012 | 2013 | 2014 | 2015 | 2016 |
| Millions of Units | 17 | 39 | 83 | 126 | 175 | 239 |
| Y/Y Growth | NA | 129% | 113% | 52% | 39% | 37% |

(Source: IHS iSuppli Research, January 2013)
Industry Titans Enter the Enterprise Market
Don't take my word for it though. The big boys of the industry have watched from the sidelines for long enough. They can see the growth peaking over the horizon.
The titans of the industry are entering the fray. [IBM] bought out Texas Memory Systems, Seagate (NASDAQ:STX) has been rumored to be looking at buying Fusion-io, and Western Digital (NYSE:WDC) acquired STEC and Virident.
Micron: Leader in the Solid State Industry
The Solid State industry should be considered as being comprised of two distinctly different entities: consumer SSD's and enterprise SSD's. Micron stands to benefit as both sides of the market grow. Micron also produces NAND which goes into the SSD drives which gives them a strategic cost advantage over the smaller competition. The key word here is the small competition that cannot produce NAND. The industry is in a period of consolidation and within a few years the big boys will have either:
A). Acquired the smaller fish that cannot produce NAND.
B). Forced them out of the mainstream market and into very specific nitch markets or
C). Put them out of business and acquired the assets (Example: Elipda being bought by Micron)
The same style of consolidation occurred in the graphics industry which is slated to occur in the SSD industry with the end game of just a handful of very large players fighting for the consumer and enterprise markets.
Micron stands to benefit as a rising SSD market allows them to benefit from direct sales and indirectly via selling NAND to the competition (Such as Western Digital in an upcoming PCIe product)
(Micron NAND Powers Western Digital via Brightsideofnews.com)

Conclusion
Micron has currently five things going for it:
1. Micron owns NAND flash production facilities, which will give them a cost advantage over most of their competition as they can simply make the NAND they require.
2. Supply disruptions of NAND are less likely due to the NAND production facilities.
3. A Micron controller chip will also give them cost advantage over any company that has to license a controller chip.
4. Micron SSD's sold under the "Crucial" name have brand-awareness and inherent goodwill.
5. Micron can sell NAND to other SSD makers and increase its revenue stream.
SSD's are the future. Buying a small position in Micron might be a good bet for a long-term SSD play. However, the stock has had one heck of a run up partly based upon memory prices rising due to a fire -- so be careful. One way to play this rise is to sell the $15 and $16 strike put options, that is if you can stomach the risk / reward. As always, develop your positions over time and do not go all the way in one huge purchase. Caution in these markets is prudent.
Disclosure: I am long MU. I wrote this article myself, and it expresses my own opinions. I am not receiving compensation for it (other than from Seeking Alpha). I have no business relationship with any company whose stock is mentioned in this article.
Additional disclosure: I also have sold Put positions at a 15 strike and covered calls upon a portion of my MU holdings at a 17 strike.