ServiceNow (NYSE:NOW) is delivering exceptional top line growth, while the bottom line is still negative. The company is in the early innings of its growth phase, as it needs to ramp up spending in order to maintain its high revenue growth. As its business matures, it will reap the benefits of its past, present, and future investments, as they translate into profits.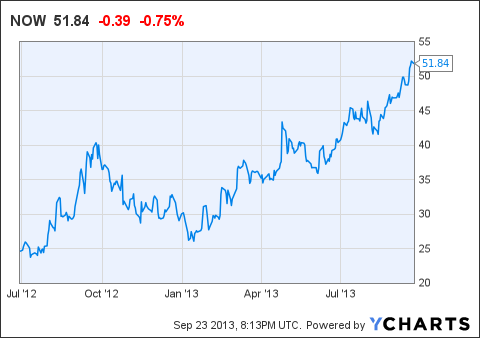 Company overview
ServiceNow is a leading provider of cloud-based services that automate enterprise IT operations. The company focuses on making it easier for customers to consolidate their IT needs into their global automated network. Customers can use these services to create a single system of record and as a result, lower their costs and increase efficiency.
Superior products and execution
The company's revenue is growing so fast because of the rapid adoption of its products, and because its products are superior to competing products. This rapid adoption is due to ServiceNow's ability to integrate a large number of IT solutions into one, easily manageable system. Its main competitors are BMC (NASDAQ:BMC) with its Remedy ITSM (IT Service Management) solutions, and Hewlett-Packard (NYSE:HPQ) with its Peregrine Systems. According to ServiceNow's management, 40% to 60% of ServiceNow's new customers are from BMC and HP.
The issue with BMC's and HP's solutions is that customers fail to upgrade to Remedy and Peregrine products, and this drove them to consider ServiceNow. BMC has roughly 8,000 customers right now, and ServiceNow about 1,700, so there is still ample room to grow through the BMC's installed base. The total addressable market is around 12,000 organizations worldwide, based on the Capital IQ company screen. This screen represents organizations worldwide with more than 1,000 employees and with annual revenue above $500 million.
Another issue favoring ServiceNow's services is consolidation. A lot of BMC's and HP's customers have tried to consolidate all of their IT service management systems into one, and faced problems. ServiceNow does that very well. Johnson & Johnson (NYSE:JNJ), one of its clients took 157 systems into one, and Coca-Cola (NYSE:KO) consolidated 143 systems into one. ServiceNow services were made to take this consolidation into account, while the competing solutions are outdated and were never designed to operate in a modern Internet world.
Improving fundamentals
In the six quarters since the company went public, quarterly revenue growth was above 80%. The company has come a long way from 2008, when it reported just $8 million in revenue, to $243 million in 2012. The company is on track to surpass $400 million in revenue in 2013.
ServiceNow is on its way to its long-term operational goals. Those goals include:
- Gross margin at 68% to 70%, which will be accomplished by the improved economies of scale (current gross margin is in 60% to 65% range);
- Selling, general, and administrative expenses as a percentage of revenue are expected in 29% to 31% range. The current rate is around 46% in the latest quarter.
- Research and development as a percentage of revenue in 11% to 13% range, which would be a bit lower than the current 13% to 14% range.
- Operating margin around 20%, which is currently negative.
Those goals will primarily be achieved through improved economies of scale, slower pace of R&D spending (when compared to overall revenue growth) and reduced selling, general and administrative expenses. This will enable the company to become profitable after the rapid revenue growth phase is over, and reward the patient shareholders.
Conclusion
ServiceNow is expected to continue to reap benefits from the further advances in cloud-computing, and a general shift from outdated services. The competing products are currently weak and the competition needs to work hard to become a dangerous adversary to ServiceNow. As the situation stands now, the majority of new customers are coming from two top competitors: BMC and HP. So, the lack of earnings is not a cause of concern, since the company is investing heavily into expansion. A few quarters down the road we should see an improvement in operational efficiency as the revenue growth slows, and the company focuses more on profitability.
Additional sources: ServiceNow investor presentation, ServiceNow SEC filings
Disclosure: I have no positions in any stocks mentioned, and no plans to initiate any positions within the next 72 hours. I wrote this article myself, and it expresses my own opinions. I am not receiving compensation for it (other than from Seeking Alpha). I have no business relationship with any company whose stock is mentioned in this article.