BlackBerry's (NASDAQ:BBRY) stakeholders should thank G-d that Prem Watsa's Fairfax Financial (OTCPK:FRFHF) was willing to pay $9/share in order to acquire BlackBerry. It was patently obvious to the most casual observer that BlackBerry was broken beyond repair. Despite BlackBerry's dominance in the smartphone industry up until 2010, the iOS-Android duopoly has rendered BlackBerry irrelevant. If BlackBerry did not agree to Fairfax's buyout, it is doubtful that it could have continued to survive as an independent going concern. BlackBerry suffered from declining revenues due to a management team that flailed in the status quo of its own mediocrity because they had no vision, expectations, or discipline in their process when it came to creating mobile communications products that customers wanted. BlackBerry's stakeholders expected that the company's management would focus directly and exclusively on creating innovative communications devices instead of trying to acquire a professional hockey team. I hope that Prem Watsa will put together a leadership team for BlackBerry that consists of adults who are able to take charge of BlackBerry's destiny.
BlackBerry's shareholders were too optimistic that the BlackBerry 10 smartphone product line would save it from technological irrelevance. Despite the significant time and resources that BlackBerry devoted to it, the BlackBerry 10 operating system contained numerous kinks, bugs and other omissions. I did not see anything that would compel iOS and Android users to switch to the BlackBerry 10. When I consider the amount of time and effort that BlackBerry put into its new operating system, I would have thought BlackBerry would have been able to iron out all these annoying nuisances in the development stage. Apple's (NASDAQ:AAPL) reputation took a hit because of its mapping issues but at least Apple is still able to maintain its smartphone and tablet computing device sales volumes.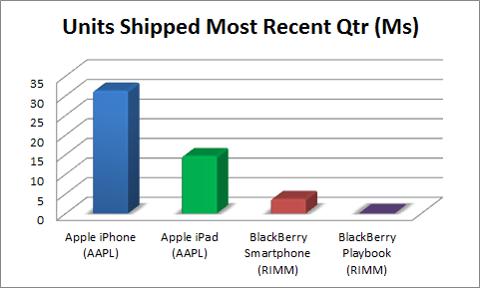 Sources: Apple's Q3 FY 2013 Earnings Release and BlackBerry's Q2 FY 2014 Preannouncement
Prem Watsa's Fairfax Financial built up its stake in BlackBerry last year and owns 10% of the company's shares (51.85M shares as of June 2012) through its Hamblin Watsa Investment Counsel subsidiary. Don Yacktman's Yacktman Asset Management Company built up a 23.5M share position as of September 2012; however, Yacktman reduced its stake to 5.9M shares (1.14%) as of June 2013. The notable hedge fund Viking Global Investors initiated a 4.6M share position in Q3 2012 and built up a 14.1M share position as of June 2013 (2.73%). Other notable shareholders in BBRY include PRIMECAP Management (27M shares, 5.25% ownership stake), Arrow Street Capital (8.7M, 1.69%), Grantham, Mayo, Van Otterloo (7.4M, 1.44%) and Coatue Management (6.3M, 1.22%).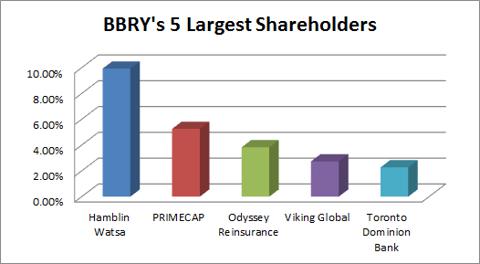 Source: Morningstar Direct
BlackBerry's Q1 2014 results were a bit of a mixed bag. The good news was that it did not incur any additional asset impairments and that it was able to increase its revenues and reduce its losses. BlackBerry even generated $205M in free cash flows during the quarter though this achievement was primarily due to $276M in reduced working capital assets. BlackBerry's cash and liquidity asset balance was $3.1B ($5.86/share) as of the end of the quarter. The last piece of good news was that it increased its smartphone shipments by 13% on a linked quarter basis. Unfortunately, it saw its smartphone shipments decline by 13% year-over-year, it eked out incremental revenue growth after years of shocking deep revenue declines and its BlackBerry Playbook tablet computing device sales volumes declined by 67%. Furthermore, only 40% of BlackBerry's smartphone sales volumes were its brand-new BlackBerry 10 smartphone products.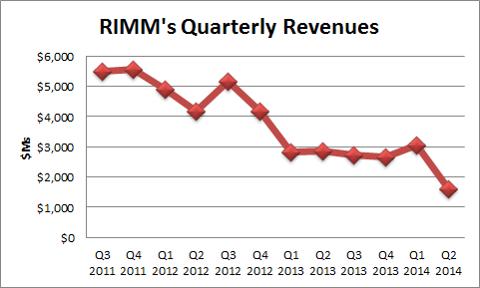 Source: Morningstar Direct
Just when BlackBerry's stakeholders thought they could celebrate the fact that the company's fortunes could not get any lower, they find out that things have gotten worse. BlackBerry pre-announced that it incurred a quarterly loss of nearly $1B next week in Q2 2014 due to the write-off of unsold BlackBerry phones, but also because of payments to stop manufacturers and suppliers from adding to the pile. In addition, the company will be discontinuing two of its six phones available for sale. We do not know what the worst piece of news was for the company so we will let investors decide for themselves:
BlackBerry's Q2 2014 revenue of $1.6B was almost half of the $3B that analysts were predicting and 45% below its Q2 2013 levels.
BlackBerry only sold 3.7M smartphone devices during the quarter (50% decline from 7.4M in Q2 2013).
BlackBerry burned through $500M in cash during the quarter, leaving it with $2.6B in liquidity assets.
BlackBerry announced that it would lay off 4,500 employees (40% of its workforce)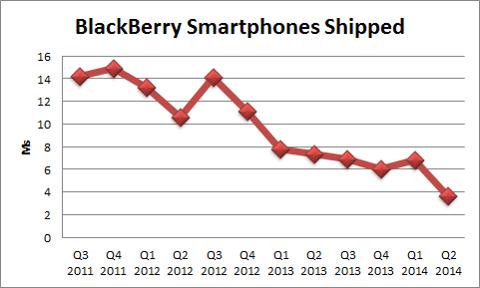 Source: BlackBerry's last 12 earnings releases
Based on these observations, I expected choppy performance for BlackBerry's stock before Watsa came through with his buyout proposal. I also saw continued declines in operating income even though it released the BlackBerry 10. At least Watsa is willing to bail out BlackBerry shareholders by acquiring it for $9/share. BlackBerry shareholders should make sure that Watsa is able to go through with the acquisition proposal so they can salvage some value from their shares and let BlackBerry be Watsa's problem. While Apple is going through its own struggles, at least it is not as bad as BlackBerry. It was patently obvious to the most casual observer that BlackBerry blew it with the launch of BlackBerry 10. Unfortunately for BlackBerry's presumptive new owner, BlackBerry's hardware product line has failed to differentiate itself from the iOS-Android duopoly and its BlackBerry service network is prone to occasional failures, is based on aging technology and has had its role reduced under BlackBerry 10.
Disclosure: I am long AAPL. I wrote this article myself, and it expresses my own opinions. I am not receiving compensation for it (other than from Seeking Alpha). I have no business relationship with any company whose stock is mentioned in this article.