This note is an update to my initial article on NES. It is meant to address a few inaccuracies with my previous article and provide some new insights into the risks for NES shareholders. At the bottom I'll also summarize some relevant parts of my Aug 24th note since it is no longer visible to non SA-Pro viewers. The key points remain:
NES is a

roll-up gone wrong that is destroying capital - results continue to deteriorate.

NES is misrepresenting itself as an environmental services company when 90+% of EBITDA comes from simple oilfield fluid services. In addition, the founder appears to be distancing himself from the company.
NES is extremely overvalued relative to its peers and has a dangerous level of debt. The company has near-term default risk on its credit facility covenants THIS coming quarter and fair value is 70% lower.
Default Risk Even Sooner (after 3Q13, not 4Q13)
The Maximum Total Debt Leverage Ratio covenant (4.00x) is Nuverra's most restrictive covenant. How do we know this? Let's start with a chart from the company's latest presentation. As you can see, trailing 12-month pro forma EBITDA is $151mm (and declining - as you can also see).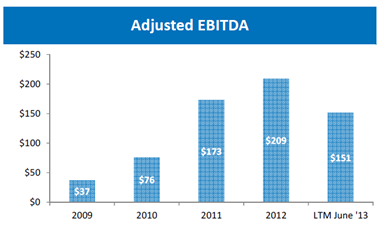 Source: Nuverra Environmental
Using a 4x multiple, NES is allowed maximum leverage of $604mm in net debt (4 x $151mm). What was net debt after 2Q12? $546mm (long-term debt) + $5.6mm (short-term debt) - $10.2mm of cash = $541mm of net debt. So that means NES is should only be allowed to borrow $63mm ($604-$541) on its credit facility before hitting its maximum leverage ratio, which is consistent with the latest 10-Q that highlights how the borrowing has been restricted to just $73mm (p39). Why the difference between my $63mm and the $73mm? NES gets to make a few more adjustments to its credit-facility EBITDA than it reports to investors, i.e. EBITDA to the bankers was $153.5ish (raising total max leverage to $614mm).
In my previous article, I wrongly highlighted how interest coverage ratio was the most restrictive covenant. My mistake was using GAAP interest expense for my calculation instead of cash interest expense, which is ~$10-12mm lower than GAAP interest of ~$53mm. Using the correct method, NES would need EBTIDA to fall to around ~$115mm (~$42mm *2.75) before risking a default on that covenant.
While my initial argument was that NES likely defaults after full-year 2013 results, unfortunately for NES longs, the risk is sooner. Why? Because I underestimated how quickly pro-forma results deteriorated from 3Q12 to 4Q12. As you can see in the chart below, 3Q12 adjusted EBITDA fell from $53mm to $32mm in 4Q. If we assume 3Q13 EBITDA hits consensus estimates of $38mm (which would be up ~15% sequentially and very optimistic given the company's track record), we get to trailing 12-month EBITDA of $135mm ($32.1 + $32.1 + $33.3 + $38). What's $541mm in net debt divided by 4 (the max debt leverage ratio)? $135mm. That's not good.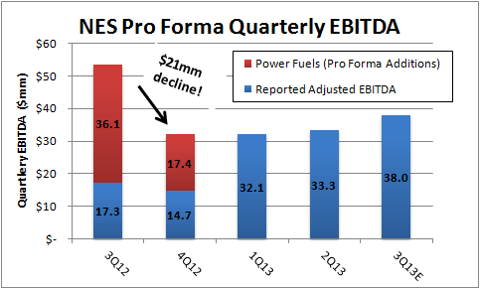 Source: Nuverra Company Filings
Thinking about it another way, the company is about to lose $21mm off of its trailing 12 month EBITDA. At a 4X multiple, borrowing power is set to decline by $84mm. That's more than the $73mm borrowing power the company had after 2Q.
So what's the likely outcome? 1) NES could get a pass from the bankers and just have to pay higher borrow costs. This only delays inevitable problems, especially if results decline. But, if results stabilize, then NES will continue to grind along with no earnings (and a very lofty valuation). 2) If the bankers are frustrated, which they rightfully may be, they will make NES do a very dilutive secondary offering to pay down debt. That wouldn't go over well for current shareholders. Regardless of how the bankers handle the situation, NES's leverage is clearly a problem.
Large Impairment Likely Coming in 3Q
Given the terrible results of TFI since it was acquired by Heckmann, analysts have constantly asked if/when NES might have to impair the goodwill. Well, it is likely coming in 3Q. Why? Here's the question from an analyst on the latest conference call and Jay Parkinson, the CFO's response:
Analyst on TFI: "…does that business warrant a review of its - an impairment review?"

Jay: "It's something that obviously you have to look at. One of the issues, and we put this in our Form 10-Q, is during the last period and recently our stock at various times have traded below what the book value is per share, which necessitates a review. We normally do our annual impairment review in the third quarter. So it's something that - yes, I can speculate on right now what the results will be, but it's something that obviously is part of the ongoing accounting process and something that we will have to look at. If we did have anything on that, the potential charge, if there was one, it'd be in the third quarter."
Given that the business has performed terribly (Wunderlich estimates 2013 EBITDA of just $17mm, compared to $34mm when it was acquired) and the fact that NES is trading well below its book value, NES will likely take a large impairment. This will result in a big headline EPS miss, which is never good for stock prices.
Stock Promote Absurdity
My previous article prompted a flurry of responses. Several bank analysts wrote notes, and StoneFox quickly published a rebuttal Seeking Alpha article, and Motley Fool published 15 pump pieces (I'm being sarcastic, maybe it was 5). My favorite was Wunderlich. It upgraded NES on Sept 6th and increased its target price from $4 to $5. This was despite not increasing the estimates at all. So what assumptions did Wunderlich use to justify its target price? A 10-year FCF CAGR of 16%! Did it provide any substantive evidence for such a strong and sustainable rebound? Of course not. Where's the growth coming from? The business is declining, flat at best.
3Q Results Could Disappoint Even Further
While the Wunderlich note was meant to instill confidence, it likely instilled confidence in the bears. Why? Activity in the Bakken in 3Q has exploded after a slow 2Q, which was hampered by weather. Given that 70% of EBITDA comes from the Bakken, NES results should be great. Yet, after lengthy conversations with management to update their numbers, Wunderlich writes: "3Q13 is similar but slightly better than 2Q13 and 4Q13 ramps to $45mm."
So let me get this straight, activity has exploded, and results will only be up marginally? Keep in mind if NES doesn't hit estimates they need to covenant relief from banks to avoid default. And then in the seasonally slow quarter, the 4th quarter, the same quarter where results fell 40% sequentially last year, EBITDA should grow 30% sequentially? Does anyone actually think that's going to happen?! If so, contact me, I've got some oceanfront property in Arizona to sell you.
Results will continue to suffer as a result of competitive pressures for fluid services in the Bakken. Key Energy, a competitor in fluids services, recently presented at the Barclays Energy Conference in NYC. What did they say about fluids services? From the Barclay's note:
"Fluid management remains the company's most competitive business (lowest barriers to entry) and pricing competition is 'fierce' in current environment."
Cramer Still Distancing Himself From NES
Even after my harsh review, and NES falling a decent amount, Cramer still couldn't recommend buying the stock. Watch the video here as he awkwardly tells viewers to stay away. He says stay away until gas drilling rebounds, which is likely a long time away, and this is despite telling them earlier in the year that NES is an oil play (and 70% of EBITDA comes from the Bakken).
Aren't the CEO Purchases Bullish?
Not really, Mr. Johnsrud essentially had to. He needs a strong stock price 1) in order to negotiate with bankers, or 2) in case the bankers make him do a dilutive secondary. It also shields him from future liability should NES go bankrupt (which they likely will if results keep declining or activity meaningfully slows). Moreover, his new stake is insignificant (added less than 1% to his position) and can be funded with the money he makes selling water, disposing of waste water, or renting apartments to Nuverra drivers. These are all side investments where the CEO is making money off of Nuverra's activity. Don't believe me? Read the related party transactions on page 22.
Conclusion
Those are my updated thoughts on NES. Some investors have commented that this is a turnaround investment. A turnaround investment needs to be at a discount valuation, not pricing in a turnaround and then some. I will remain short until the company's valuation falls to in-line with its respected oil service peers or until execution materially improves.
Summary of Previous article "Nuverra Environmental: A Sinking Ship with Default Risk "
The key points:
Roll-up gone wrong: NES is a destroyer of capital and has yet to put up any decent results. The company has missed it's guidance by 35+% the last three years and yet to generate any positive operating profit.
Misrepresenting itself: NES claims to be an environmental service company, when in fact it is just a simple oilfield service company (which trade at a meaningful discount to environmental service companies due to cyclicality and lack of differentiation). NES primarily owns trucks, tanks, and water disposal wells - nothing proprietary. The company is no different than the fluids service divisions of Key Energy, Basic Energy and Superior Energy.
Founder jumped ship: Dick Heckmann saw the mess he created, handed off the reigns, removed his name from the company, and is distancing himself from this sinking ship.
Extremely overvalued: The company is extremely overvalued relative to its peers (9x EBITDA vs 5x EBITDA) and only has $0.08 of tangible book value per share. Book value of $3.34 per share is extremely deceptive because it contains a massive amount of goodwill and intangibles from Dick's buying binge (where he overpaid for assets at the peak of the cycle).
Over-levered with liquidity crisis looming: NES has $551mm of debt and borrowing capacity has already been restricted on its credit facility. The company has slashed spending in order to generate cash, but NES is still set to violate its credit facility covenants by year-end. This is using updated guidance, which has always proven overly optimistic (note item #1). The impending default event will ultimately lead to a restructuring where equity holders are left with nothing.
Disastrous Results
The numbers speak for themselves. NES has lost ~$7mm of operating profit so far in 1H13. In fact, NES has never generated positive operating profit (see below). And operating profit (EBIT) is before the millions of interest it must pay, which is growing as debt grows. The company has only generated positive EPS on a few rare occasions using some tax accounting magic.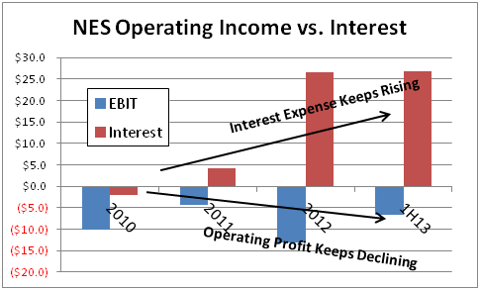 Guidance Consistently Wrong
Most management teams tend to be conservative with their guidance. Not Nuverra. It has missed its guidance by over 35% for three years in a row, this is despite making a number of acquisitions to fill holes. 2011 missed by 46%, 2012 missed by 38% , and updated 2013 guidance is 32% lower than expectations from last quarter.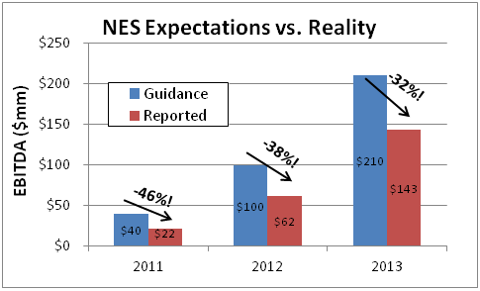 I challenge readers to find another company that has missed guidance so consistently and by such a large margin.
Power Fuels and Core Businesses in Decline
The Bakken has remained one of the most active basins in the country, yet Power Fuels results have collapsed. Why? Increased competition from new trucking companies entering the basin. Rental rates for tanks and other rental products have collapsed (excessive margins ultimately lead to oversupply). And E&P companies are investing in their own gathering and disposal systems for water. This completely disintermediates Power Fuels, and it has already shown up in the numbers (and likely gets worse).
In addition to Power Fuels, Nuverra's core fluids service business will continue to decline (barring a major pickup in activity) as a result of heavy competition and disintermediation from E&P companies (drilling their own disposal wells and sourcing their own water). Investors need to be aware that NES's core fluids service business is the lowest margin and most commoditized division for most oil field services companies (who also have an integrated solution for water). Other oilfield services (pressure pumping, coiled tubing, snubbing, drilling) are also commodity services, but much less so than trucking water and disposing it into disposal wells. The fluids service divisions of other oilfield service companies have been challenged this year due to oversupply from private and public players and disintermediation from E&P companies. Competition is expected to remain intense, and Nuverra will continue losing market share.
Sky High Valuation at Risk - Fair Value 80% Lower
Despite all of these factors (disappointing and declining results, negative ROIC, management turmoil, liquidity and default risk), NES trades at a significant premium to its oilfield peer group (see below).

I estimate fair value of ~$0.60/share. Using a half point turn discounted multiple (4.8x EBITDA), NES would be worth: $145mm in 2013 EBITDA x 4.8 - $541mm net debt / 253mm shares = $0.60/share. Does NES warrant a slight discount when it has a default risk? You decide. Tangible book is just $0.08/share. The $3.34 book value is deceptive because of the massive amounts of goodwill and intangibles.
Disclosure: I am short NES. I wrote this article myself, and it expresses my own opinions. I am not receiving compensation for it (other than from Seeking Alpha). I have no business relationship with any company whose stock is mentioned in this article.