Today picking stocks is as easy as picking a hotel room. Investors can turn on the computer and log into literally hundreds of websites that offer research on a variety of products. Many investors like to shop on their own - the do-it-yourself crowd - and thanks to the evolution of the internet, the "do-it-yourselfers" can shop for stocks as easy as ordering flight tickets on Expedia or Kayak.
Most of you know that I write about Real Estate Investment Trusts (REITs) and my research has been in the publicly-traded equity REIT sector. By simply typing in the word REIT in any leading search engine, you can find hundred of articles that I have written for Seeking Alpha, The Street, Forbes.com, or The Motley Fool. The internet has given investors tremendous educational resources and endless opportunities for creating customized investment portfolios.
Now we have more options. Thanks to Jumpstart Our Business Act, better known as the JOBS Act, certain private investment offerings will soon be like more public than private. As I explained in an article on The Street:
Under current laws, the Regulation D offering allows private companies to offer and sell their securities without having to register with the Securities and Exchange Commission, providing access to capital for small companies that can't justify the costs of normal SEC registration.

The JOBS Act, which was signed into law in April 2012, immediately increased the maximum number of investors permitted to invest in private offerings from 500 to 2,000. It also required the SEC to remove the general solicitation restriction on Reg D offerings, as Congress sought to make it easier for companies to find investors and thereby raise capital.
Effective September 23rd, Regulation D (of the Securities Act of 1933) now permits general solicitation advertising in offerings made under Rule 506 of Regulation D. The new law (506c) expands the safe harbor to permit issuers to engage in general solicitation and advertising including internet, print media, television, radio, and other forms of advertising. The SEC has indicated that it will be focused on ensuring that the materials used for any general solicitation are not fraudulent in nature.
General solicitation and advertising had been strictly prohibited since the advent of the Reg D structure; however, the new rule now permits sponsors to publicly advertise and solicit investors. However, although general solicitation can now be permitted to be sent to any investor, the privately-held securities may only be purchased by persons who are accredited investors.
A person qualifies as an accredited investor if he or she has either: (1) an individual net worth or joint net worth with a spouse that exceeds $1 million at the time of the purchase, excluding the value (and any related indebtedness) of a primary residence or (2) an individual annual income that exceeded $200,000 in each of the two most recent years or a joint annual income with a spouse exceeding $300,000 for those years, and a reasonable expectation of the same income level in the current year.
The new Rule 506(c) will require the issuer and investor to do more than a "check the box" for accreditation. Instead, new methods will be enforced to satisfy the issuer, such as (1) review of tax returns, (ii) review bank and /or broker statements, or (III) written confirmation from a broker-dealer, RIA, licensed attorney, or CPA. In short, more information will be necessary to meet the requirements.
In a recent Forbes.com article, Ryan Caldbeck, explains:
…the internet is a powerful tool to unbundle offline business models that unnecessarily extract value from end users (see travel agencies, music labels, newspapers, cable operators). Today's change will help to bring similar innovation to financial services.

With more information available to investors, not only on deal flow, but on performance of other investors, potential LPs will be empowered to make their own decisions. Transparent markets can help investors identify opportunities more easily, or even shop around different fund opportunities more readily.
Caldbeck went on to explain:
The lift in the general solicitation ban will help companies...We also know it will help investors, for all of the reasons detailed above and more. Transparency, on both sides, is a good thing and will allow investors to pick from a wider range of options- as opposed to just those private opportunities they happen to stumble across in their existing networks.
Broadstone Net Lease - This Private REIT Now Looks More Public
A few days ago, I wrote a Seeking Alpha article called All Triple Net REITs Shouldn't Be Counted The Same. In that article, I explained that
It's important to recognize that retail investors have been the predominant owners of Triple Net properties; both private ownership and REIT-based. It's important to also recognize the forces that are driving the Triple Net REIT sector and more specifically the wave of external growth being generated by the non-traded REITs (retail investors).
Broadstone Net Lease is one such Reg D sponsor that should benefit from the new general solicitation ban. Founded by the Leenhouts and Tait families, who previously founded the now publicly traded Home Properties, Inc., Broadstone Net Lease admitted its first outside shareholders on December 31, 2007.
Today, there are approximately 700 accredited investors who have collectively invested more than $300 million in cash and have contributed approximately $50 million of properties to the REIT through UPREIT transactions. Broadstone's management team and Board of Directors hold more than $19 million worth of shares in the REIT.
Broadstone Net Lease owns 187 net leased properties in 27 states with 52 tenants, diversified by industry (1/3 retail, 1/3 industrial, and 1/3 healthcare). Approaching $700 million in total assets (market value), Broadstone's portfolio is 100% leased.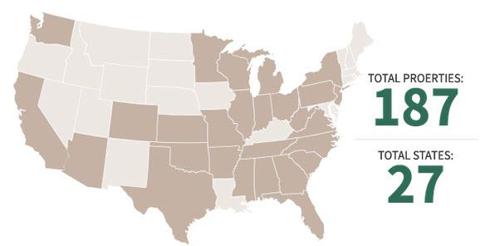 Broadstone Net Lease has an average lease term of around 15 years; none expire prior to 2020. Compared with the public peers, notable Realty Income (NYSE:O) and American Realty Capital Properties (ARCP), Broadstone has the longest duration leases (O and ARCP leases average around 11 years). Also, according to the website, Broadstone targets leverage of around 50%.

Broadstone's annual distribution is 6.6% making the yield comparable to the publicly traded peers. As noted above, investors must be accredited, and the minimum investment is $250,000. Of course, the trade-off is liquidity and although Broadstone Net Lease does offer a redemption plan, there is no full liquidity as one would expect in the public market. Conversely, there is no market-based volatility and the shares are valued based upon a quarterly independent directors committee determination of share value.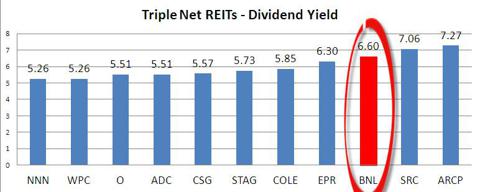 I suspect that the solicitation of new REIT products will increase considerably and given the growing visibility of Reg D products, investors will have many more options. Whether you're considering public or private REIT alternatives, it's critical to conduct due diligence and research your selections in granular detail - now you surf the internet with a list of Reg D alternatives. Make sure that you focus on principal protection and remember that "an investment operation is one which, upon thorough analysis, promises safety of principal and satisfactory return. Operations not meeting these requirements are speculative. (Graham)".
Other REITs Mentioned: (NYSE:NNN), (NYSE:WPC), (NYSE:CSG), (NYSE:STAG), (NYSE:ADC), (NYSE:EPR), (NYSE:COLE), (NYSE:SRC).
Newsletter: For more information, check out my REIT newsletter HERE. Starting in October, I will provide a full Triple Net REIT Report. There is not a tremendous amount of analyst coverage for this sector and I believe this will be a valuable service for my newsletter subscribers.
Source: SNL Financial and Broadstone Net Lease website
Disclaimer: This article is intended to provide information to interested parties. As I have no knowledge of individual investor circumstances, goals, and/or portfolio concentration or diversification, readers are expected to complete their own due diligence before purchasing any stocks mentioned or recommended. I am not a CPA or a Tax Attorney and investors should seek advice of a professional engaged in Reg D products.
Disclosure: I am long O, ARCP, HTA, VTR, HCP, CSG, DLR, GPT, UMH. I wrote this article myself, and it expresses my own opinions. I am not receiving compensation for it (other than from Seeking Alpha). I have no business relationship with any company whose stock is mentioned in this article.