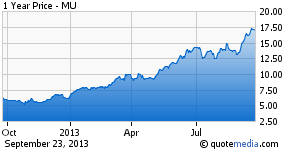 Micron Technology (NASDAQ:MU) has been on a roll this year with its stock more than 160% up. The stock's performance has been tremendously assisted by spectacular growth in the DRAM (dynamic random access memory) and NAND industry.
In the last quarter, the company's performance was better than estimates, which signaled that the resurgence is on the way. With the upcoming fourth-quarter earnings report, it would be enticing to watch out whether Micron Technology can continue its roaring performance. Let's see what can be expected from the company with its earnings round the corner.
On Revenue
Analysts, according to Yahoo! Finance, expect Micron Technology to post revenue of $2.70 billion, up 37.4% from last year. If achieved, it would be a 17% sequential increase in revenue which clearly points towards an improved pricing trend due to controlled supply of DRAM and NAND. The market trends and the industry seem to be performing well which makes meeting consensus estimates look achievable.
Further, in its fourth quarter, the company would include the revenue from its recent acquisition of Elpida and Rexchip. This should help the company in achieving higher revenue, even better than estimates. Last year, Elpida supplied DRAM for Apple iPhone 5 and currently the company is in talks with many other smartphone players which should ascertain a hike in its revenue stream in the coming quarters.
On Earnings
Analysts are expecting Micron Technology to post a profit of $0.23, a big leap from last year's loss of $0.23 a share. Micron Technology has a sour history of missing analysts' estimates in the past . However, analysts are optimistic about the company's bottom line performance for the current quarter, and the company might even beat the estimates.
The reason for increase in profitability is a two-fold effect: first, due to better pricing, and second, because of reduced cost of production. Both DRAM and NAND business segments saw a strong increase in margins in the last quarter, of 16 percentage points and 5 percentage points, respectively, in the last quarter and the same trend should continue.
Furthermore, DRAM bit costs decreased 5% quarter-to-quarter, mainly because of higher concentration of lower cost products from Inotera. In NAND, bit costs should remain more or less flat compared to the earlier quarters while the shipment volume should increase.
On Outlook
The company, as such, does not come up with an outlook for the future but a positive expectation from the management and a positive turnaround last quarter should strengthen investor's confidence. The company will be benefited from the overall pricing strength of the industry and the overall constrained supply which should further improve profits.
Finally, the takeover of Elpida Memory is closed, which will not only add about $4 billion of DRAM revenue and strengthen company's position in the market but should also land Apple as an important client and other smartphone makers might follow suit. Elpida was one of the suppliers to Apple a couple of years ago and supplied DRAM for the iPhone 5 last year and with upcoming iPhone 5c and 5s production, Micron Technology should be benefited.
Although there is no clarity about the fact that Micron Technology has landed with an order for the latest iPhone shipments, but as the iPhone manufacturer has reduced its reliance on Samsung for components and previously used Elpida, Micron Techonlogy's chances of benefiting from the booming mobile market in the upcoming holiday season looks pretty bright.
According to Bloomberg, the prices of memory chips have increased 19% this month, subsequent to the fire at SK Hynix's factory in China. As SK Hynix accounts for about one third of the global DRAM chip production, a sharp reduction in the supply should further push prices higher and benefit Micron Technology and other players in the industry at large.
Micron Technology is also expecting to deliver solid growth in its top line as solid-state drive (SSDs) sales have been on the rise and the company has been increasing the production of its NAND chips. Going forward, the company should benefit from the growth of SSD sales as a major player in the industry SanDisk (SNDK), has witnessed a 20% hike in its revenue. According to an IHS iSuppli report, global shipments of SSD in PCs are expected to increase by a factor of seven by 2017, and with an expected 53% year-over-year to 18.49 million units in 2014s the first quarter both the companies stand to benefit from it.
Conclusion
Although the supply of Micron Technology's products in PCs has reduced, increased demand in the smart devices industry should strengthen the company. Further, being a part of growing industry with supply short demand, the company is in a position to register some super normal profits in the coming quarters.
It is not hard to believe that the company might beat the estimates for the quarter, but the important fact remains that the outlook too seems to be in Micron Technology's favor.
Disclosure: I have no positions in any stocks mentioned, and no plans to initiate any positions within the next 72 hours. I wrote this article myself, and it expresses my own opinions. I am not receiving compensation for it (other than from Seeking Alpha). I have no business relationship with any company whose stock is mentioned in this article.