The rural economy tapered its growth this month but remains above growth neutral. Low grain prices and uncertainty over the farm bill has decreased rural sentiment toward equipment purchases and overall confidence of the economy moving forward. The farmland price index remains above growth neutral and has been since February of 2010.

The Rural Mainstreet Index (RMI), ranging between 0 and 100 with 50.0 representing growth neutral, decreased to 52.4 in September, from 55.8 in last month's survey. Ernie Goss, economist at Creighton University, commented,
Lower grain prices this year are slowing the growth in the Rural Mainstreet economy. Additionally, 39.4 percent of bankers this month indicated that lower grain prices have encouraged farmers to store grain and hold for higher prices later. This strategy is likely to payoff for the farmer given the Federal Reserve's decision this week to continue their current stimulus program. This $85 billion per month Fed bond program will be supportive of higher agriculture commodity prices and the farm economy in the months ahead.
The farmland price index contracted again and has decreased nine of the last ten months, but remains above growth neutral, 54.0, for the 44th month in a row. Goss noted,
Our farmland-price index has been above growth neutral since February 2010. However, lower farm commodity prices are slowing growth in farmland prices. The Federal Reserve's decision to make no changes to their expansionary monetary policy is definitely bullish for agriculture. Most economists, including me, expected the Fed to begin tapering QE3. Thus, the Fed's lack of action in September will be supportive of agriculture commodity prices, farm income and farmland prices in the weeks and months ahead.
Bankers were asked this month how cash rents have changed year over year. Bankers reported, on average, cash rents increased 9.9 percent from last year.
For the second month in a row, farm equipment sales were below growth neutral at 48.3. "Lower agriculture commodity prices are weighing on farmer confidence and their willingness to purchase big ticket items such as agriculture equipment," said Goss.
The loan-volume index increased to a healthy 73.5, from August's 70.5. The checking-deposit index rose to 56.3, from August's 51.7.
The confidence index declined to below growth neutral, 46.1, from 53.4 last month. "The farm economy continues to grow but is trending lower as agriculture commodity prices have moved lower. This and the uncertainty surrounding passage of the Farm Bill and potential Congressional budget impasses pushed confidence below growth neutral for the month," said Goss.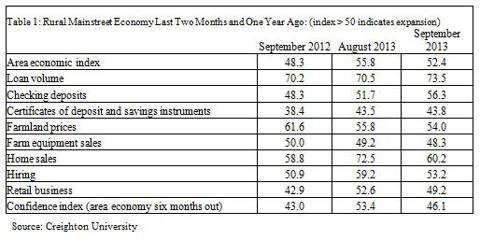 Survey
This survey represents an early snapshot of the economy of rural, agriculturally and energy-dependent portions of the nation. The RMI is a unique index covering 10 regional states, focusing on approximately 200 rural communities with an average population of 1,300. It gives the most current real-time analysis of the rural economy.
Disclosure: I have no positions in any stocks mentioned, and no plans to initiate any positions within the next 72 hours. I wrote this article myself, and it expresses my own opinions. I am not receiving compensation for it. I have no business relationship with any company whose stock is mentioned in this article.