Understanding the business
Modine Manufacturing Company (NYSE:MOD) is a designer, engineer and manufacturer of heat transfer products. It serves to customers across the globe with a varied range of products for the segments like machines, engines, equipment and vehicles. The company has an expertise in solving thermal problems and it is focused on regularly coming up with innovative products and solutions. It has around 2400 patents of innovative products. Its heat exchange (cooling and heating) products are used in on-highway and off-highway OEM equipment and vehicular applications. Modine has acquired the Geofinity Manufacturing Company, Surrey, British Columbia, in the last fiscal year, which has strengthened its product line with its geothermal heat pump technology. The company operates in five sectors i.e. North America, Europe, South America, Asia and commercial products. The latest distribution of revenue from these different markets is as follows: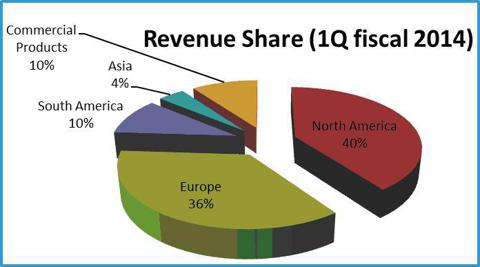 Recent Financial Performance
Modine has recently reported it 1st quarter fiscal 2014 results. It has seen significant sales growth in most of the sectors. It has reported EPS of $0.27 for the 1st quarter of fiscal 2014, which was above the consensus estimate of $0.11. Its revenue increased by 7.2% as compared to the same period last year and operating income increased to $19 million from $3.9 million last year. This significantly high performance in the quarter was driven by multiple factors across the sectors. This growth rate will moderate in the full fiscal year performance, but still growth opportunities are there with growing multiple markets.
Restructuring program is about to be finalized, growth seems likely in Europe
Modine has seen significant growth in its Europe sales in the 1st quarter of fiscal 2014. It has reported 17% year-over-year growth in sales, driven by commercial and automotive vehicle customers and higher tooling sales. Growth also seems to be on a higher side due to the weak performance in the comparable period last year. Europe has contributed 36% to the total Modine revenue in the 1st quarter. The company has invested in restructuring of the Europe segment from last fiscal year. This restructuring includes discontinuation of some non-core product lines; reducing the number of employees and manufacturing costs and disposition of non-performing assets. It has spent $24.1 million on asset impairment charges, $15.1 million on employee severance costs and $4.6 million on reposition expense in Europe since last year. These investments have given positive results and its SG&A expense for the 1st quarter of fiscal 2014 has declined by 260 bps. The operating margin from Europe has increased to 8 million in the 1st quarter compared to -2.5 million in the same period last year.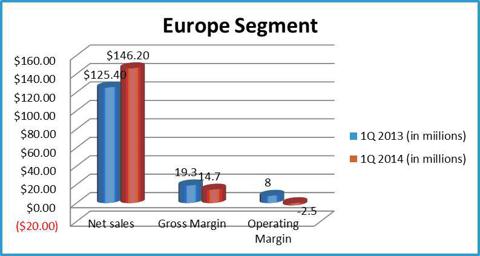 Source: Company Presentation
The main objective behind the restructuring was to align the cost structure of the Europe segment and improve the profitability. The Europe segment has got impacted by the weak economic conditions last year but it will drive growth in the current fiscal 2014 with re-structuring and increased sales growth momentum in off-highway sales.
New launches with changing emission standards will provide growth opportunity
According to the U.S. Energy Information Administration, global energy demand is expected to increase 56% by 2040. Emission standards are a major macro influence on the demand in heat transfer products. Modine has been a R&D focused company and technological advancement in heating and cooling products is the key behind sustainable growth.
Euro 6 is the proposed emission legislation by the European commission, which is expected to take effect from current fiscal 2014. This can be a huge opportunity for the company and it is planning to launch new products based on Euro 6 by the end of this fiscal year. Registration of Euro 5 vehicles is not permitted in Western Europe and it can drive sales growth by the 4th quarter of fiscal 2014 onwards.
The company is developing a new waste heat recovery system to utilize the waste heat from the engine. This system converts the waste heat of an engine pipe into mechanical energy, which can be utilized to drive the vehicle. It is also developing multiple new heat exchangers for heavy-truck OEMs. This product is expected to be launched in fiscal 2017 and it can put a positive impact on the company's long-term growth.
Growing South American and Asian markets will drive upside growth
South America and Asia have a share of 10% and 4% respectively in the total revenue. South America is one of the fastest growing markets with 16% sales growth, if we exclude the foreign exchange effect. The commercial market was a major growth driver for the company in the 1st quarter and it will continue to drive growth for the complete fiscal 2014. The commercial market will get benefited by increased power generation cooling program. Its 2nd quarter revenue will also have a positive effect from the recent public protests as some payments for delayed shipments are shifted to the quarter. The company has given a growing outlook for both the South American and Asian markets.
| | | | |
| --- | --- | --- | --- |
| Market Outlook Fiscal 2014 | | | |
| South America | Growth | Asia | Growth |
| Commercial Vehicle | 20% | Excavator | flat-5% |
| Agriculture | 5%-10% | India Commercial Vehicle | Flat-5% |
| After Market | 4% | India Off Highway | Falt-5% |
Source: 1st-quarter fiscal 2014 results Company Presentation
Asia is a relatively smaller market for Modine with just 5% contribution to total sales but it has also increased by 16% in the 1st quarter this year. The Chinese excavator market will increase moderately but the Korean original equipment customers will give strength. India is another market where it can expect growth in commercial vehicles and off highway sales. The company will also launch 50 new programs to drive growth in the Asian market this fiscal year. Both South America and Asia are growth drivers with upside growth potential.
Gross margin may be affected negatively in the near term but is already expected
Raw material cost is a major part of the cost of production and its prices have been favorable for the company in the 1st quarter of this fiscal year. The decline in cost of raw material products such as aluminum, copper and stainless steel has helped the company improve gross margins by 180 bps from 1st quarter last year. However, Modine has entered into customer material pass-through agreements, which will help it to share benefits with customers. These pass through agreements will result in passing some of the benefits to customers through price cuts. This may cause its gross margin to slightly decline from Q1 levels, but I believe investors are already expecting it as it is a well documented fact. Also, in the long term, this type of arrangement helps the company in maintaining and gaining market share.
Conclusion
Modine has invested in the restructuring program in the Europe segment from last fiscal year and it has already benefited from it in the 1st quarter of fiscal 2014. Though 1st-quarter fiscal results were significantly high as compared to the same period last year, things will level up in rest of the year. Its investment in Europe has shown good results and its better operating performance in Europe is an indicator of growth in future. The company will launch products with Euro 6 emission standards to drive sales growth. It has some more products in its pipeline that will save energy and convert waste into energy. These new products can drive its growth in the long term. Its South American and Asian markets are smaller markets but have significant growth potential going forward, as the commercial vehicle and off-highway vehicle sales outlook is positive.
Source: Google Finance
Modine's stock price has increased by around 86% in last one year and has taken a jump of 26% after the recent quarterly results. It is trading at 1 year forward P/E multiple of 15.58. I believe its investment in the restructuring program along with other initiatives will drive growth in future. So, I recommend buying.
Disclosure: I have no positions in any stocks mentioned, and no plans to initiate any positions within the next 72 hours.
Business relationship disclosure: S Analytics is a financial research firm providing customized research services to U.S. hedge funds. This article was written by Khusvendra Amaliya, one of our Research Analyst. We did not receive compensation for this article (other than from Seeking Alpha), and we have no business relationship with any company whose stock is mentioned in this article.