The Company
Warren Buffett recently expressed an opinion that the market is fairly valued and no longer cheap. In my opinion it is a bit over-valued, and I am having trouble finding stocks to buy at a discount. I have therefore been looking at electric utilities, since they appear to be out of favor with the market. One that has served me well in the past is Westar Energy, Inc. (NYSE:WR), a $3.9 billion mid-cap company that is the largest electric power provider in Kansas. Some of its three-year average growth rates are; 4.17% for revenue, 16.26% for net income, and 19% for earnings. It has increased its dividends for nine consecutive years, and has a current dividend of $1.36 per share (4.42% yield), and a pay out ratio that has averaged 65% over the last 5 years. Its share price has gone from $24.00 on September 24, 2010, to its current price of $30.56 (September 20, 2013). Its 52-week high was $34.96, reached on April 30, 2013. Although Yahoo Finance estimates a small decrease in earnings for 2013, WR beat the first and second quarter estimates, and I think its full-year earnings will also beat estimates. It has beat Yahoo Finance's estimates for the previous four consecutive quarters.
On September 20, 2013, WR was selling below its 200-day moving average of $31.62. Although I do not consider myself a market timer, in the past I have found it profitable to add to my position in WR whenever its price line crosses over (to the upside) its 200-day moving average line (a good strategy for any stock you hold for the long term). It looks like that might occur in the near future, so now is a good time to review its fundamentals, and compare it with some of its peers. The peers I have chosen are Duke Energy Corporation (NYSE:DUK) and Great Plains Energy Incorporated (NYSE:GXP). DUK is much larger and well known than WR, and also receives a small portion of its revenue from its natural gas business. GXP and DUK are very similar in size and both are pure electric energy plays.
Comparison
A look at the price chart below shows that WR, DUK and GXP all move in lock step. It also shows the recent decline in the utility stocks from their highs set in April 2013, and I have also included a S&P 500 ETF (NYSEARCA:RSP) to further show the decline of the utility stocks during the summer, while the overall market continued to climb, thus confirming the out of favor status of the utilities.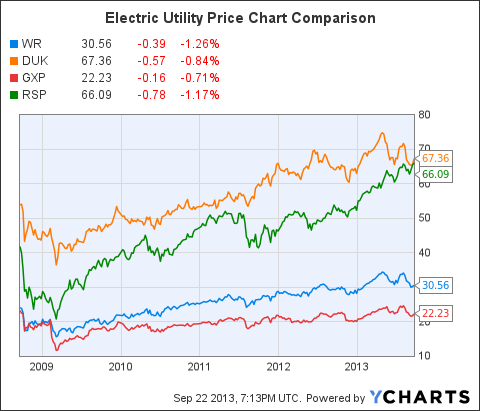 WR data by YCharts
The next group of charts compares the earnings growth, return on equity (ROE), and return on assets (ROA) of WR, DUK, and GXP. On all three comparisons, WR out-performed DUK and GXP.
On the earnings chart, WR is the only company of the three that has increased its earnings over the last five years. DUK is the most volatile of the group, having a substantial dip and peak, but overall it shows a flat return. WR has a steady rise, and GXP has a steady decline. Earnings are relevant and important to show whether the company is growing or declining.
On the ROE chart, WR has a better return than DUK and GXP except for a short period in 2011 where DUK out-performs, and a short period in 2008 where GXP out-performs. Also of note is that WR's ROE shows a steady increase over the five-year period, while DUK and GXP are much more volatile throughout the period, and have overall declines. The ROE is useful in comparing companies because it shows the amount of profit management is making on the amount of money invested by the shareholders. However, since it subtracts out liability, it sometimes skews the results with companies that carry a lot of debt. This is more of a problem when comparing companies in different industries. In the utility industry all the companies carry a large amount of debt, so the comparisons are still relevant.
The ROA chart is very similar in shape to the ROE chart, with WR out-performing DUK and GXP, and WR being the only one to show an overall increase over the five-year period. ROA measures how well a company employs its assets, and is often used in comparing companies in the same industry. With ROA, liability is taken into consideration to some degree because assets can be purchased by borrowed funds. As a result ROA shows how well management employs the debt it incurs to buy assets. One of the negatives of ROA is that it does not take into account what assets are actually employed in the generation of income.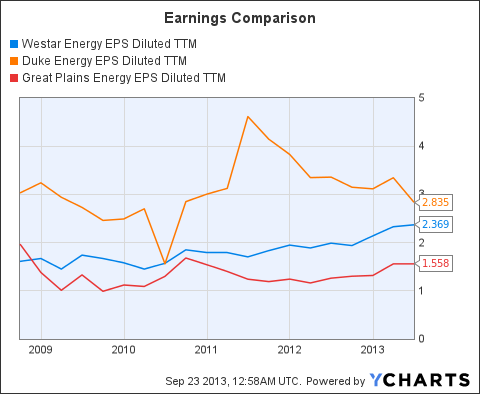 WR EPS Diluted TTM data by YCharts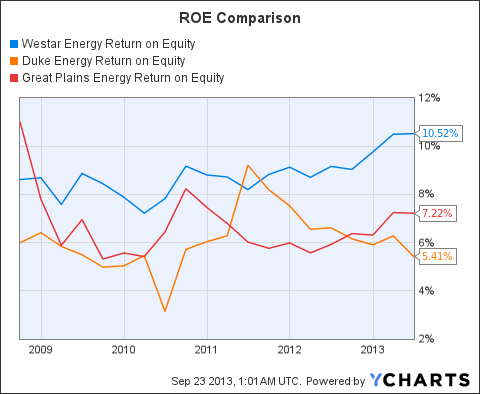 WR Return on Equity data by YCharts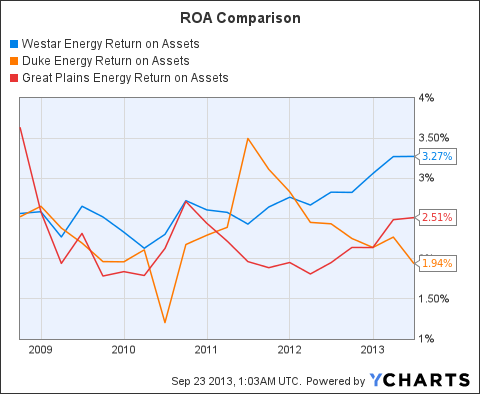 WR Return on Assets data by YCharts
The last chart compares the return on investment capital (ROIC), and may be the best of the lot for comparison purposes, since it has the same general attributes as ROA, but only uses the assets and liabilities that are actually used in the production of income. If I had only one method to compare companies, I would use ROIC.
As in the other charts, the ROIC chart below shows WR out-performing DUK and GXP by a substantial amount over the five-year period. DUK outperforms WR for only a short period of time in 2011 where its ROIC spikes up to a high of almost 5%. At its current ROIC of 4.64%, WR is 42% higher than GXP at 3.25%, and 88% higher than DUK at 2.46%.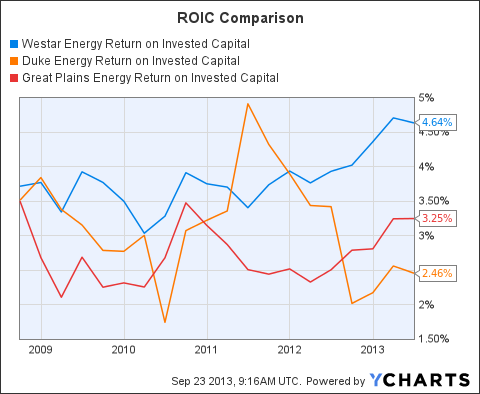 WR Return on Invested Capital data by YCharts
The charts above clearly show that over the past five years WR has out performed DUK and GXP in its earnings growth, and in its management's effectiveness in delivering returns to shareholders. WR wins on each metric compared. Although this is a small sampling of electric utility companies, it does reinforce my opinion that WR compares well against its peers, and I will continue adding to my position in WR when it appears to be selling at a discount.
Valuation
Putting a price target on utilities is difficult for the simple reason that most investors buy utilities for security and dividends rather than growth, although they also hope that the dividends will consistently increase over time. The feeling of security arises from the fact that, as a regulated industry, profits are determined and somewhat assured by regulators rather than demand, thus limiting the companies' growth on both the downside and upside. This does not mean that electric utilities do not have risk. For example, it has been a long time since the Three Mile Island nuclear incident, but for those utilities that have nuclear reactors, any mention of a problem with a reactor causes an immediate decrease in the share price.
In calculating WR's current fair value, I used a present value model on earnings. I first projected the total earnings per share for 10 years using an 11% growth rate. Although WR's four-year average growth is 15%, I decided to reduce it to 11% because analysts estimates indicate a small negative growth for 2013. I then added the current share price of $30.00 to the projected earnings, which resulted in a total figure of $71.22. The share price is added to the total earnings, because without it there would be an assumption that the company goes out-of-business at the end of 10 years, which I think is irrational. I look at the share price as principal on a loan that will be returned to the creditor at the end of the loan term. I next determined the present value on the $71.22 total using three different discount rates. The first discount rate I used was 5%, which was based on WR's WACC rate of 4.65% (utilities normally have very low WACC rates). Using the 5% rate the present value for WR's share price was $43.72, a 46% premium to its current price of $30.00. I next used a discount rate of 7%, which I believe is more appropriate than the low 5% rate, even though WACC rates are often used for discount rates. Using the 7% rate, the share price calculation came to $36.20, a 21% premium to WR's current share price. The third discount rate I used was 10% which, in my experience, is the upper range for industrial stocks. At 10% the present value was computed to be $27.45, an 8% discount to WR's current share price. I believe the 7% rate is the most appropriate under all the circumstances in this case, and a fair value for the current share price is $36.00, which means that WR's shares are currently selling at a substantial discount.
As a word of caution, I believe most economists and analysts agree that computing fair value is more art than science. My calculations show how much a change in the discount rate in a present value model can effect the results.
Conclusion
WR has had nine consecutive years of dividend increases with a current dividend yield of 4.42%, and a payout ratio that has averaged 65% over the last 5 years. Its 2012 payout ratio was 56%, so it is likely that it will continue increasing its dividends, even if its growth is flat for 2013. Although it is difficult to determine a present fair value for a utility stock, my calculations indicate that the shares of WR are currently selling at a discount, probably due to market disfavor of the electric utility industry as a whole. Investors looking for good dividend-paying utilities should keep WR on their radar.
Disclosure: I am long WR. I wrote this article myself, and it expresses my own opinions. I am not receiving compensation for it (other than from Seeking Alpha). I have no business relationship with any company whose stock is mentioned in this article.