You know you are in a market searching for value and fresh ideas when the garbage from the last rally is brought back in and sifted through with the notion that some of the names will have merit. That is what we are seeing throughout the market, but especially in the commodities space as some of the most beaten up names are garnering attention in a way that they have not over the past few months and in some cases years.
Our message is simple. Be careful here. We are only buying quality right now and believe that regardless of whether the market corrects or continues higher that this strategy will provide above normal returns. It has worked for over two years now, and we shall continue with the strategy until it no longer does.
Chart of the Day:
As we have discussed the Permian in more and more detail over the past few months we have received far more questions than we could have ever anticipated regarding where these various basins and drill areas are in location to each other. This image is a bit blurry, however we think that it does an excellent job of giving readers an idea of how the plays are situated in relation to each other. We hope this helps many of you.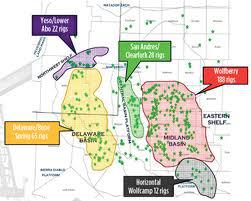 Source: WorldOil.com
Commodity prices this morning are as follows:
Gold: $1314.60/ounce, down by $12.40/ounce
Silver: $21.55/ounce, down by $0.307/ounce
Oil: $102.96/barrel, down by $0.63/barrel
RBOB Gas: $2.6211/gallon, down by $0.0019/gallon
Natural Gas: $3.582/MMbtu, down by $0.02/MMbtu
Copper: $3.257/pound, down by $0.0415/pound
Platinum: $1430.50/ounce, up by $4.60/ounce
Oil & Natural Gas
Rumors continue to fly in the oil and natural gas space, and this time it is an American company rumored to be going after its European counterparts - a twist for sure to the latest trend. As Michael Fitzsimmons points out in his article (located here) it would seem highly unlikely that BP (NYSE:BP) is bought by ExxonMobil (NYSE:XOM). There is just too much going on at both companies to attempt to undertake such a large merger. The question also remains what Exxon would do with BP's exposure to Russia which would not be looked upon favorably at home or in Russia either. It is hard to imagine any scenario where Exxon could purchase BP and somehow monetize those assets for anywhere near their par value. Let's file this rumor under the pie-in-the-sky file, because we see no way that a full blown acquisition happens.
We were impressed by the price action in Rex Energy (NASDAQ:REXX) yesterday as the chart got stronger as the session went on and the stock finished up over 1.7% on average volume. The shares have crept back up towards $23/share and we continue to believe that this will be one of the bright spots in the Utica over the next year. The company has low cost natural gas production in the Marcellus and now Utica and we think that this will be beneficial moving forward, possibly even providing a boost to the company's shares as early as this winter if it is as cold as we believe it will be (see yesterday's article - located here - for more on that). After the market close yesterday we saw this press release (located here) discussing the interim processing capacity at the company's Warrior North prospect. That is a bullish piece of news, as it explains that production for the quarter will not be materially affected by the fire and resulting damages from this weekend.
We think that this may be the time that the stock takes out $23/share and begins another run higher. There has been a lot of sideways movement building up to this and it appears to U.S. the breakout has begun.
Source: Yahoo Finance
Rare Earths
The rare earth names saw bidders return yesterday as one of our old competitors highlighted the sector in his newsletter. He named a bunch of micro-cap names along with Rare Element Resources (NYSEMKT:REE) and Molycorp (MCP) as he went bullish the sector once again. Rare Element shares rose nearly 10% on the news and saw volume rise to 1.3 million shares, well over the stock's average daily volume.
There has been a big move as of late in the shares of Rare Element, but right now we are not buyers of the rare earth names.
Source: Yahoo Finance
Molycorp on the other hand finished relatively flat when comparing it to some of the other rare earth players and at this time we remain committed to our previous stance of not being involved with this stock right now. Yes, it has risen above $7/share, but many of the laggards in the commodity space have risen over the past few weeks as a rush of capital came into the sector and the Fed decided not to taper just yet. We feel it is simply speculation at this point and want to invest in names where the story is fundamentally changing, not simply moving on the hopes of something eventually changing. We continue to watch the sector, but feel there are much better names out there right now offer better risk/reward scenarios.
Disclosure: I have no positions in any stocks mentioned, and no plans to initiate any positions within the next 72 hours. I wrote this article myself, and it expresses my own opinions. I am not receiving compensation for it (other than from Seeking Alpha). I have no business relationship with any company whose stock is mentioned in this article.