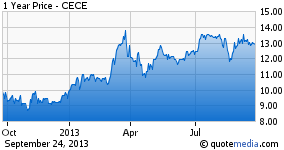 Last week President Obama's Administration pressed ahead with their proposal to lower the carbon emissions limit for new coal fired and natural gas fired power plants. A potential expense for power companies, it is an example of expanding opportunities for a business like CECO Environmental Corp (NASDAQ:CECE). CECO is a provider of global product, engineering and design services for air pollution control systems. It operates in three major segments, Engineered Equipment Technology, Contracting/Services and Component Parts group, and under several brands like Effox, Kirk and Blum, Busch International, etc., to name a few. While most of its business is located in the United States, it has an international presence (24% of total bookings in 2012) in countries such as China, India, Canada and Latin America.
Business Strategy: The company generates income streams through two channels; organic growth and acquisitions. Demand for its products and services are driven by environmental regulations like EPA and OSHA rules. The focus of CECO's strategy has been to expand its higher margin business and solidify its place as an end to end solution provider through strategic acquisitions. It has approximately $2 billion of installed base which produces high margin recurring revenue and needs low capex to produce marginal revenue. The company also eliminated about $18 million of smaller lower margin divisions and shifted sales compensation to be margin based. Cost controls such as consolidation of manufacturing locations and outsourcing 50% of production to contractors have also been adopted to maximize earnings. Its largest business segment, that is Engineering Equipment, has an average order size of about $400,000, but an average lead time of 3-4 months means that there is a lag in realizing revenues from orders.
Latest Acquisitions: Among recent acquisitions made by CECO, are Aarding (gas turbine exhaust systems, silencers), Adwest (RETOX thermal oxidizers) and most recently MetPro (product recovery, pollution control, fluid handling, filtration and purification). While Adwest and Aarding were strains on cash flow due to non-recurring acquisition expenses in the past quarter, they also added revenue streams and together accounted for about 24% of sales in Q2 2013. Also gross profit as a percentage of sales improved due to higher margin work from these acquisitions.
The acquisition of MetPro was finalized in August 2013 and brought with it $286 million of additional revenue as well as 8000 new customers. Traditionally MetPro has not been a direct competitor of CECO in its business lines which implies that it opens up new markets for the company. Additionally about 35% of its business is recurring service type that CECO is hoping to expand into. On September 18th 2013 the company announced that it had received new orders worth $19 million which included several products and services offered by MetPro.
However the $210 million acquisition of MetPro required the company to take on significant debt financed through a commitment letter with Bank of America and cash flow. While the interest rate on this debt is manageable (LIBOR + 175-200 basis points) it still adds to their debt burden. Alternatively, management is optimistic that they can sell or lease real estate owned by MetPro to repay part of the acquisition debt. At the time of acquisition the cash consideration was oversubscribed by former MetPro shareholders compared to the CECO stock offering.
Recent Financials:
Sales grew 28.4% or by $9.8 million in Q2 2013 on a year over year basis. In the same period gross profit grew over 35%. Orders booked by the company increased from $40 million to $46 million, which are likely to generate income over the rest of the year and early 2014. While the company continued to grow organically, a large portion of these increases were due to the above mentioned acquisitions of Aarding and Adwest. However, this also involved one time M&A expenses of about $2.7 million in the second quarter that resulted in a decrease in operating income in Q2 2013. Also while GAAP operating margin of 7.4% in Q2 2013 was below year ago level of 12.4% due to non-recurring M&A expenses, non - GAAP operating margin for the same period actually improved to 13.9% implying that the business is running more efficiently excluding the impact of one-time expenses.
Historically there has been some decline in topline revenue between 2010 and 2013 due to discontinuation of lower margin business segments. Gross margin has increased every year from 23.3% in 2010 to 31.9% by 2013(trailing 12 months). Operating income has also grown over the same period.
Net Income grew 22.5% in the second quarter helped by research and development (R&D) tax credits. I read this as a good sign that the company continues to invest in R&D and is smartly taking advantage of tax relief perks. It is also seeking tax advantages as it grows its business in China.
Earnings per share were up 13.3% to 0.17 in Q2 2013 and were at 0.66 for trailing 12 months 2013. This was part of 3 positive earnings surprises in the last 4 quarters.
The first 6 months of 2013 saw a decline in cash compared to year ago levels for the company due to nearly $25 million of cash used for investing during the acquisition of Aarding. Cash from operating activities also declined by $0.5 million over the same period. This was due to certain jobs that were part of the Aarding acquisition.
As of the end of Q2 2013 the company had relatively low debt of $1.6 million and $5 million in cash (held in China) putting it in a favorable net debt position. It has a relatively low debt to equity ratio of 2.16. However, the acquisition of MetPro in August 2013 required to company to take on additional debt. The current ratio was also healthy at about 1.77 indicating a desirable level of liquidity.
Risks:
The company finances its activities through cash flows and borrowings on revolving lines of credit. Its strategy of acquisitions puts stress on these cash flows and additional debt or equity financing undertaken could be problematic if the acquisitions fail to generate earnings to justify them. There is also typically a time lag before synergies from M&A are realized.
Another source of risk is CECO's structure of fixed pricing on contracts which can lead to losses if the anticipated cost of completing a contract exceeds the amount that has been factored in. Additionally many of these contracts tend to be fairly large which means greater losses in case of non-completion.
CECO's globalized operations have opened up international markets for it, but also exposed it to the risk of economic slowdowns not only in the United States but also in other countries including developing nations.
Opportunities:
The company serves a diversified group of customers in a variety of industries such as petrochemicals, refineries, power, utilities and manufacturing. In recent times no single customer has been responsible for over 5% of its sales. This diversification gives it some level of protection compared with businesses that have major customers all in one sector. It also has operations in several countries which gives it opportunities to catch up in one region, if business is slow in another part of the world. For example, in the first half of the year net sales declined in Canada versus previous year but were offset by an increase in U.S., China, Brazil and Netherlands.
Since demand for CECO's products are mainly driven by regulations of agencies such as EPA and OSHA they are usually matters of compliance and companies do not have discretion to suspend expenditure on them even if they are cutting back on other expenses. This provides a degree of demand resilience. As environmental consciousness grows demand for pollution control mechanisms as well as regulations are likely to grow. Manufacturing has been moving to countries like China, India, etc., where pollution controls and regulations are still in early stages and there is a large market to be tapped.
In terms of sector growth, CECO had over 27% of its bookings in 2012 in the power sector. The U.S. Energy Information Administration (NYSEMKT:EIA) predicts in its International Energy Outlook 2013 report that electric consumption worldwide may grow 56% between 2010 and 2040 with over 100% increases in China and India. This potential electric production could translate into huge opportunities for air pollution control. Similarly, natural gas production is forecasted to grow almost 64% by 2040, which could mean greater demand for the company's engineered equipment.
Price and Multiples:
At the time of writing the company's shares were trading at $12.99. This is above the 200 and 100 day moving averages of $11.92 and $12.73 respectively. It is below the 60 day average price of $13.07 and close to the midpoint between the 60 day support and resistance levels. The trailing 12 month P/E is 19.65 but the forward P/E of 12.14 is more reasonable. The Price to Sales ratio of 1.59 is better that of some of its direct competitors, but I think the Price to Book ratio of 3.18 is on the higher side. The company may be a good buy below the 60 day support level of approximately $11.81.
Overall, I think that CECO is a good investment with strong growth potential based on sound business strategy and long term growth in global demand for its products and services.
Disclosure: I have no positions in any stocks mentioned, and no plans to initiate any positions within the next 72 hours. I wrote this article myself, and it expresses my own opinions. I am not receiving compensation for it. I have no business relationship with any company whose stock is mentioned in this article.