The Value of Intelligent Investing: Micro-/Small-/Mid-caps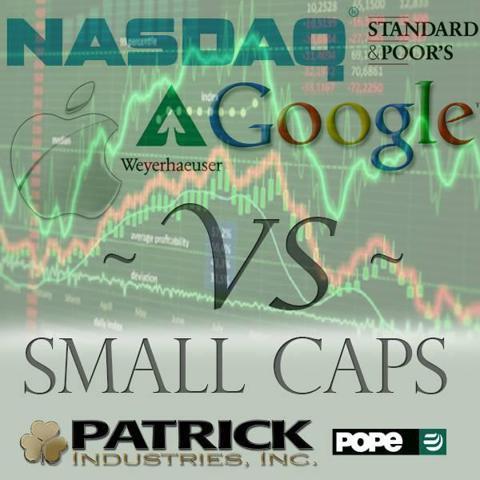 There are two types of investors in the world: intelligent ones and the slightly challenged. The slightly challenged individuals find themselves checking for every amazing piece of information that appears on CNBC and Bloomberg. There is nothing wrong with that as they are just trying to learn. Everyone has a dream of becoming financially stable from his or her endeavors. I honestly do not believe Bloomberg or CNBC is going to get you there, however. Instead, I recommend educating yourself.
The intelligent ones, on the other hand, do not bother themselves with minute-by-minute news. They do not look to stock tips or information to feed their families or save for retirement. They take it or make it for themselves. Intelligent investors sift the world for gems that are yet to be discovered.
As intelligent investors, we focus on finding companies with small market caps and strong fundamentals that will either grow exponentially or be acquired by larger companies. Most micro-, small- and mid-cap companies are continually overlooked due to the lack of publicity.
The Overlooked and Forgotten
Patrick Industries Inc. (NASDAQ:PATK) is one of the thousands of overlooked companies with sound fundamentals and technical analysis factors. PATK is considered a small-cap industrial goods company with a focus in the lumber industry; PATK barely meets the requirements with a market cap of $315.28M. They are currently beating every index and the majority of popular mega-cap companies, with a performance year valuing 116.41% and YTD of 89.01%. This is pretty good, right? This business is still undervalued according to just about every fundamental factor.
That's nothing compared to the Tesla Motor Co.'s (NASDAQ:TSLA) performance of 390.79% YTD that has been occurring since the middle of April. Barclays is also currently rating TSLA as overweight. Too bad you did not know about that trade four and a half months ago. I guess CNBC and Bloomberg forgot to tell you in advance.
So what is the significant difference between companies like Tesla Motor Co. and Patrick Industries Inc.? Let me inform you of one of the hundred vital factors. First off, Tesla Motor Co. is regularly in the news. It's also being scrutinized by just about every major auto manufacturer. Elon Musk, (CEO of Tesla Motor Co.), frightens CEOs worldwide with his savvy intelligence. The public loves him, but unfortunately big-car manufacturers like General Motors (NYSE:GM) do not really care for the "little mega-cap that could." Sounds a lot like Netflix (NASDAQ:NFLX) versus Blockbuster years ago... Now look at Blockbuster. They went bankrupt and then were purchased by DISH Network Corp. (NASDAQ:DISH). I suppose being a mega-cap industry leader does not count for much when you scrutinize evolution in the industry. I do not believe shorting Tesla Motor Co. will be a smart long-term investment call. For those who might, I suggest a short-term time interval PUT for around the middle of November at the furthest. Have you caught on yet? Back to why the public does not care about Patrick Industry Inc.: it is easily overshadowed by information and recommendations on a publicized mega-cap company like Tesla Motor Co.
Stock Tips and Fun Facts
Tip 1. Micro-, small-, and mid-cap securities grow as their businesses prove growth. This is actually a huge factor; companies with low market cap usually see progression based on their fundamental strength. You can be the best accountant in the world and run every standard calculation as well as proprietary methods and still be wrong. Even if everything you calculated says otherwise, you can thank the media's public impression on mega-caps for that.
Tip 2. As we all should know, the difference between being a mega-cap, micro, small and mid is the total market cap. Having a lower market cap can be quite the advantage. These companies are frequently overlooked due to their market cap. They also generally have a much lower number of shares outstanding and are perfect for long-term investors. They also have a higher than average insider ownership. Insider ownership can reflect management loyalty as well as many other fundamentals that will explain a company's strengths. There is nothing better than a company with sound fundamentals, loyal management, and self-interest.
Tip 3. When companies like Apple Inc., Tesla Motor Co., and Google Inc. have a 10 to 20 point gain during a trading day people go nuts! The media begins to speculate every 20 minutes on why they're gaining or losing momentum. When companies like Patrick Industries Inc. increase by 25%, nobody really cares. A couple of people will find it on the increased momentum trend list found on sites like Finviz; otherwise it's just lost in translation. When these companies achieve all-time highs, it does not spark a flare anywhere. You can't even find 52-week highs for small caps on syndicated sites, and you know they are desperate for anything to report. The good thing is when these companies find the media's blessing they tend to move rapidly.
Tip 4. Companies like Patrick Industries Inc. are typically not optional. Options are not bad for a business by any means, although the public and slightly challenged are always looking to get rich quick. They attempt to make savvy option trades, typically losing everything they have. That does not stop them from watching the company in question daily while they are waiting for their next big opportunity! It also reduces vision to a company's intraday trading usefulness. All of these factors also reduce the amount of volatility, making them a safe choice.
Comparisons
Let's get to business; we need to find out how Patrick Industries Inc. is performing in comparison to its competitors. First off, competitors for this company are limited; finding companies that compete with them in the same market cap is very difficult. So we are going to use a variety. These companies compete with Patrick Industries Inc.: Boise Cascade Company (NYSE:BCC), Deltic Timber Corp. (NYSE:DEL), Pope Resources (NASDAQ:POPE), and Weyerhaeuser Co. (NYSE:WY).
The Calculated Fundamentals





Comparison with Compound Annual Growth Rate (OTCPK:CAGR)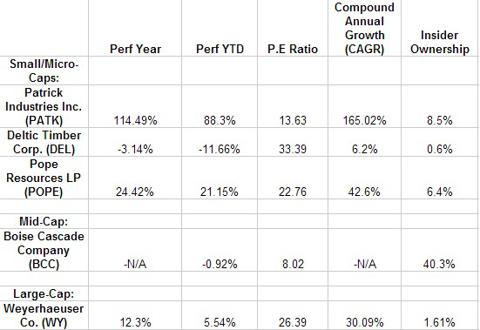 With the information displayed, we can see that Patrick Industries Inc. dominates the competition in just about every compared way. Pope Resources LP has a reliable performance. Deltic Timber Corp. has an overall weak fundamental report. Boise Cascade Company is not doing so great either. Boise Cascade Company is a relatively new public company; they haven't had the time to grow quite yet. I would keep an eye on them, due to very strong insider ownership for a mid-cap company. Both Patrick Industries and Pope Resources are overshadowed by Weyerhaeuser Co., which has been a very dependable asset over the years. Weyerhaeuser Co., is part of a few different yet relatable exchange-traded funds (ETFs).
They are Dominating the Competition! What About the Market, Mega-caps, and Related ETFs
Patrick Industries Inc., is dominating just about every selected fundamental present in the charts above. If they are not dominating, they are still winning. They are continuously showing their actual strength. It is quite interesting how the media regularly covers Google Inc. (GOOG), Apple Inc. (NASDAQ:AAPL), Bank of America (NYSE:BAC), and Microsoft Corporation (NASDAQ:MSFT), yet shares little to no information about well performing small-caps. The interest of the media and news is focused on companies that the general public can relate to, like Apple Inc., which makes the news every day whether from advertising of their new products or questions of their poor performance.
The only companies that compare to Patrick Industry Inc. are recovering companies like Bank of America, Citigroup (NYSE:C), and Ford (F). Also, the Timber ETF (NYSEARCA:CUT) is outperforming the majority of the compared mega-cap stocks. I can guarantee that 70%-80% of readers who read this article did not even know CUT existed under that ticker symbol, let alone how well it performs.
My Stock Recommendations and Overview
From now on when you are constructing your investing thesis please consider small-cap stocks. They are perfect for long-term portfolios; they consist typically of low volatility when properly selected. Make sure to check for insider ownership, compounded annual growth rate, and year-over-year performance for at least the most recent two years. Also, remember to consider their volatility curve if trading options.
1. Patrick Industry Inc. - I recommend going long. This business is not under media or news scrutiny and has sound fundamentals. This company recently acquired Frontline Mfg. Inc. and Premier Concepts Inc. on September 9, 2013.
2. Pope Resources LP. - Pope is a good selection for a small-cap long, though I would not recommend it over Patrick Industry Inc.
3. Tesla Motor Co. - I recommend Tesla Motor Co. for long. I also suggest a short-term put to develop both short-term and long-term profits. As you can see in my curve displayed for TSLA, it explains that this company has an average volatility rating below $177.80 between now and December. Therefore, I recommend buying $165.00 puts to make a 19%-50% return between now and December. This should provide insurance on your long position as well as increase earnings if things for Tesla Motor Co. depreciate.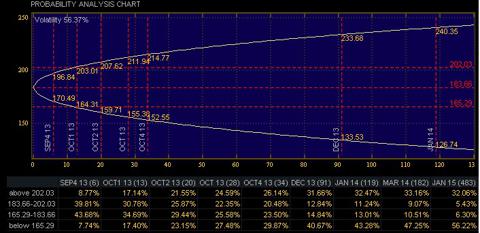 4. Apple Inc. - I suggest April 2014 puts with a $470.00 strike. Do not buy more than two unless you can afford to take a directional hit. Their current risk analysis is promoting a 54% chance this stock will be valued less than $470.00 in January 2014. If you plan on holding longer, April's analysis is promoting a 56% chance that this company will be under $470.00 as well. This will allow for a 40%-98% ROI if sold around $405.00-$430.00 per share.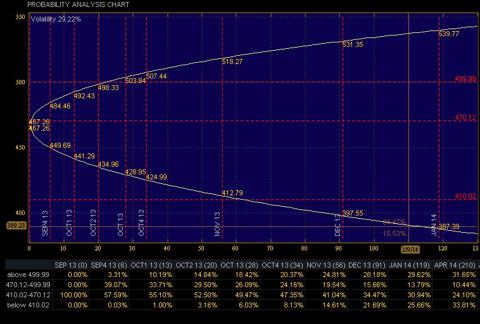 5. Google Inc. - I suggest buying long Google Inc. This company has extremely strong fundamentals and product strategies. January 2014 call at $915.00 will give you a minimum profit of 33.5% ROI. This stock is rated at over 50% likely to occur within the next five months.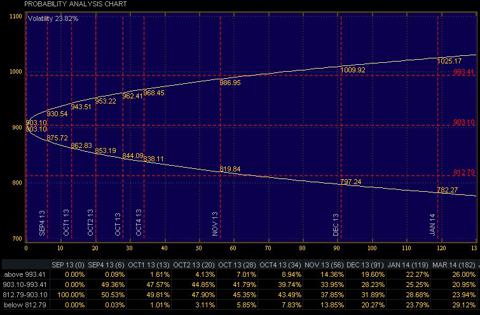 5. Ford - I recommend going long on Ford stocks. This company has an innovated product structure, sale strategies, technicals, and fundamentals.
6. Timber ETF - I recommend going long for investors seeking safe trends. This fund will be a viable choice for retirement portfolios.
Disclosure: I am long TSLA, GOOG, PATK, F, BAC. I wrote this article myself, and it expresses my own opinions. I am not receiving compensation for it (other than from Seeking Alpha). I have no business relationship with any company whose stock is mentioned in this article.