Technology has made our lives easier and more comfortable while at the same time making it difficult to survive without up-to-date knowledge of new technological developments. One new technology that is rapidly evolving is 3D technology; with double-digit growth every year, it is expected to become one of the most sought-after technologies of the 21st century. While only time will tell whether this prediction is correct, the historical growth seems to support this notion.
3D Printing Industry
As the cost of 3D printing is declining compared with traditional manufacturing, more and more industries are adopting 3D printing in their manufacturing plants. While this does not mean that every product can be produced using 3D printing, Wohlers Associates, a research consultancy focused on additive manufacturing and 3D printing, estimated that more than 25% of the 3D printing market was involved in making production-ready items in the year 2012. Prototyping, industrial design, automotive, aerospace, military, engineering, civil engineering, dental and medical industries, education, and food are a few of the fields that are using 3D printing technology. I expect that the usage of 3D printers for creating prototypes will continue to increase substantially from its current rate. In traditional manufacturing, creating a prototype is highly expensive and prototypes cannot be changed for years due to the high expenditure spent on them, but using 3D printers companies and entrepreneurs can create as many prototypes as needed to arrive at the best version. In addition, the products designed and prototyped using 3D printers will be more competitive, value added and time saving, giving the manufacturer the edge over the competitors who are dependent on the traditional way of creating and developing product prototypes.
According to Wohlers, the 3D printing industry was worth $ 2.2 billion worldwide in 2012, up by 29% from 2011.
This industry will start to see the next wave of growth in 2014, when some of the patents relating to laser sintering expire. Laser sintering has the capabilities to print finished products in plastic, metal and ceramics. This opens doors for 3D printing companies to develop and innovate this technology to print more types of finished products while at the same time increasing the rate at which the existing industry prints the finished products. That means the capacity of the existing market will grow at a substantial rate.
The 3D printing industry is growing substantially year after year, with the potential to reach $6 billion by 2017 according to the report of Wohlers Associates.
One in the group
Among the three 3D printing companies 3D Systems Corporation (NYSE:DDD), Stratasys Ltd. (NASDAQ:SSYS) and ExOne Company (NASDAQ:XONE), Stratasys seems the most attractive investment for the following reasons. First, 3D Systems and ExOne are highly overvalued. In its desire to acquire as many companies as possible to lead the 3D printing industry, 3D Systems is acquiring every small and large company in this industry. In my view, focusing more on inorganic growth will cause problems to 3D Systems, when the consolidation phase ends or in the near future. Every company is different whether it is small or big, it is in the same industry or not, their strategies, vision, mission, products, services and marketing plans will be different. Aligning them with the core of 3D Systems successfully and continuing with them is what the difficult part is, some will add the value, some may decrease the value, it makes me think that 3D Systems is more riskier than Stratasys. On the other hand, Short interest in 3D Systems is mounting as never before. Further, one short selling ETF fund reported that there are accounting issues in 3D System's books. Investors who are interested in investing or have already invested in this company should investigate these accounting issues and make a wise decision based on the response.
Stratasys has acquired companies that have synergies. Earlier, Stratasys was highly focused on the industrial segment of the 3D printing market; now, with the acquisition of MakerBot, Stratasys is well positioned to compete with 3D systems in the consumer segment as well.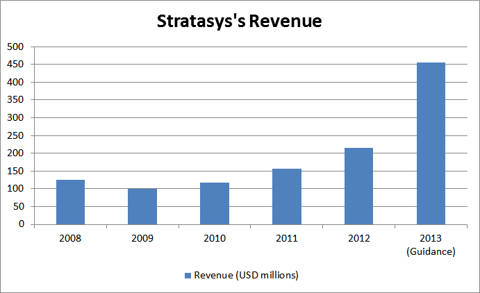 The price to book ratio of Stratasys is 2.40 (as per the market price $ 96.82 on 17/09/13), substantially low compared with the other two players in this industry (3D Systems 5.99 and ExOne 7.80). Sales growth rate of Stratasys was 82.44, much higher compared to 3D Systems (43.62) in the recent quarter. Stratasys is carrying a heavy dose of intangible assets. Total intangible assets are $1.3 billion, of which goodwill is $822.4 million and other intangible assets consist of $484.8 million out of the total assets of $1.7 billion. I assume that this risk is common with many technology stocks.
Conclusion
This industry is growing at a substantial rate, and companies are preparing to take advantage of this technology to innovate and to develop better products. Stratasys is well positioned to take advantage of this fast growing industry in my view.
On Sept. 18, the company announced that it sold 5,175,000 ordinary shares at a public offering price of $93 per share. This public offering has poised investors to sell shares, which traded at $112.81 on Aug 26th. Shares are now trading at $98.23, an awesome entry point for investors who wants to reap benefits from the lucrative 3D printing industry. This capital raise will dilute the earnings per share, which will be used for he MakerBot acquisition, but the merge of MakerBot and Stratasys offers synergies that will help Stratasys grow at a faster pace.
Disclosure: I have no positions in any stocks mentioned, and no plans to initiate any positions within the next 72 hours. I wrote this article myself, and it expresses my own opinions. I am not receiving compensation for it (other than from Seeking Alpha). I have no business relationship with any company whose stock is mentioned in this article.