Heineken N.V. ADR (HINKY.PK) has a few issues. The sales tax has been hiked in its home market of the Netherlands. Consumer confidence is still very low on the continent and worldwide Heineken is behind on sales volume to a very big competitor in Anheuser-Busch Inbev SA ADR (NYSE:BUD).
Heineken is still - or because of headwinds at home - a very interesting stock to look at because:
-Heineken can be acquired at a more attractive price than its peers
-Heineken is well positioned in promising emerging markets for beer
-The company has a very strong global Brand
-There is modest growth while you receive a dividend
Why Heineken is a Good Company
The Heineken beer was first brewed by Gerard Adriaan Heineken in 1873. The company has a rich history and a strong global brand. First let's look at some of the pros of owning Heineken.
Heineken Brand
The Heineken brand is very strong. Heineken is not just market leader in its home market of the Netherlands but also in the UK and it has strong positions in other markets. Heineken calls its namesake brand "the world's most valuable international premium beer brand". Other strong brands of the brewer include Desperado, Cruzcampo, Amstel, Telate, Cristal, Kaiser, Dos Equis.
Bruce Greenwald lists consumer preference as a real competitive advantage in his work Competition Demystified. The strong brand helps to establish a moat around the brewer's business.
Emerging Markets
Heineken is strong in the emerging regions of Eastern Europe, South America and Africa. The Europe market has been performing weak, which is no surprise to me as the Heineken brand is a premium brand and consumer confidence in home markets like the Netherlands is very low right now - see the chart below: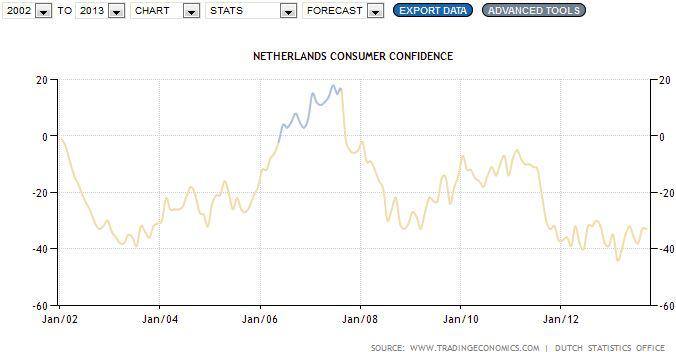 Source: tradingeconomics.com
The numbers of Heineken's revenue by region were taken from its website. Alcohol consumption in Eastern Europe is traditionally very high. On the map below dark regions have higher alcohol consumption.
Heineken Revenue By Region
| | |
| --- | --- |
| Western Europe | 42.3% |
| Central and Eastern Europe | 17.8% |
| Americas | 24.6% |
| Africa and Middle East | 14.4% |
| Asia Pacific | 2.9% |
Heineken is doing ok in South America - mainly because of acquisitions. In addition the WSJ stated earlier this year:
Heineken and SABMiller have the most favorable geographical mix of the big four brewers, with the highest exposure to the growth markets of Asia and Africa.
At this point Asia accounts only for a few % points of Heineken's revenue but it can become its nr.2 market in ten years.
Scale Advantage
Heineken is the third largest brewer in the world. Its production lags the largest brewers but trumps the production of all other breweries giving it a scale advantage. Anheuser-Busch Inbev SA ADR and SabMiller PLC ADR (OTCPK:SBMRY) are bigger than Heineken and it will be a challenge for the company to stand up to them - their scale does give it a production cost advantage over all other brewers.
Valuation
If we take a traditional valuation metric like the P/E ratio and compare Heineken to a peer group of two bigger brewers and Carlsberg - a smaller brewer - the Dutch company is significantly cheaper.
SBMRY PE Ratio (Annual) data by YCharts
Growth
If we examine Heineken historic growth numbers they look fine. Actually these growth numbers are fairly attractive given some of the competitive advantages the company enjoys - like its brand and scale - and contrasted to its current modest valuation.
Heineken Growth Numbers 2013
| | |
| --- | --- |
| 10 Year Average Revenue Growth % | 5.97% |
| 10 Year Average Operating Income Growth % | 11.15% |
| 10 Year Average Net Income % | 13.15% |
| 10 Year Average EPS % | 12.17% |
Dividend
The company has a healthy dividend policy. On its website it states the following:
The dividend payments are related to the annual development of the net profit before exceptional items and amortization of brands (net profit beia), which translates in a dividend pay-out of 30-35%.
It appears dividend sits at about 1.68% right now although it has been higher in recent times. Still it's a good thing when a mature company pays out some amount and if there is no immediate need to pay back debt or make other large acquisitions, it can also do share buybacks or increase the dividend.
Risks
To be fair I also want to talk about some of the risks of the stock. There are many others as well but two major things that are on my mind with regard to Heineken are the following:
Family Company
Heineken has traditionally been a family company. Controlled by the prominent Dutch Heineken family. Freddy Heineken became perhaps most famous for his high profile kidnapping. Later it got turned into a movie featuring Rutger Hauer - a Dutch actor that happens to be known in America.
If you happen to read Dutch there are many good sources to read more about the family but in English I couldn't find a whole lot of material. There is this book about the Heineken brand and it is supposed to contain information about the family as well but I have not had the pleasure of checking it out myself.
At this point the family still has a large amount of control over the company and that's not always a great thing as an investor.
Competitors
There are already two larger competitors and these could outgrow Heineken further or mergers of smaller competitors could happen increasing the number of companies with a scale advantage over Heineken.
If competing companies manage to get into strategic positions like that they can start to lean on Heineken's profitability and slowly but surely take market share away from all but the strongest of Heineken's brands.
Conclusion
The Heineken stock caught my eye - even though I'm not a huge fan of its world renowned lager. One of the reasons I'm usually not overly interested in the company but now the stock looks to be fairly priced or perhaps somewhat below its fair value.
It's not the best opportunity I've discussed this year but if it fits otherwise with a portfolio - because of diversification reasons etc. - it might be a good addition.
Disclosure: I have no positions in any stocks mentioned, and no plans to initiate any positions within the next 72 hours. I wrote this article myself, and it expresses my own opinions. I am not receiving compensation for it (other than from Seeking Alpha). I have no business relationship with any company whose stock is mentioned in this article.