On Monday afternoon we all heard the announcement that BlackBerry (NASDAQ:BBRY) received a buyout offer of $9 per share from a consortium led by private Fairfax Financial Holdings. This deal is far from done for multiple reasons. First and foremost, the consortium is looking to finance this buyout. This could be a major hurdle as the Fairfax Financial Holdings led consortium is going to need to sell the financier on the new vision for BlackBerry. That could be a major challenge consider the rapid decline in business we'll discuss shortly. Also, Fairfax now has six weeks to do their due diligence and raise questions concerning the financials. Don't be surprised if this presents a stumbling block as well considering BlackBerry's large position in "intangible assets".
Fairfax knows, as we all do, where BlackBerry is headed if they don't start selling off parts, and so does BlackBerry's CEO. The preemptive earnings announcement only solidified that belief. BlackBerry gave guidance for a loss of $.47 to $.51 per share on revenue of only $2.61 billion, while Wall Street expectations were for a loss of $.16 per share on revenue of $3.06 billion. Obviously, those are atrocious numbers. Now the question remains, what is BlackBerry worth if they are able to convince someone to enter into a bidding war to acquire them? Let's look at the parts.
Hardware Division: BlackBerry will attempt to pitch the hardware segment as a value proposition in a "buy low, sell high" light. Unfortunately for BBRY, there simply isn't any value left in this division. BlackBerry's shipments have fallen from 13.2 million in Q1 of FY 2012 to just 3.7 million in Q2 FY 2014. The only saving grace, if you can call it that, is the fact that BlackBerry has been reducing inventory over that same time span, selling more units than they have produced. Ah, but there is a problem with that as well. BlackBerry had an estimated $4 billion worth of inventory prior to that Q1 FY2012 timeframe. Consider that BlackBerry had 13.3 million units sold in Q1 FY 2012, and only sold 5.9 million units in Q2 FY 2014.
BBRY is having an extraordinarily difficult time selling their products. BlackBerry has fallen from the world's third largest smartphone provider to fourth in the past year, falling behind Microsoft (NASDAQ:MSFT) as well as perennial leaders Apple (NASDAQ:AAPL) and Android (NASDAQ:GOOG). BlackBerry fell from 5.2% market share in Q2 FY2012 to just 2.7% market share in Q2 of FY2013. That is a steep decline in just one fiscal year. Many analysts will start screaming at this point that Nokia received $5 billion for their devices and services business. To make that equation work, Nokia (NYSE:NOK) and BlackBerry would need to have comparable business strength. Nokia had a 3.7% market share when they were bought by Microsoft. BlackBerry, as we previously mentioned, only has a 2.7% market share. Nokia's device sales, much like BlackBerry, were falling off a cliff. Nokia had 40% of the hand set market in 2007. At the time of the Microsoft buyout, Nokia had only 15% of the hand set market, with only 3.7% of the smartphone market. That's correct, Nokia actually had a somewhat stronger position than BlackBerry! That illustration should assist us in understanding just how far BlackBerry has fallen, and how quickly it has occurred.
Considering the massive backlog of inventory on BlackBerry's balance sheet, and the extreme lack of consumer demand for BlackBerry products, there is no reason for one of the major players to pay for what will be a massive write-down for dead inventory. If BlackBerry itself has been unable to drive sales for the new BB10, why would another player take that headache on? BlackBerry is believed to have $887 million in inventory as of June 1. Bank of Montreal analysts believe that the total cost of shutting down the hand set/ device side of BlackBerry would cost roughly $800 million. That number includes severance, inventory write-downs, and the technical process of removing the hand set business from BlackBerry as a whole. That leaves us a value of $87 million for the device business, not accounting for marketing expenses already under contract.
Patents: The key for BlackBerry in receiving a dime by way of a potential buyout is in the patent portfolio. Now, this may seem counterintuitive, but this would be the perfect time for those analysts who were just screaming about the Nokia deal to step in. The patent portfolio BBRY has is one of the more robust across the smart phone market. Note how BlackBerry is the only smartphone with a physical keyboard, and has not had their security hacked till this point. These patents are exceptionally valuable as Android, Apple, and Microsoft have all had problems with their systems being hacked in the past year.
How do we value these patents? That is a very difficult thing to do. Nokia received $2.18 billion for their patent portfolio from Microsoft, and I would make a strong argument that BlackBerry's patent portfolio is much stronger in a licensing deal. At the same point, making an argument that BlackBerry should receive a premium for the patents because they have "more" than others is a completely moot point. Claiming a patent portfolio is worth "x" because of the number of patents has a likeness to claiming to your portfolio is the strongest because you hold the most amount of securities. If you hold nothing but garbage securities, your portfolio is still garbage. However, this isn't the case with BlackBerry. The patent portfolio is strong and has a longer time span than other recent takeovers.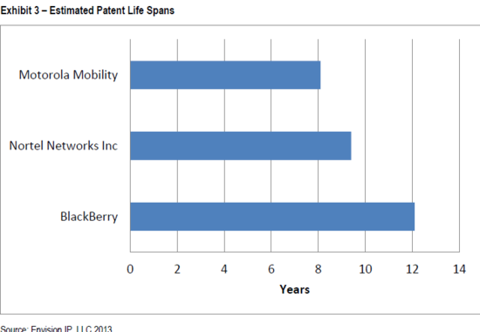 With an average patent length of 12 years, BlackBerry may force the hand of competitors to pay a premium for the patent side of the business. Motorola (NYSE:MSI) received roughly $735 thousand for each of their patents, and Nortel received nearly $1 million for their patents. Scotiabank claims that Motorola and Nortel sold at "an opportune time" and placed a 40% discount in their model on BlackBerry's patents. I believe Scotiabank was only half correct. While Motorolla and Nortel may have received premiums due to the timing of their respective sales, BlackBerry's patents look to be stronger.
Using that illustration, we tread into murky waters. How do we value these patents? I believe now would be the proper time to use the .4x TTM valuation. Wait, that metric should be used for the hardware side. That is incorrect in this case! We went through the hardware side and discovered that there is nearly no value in that business. However, the sales are driven by that patent portfolio. The businesses and consumers who still use a BlackBerry device use the device because of the security of the devices, the physical keyboard, and a few other patent protected items. That's why it would be appropriate, if not prudent, to place that .4x TTM valuation on BlackBerry's patents. With a reserved expectation for BlackBerry's earnings on Friday, we can feel comfortable placing a $7 billion TTM number on BBRY. That brings us a valuation of $2.8 billion for BlackBerry's IP patents. That would give BlackBerry an average patent acquisition price of only $311 thousand per patent as BlackBerry has nearly 9,000 active patents. I believe this would be a fair price if BlackBerry were bought by a group in a cross-licensing arrangement. However, according to the CEO of MDB Capital Group, "this is probably the last big and current wireless portfolio available". With that in mind, it wouldn't be surprising to see a bidding war between the likes of Apple, Microsoft, Google, and Samsung (OTC:SSNGY). That bidding war would most likely use the Motorola Mobility number of $735 thousand per patent as a ceiling. That would place a $6.62 billion value on BlackBerry's patent portfolio.
So we have our base price of $2.8 billion for BlackBerry's IP patents, and a ceiling (albeit lofty) of $6.62 billion in a torrid bidding war. That brings our running valuation for BlackBerry to between $2.81 billion to $6.63 billion thus far.
Cash and Cash Equivalents: BlackBerry's cash and investments currently sits at $2.6 billion, a $500 million decrease from the previous quarter. BlackBerry wrote down $945 million as the Z10 is repurposed into an entry-level phone, wrote down $72 million for restructuring purposes, and received $393 million in income tax recovery in the current quarter. The cash position has decline precipitously over the past three years, which goes hand-in-hand with the precipitous fall in market share. If we were to agree that BlackBerry would have more leverage in negotiating a possibly buyout by closing the doors on the device business, we would need to write down the remaining $622 million in inventory, plus the $800 million estimated expense to close the doors on that business as we previously stated. That leaves BlackBerry with $1.2 billion in cash and no further dead inventory on the balance sheet.
We can add that $1.2 billion to both our running total. That puts BlackBerry's value between $4.01 billion and $7.84 billion.
What Does This Mean for Shareholders: If we average out our conservative and frothy valuations, we receive a value of $5.925 billion for BlackBerry. Considering BlackBerry's 524 million shares as of June 1st, that gives BlackBerry a buyout value of $11.31 per share, or a 28% premium above where BBRY is at the time this article was written.
Disclosure: I have no positions in any stocks mentioned, and no plans to initiate any positions within the next 72 hours. I wrote this article myself, and it expresses my own opinions. I am not receiving compensation for it (other than from Seeking Alpha). I have no business relationship with any company whose stock is mentioned in this article.
Additional disclosure: Investing involves a significant risk of loss, as such never invest more than you can afford to lose. Always consult with your registered financial professional before considering adding a new position to your portfolio. No matter how likely, or unlikely, a potential buyout is for a company, buying or shorting a company strictly based off of takeover rumors is exceptionally risky.