On Monday, September 23, it was announced that Coeur Mining (NYSE:CDE) had narrowed its FY 2013 projected consolidated silver and gold production to a number that was still within the confines of its original guidance range. In the wake of today's announcement I wanted to highlight the recent performance of Coeur Mining and examine several of the reasons why I think Rochester could play a significant role in the company's turn-around efforts over the next 3 to 5 years.
Company Overview
Headquartered in Coure d'Alene, Idaho, the company operates through a number of its subsidiaries, and engages in the ownership, operation, exploration and development of silver and gold mining properties primarily in South America, Mexico, the United States and Australia. The company's properties include but are not limited to the Palmarejo silver and gold mine in Mexico, the San Bartolomé silver mine in Bolivia, the Kensington gold mine located to the north of Juneau, Alaska, the Rochester silver and gold mine in northwestern Nevada, and the Endeavor mine, which is an underground zinc, lead and silver mine in New South Wales, Australia.
Recent Performance and Trend Status
On Monday shares of CDE, which currently possess a market cap of $1.28 billion, a beta of 1.77, a price-to-free-cash-flow ratio of 10.17 and a current ratio of 3.40, settled at a price of $12.81/share. Based on their closing price of $12.81/share, shares of CDE are trading 10.49% below their 20-day simple moving average, 8.86% below their 50-day simple moving average, and 25.13% below their 200-day simple moving average. These numbers indicate a short-term, mid-term and a sustainable long-term downtrend for the stock, which generally translates into an aggressive selling mode for most traders. From a cash and debt perspective, Coeur Mines has $249.53 million in cash and $312.06 million in debt on its books as of June 30, 2013.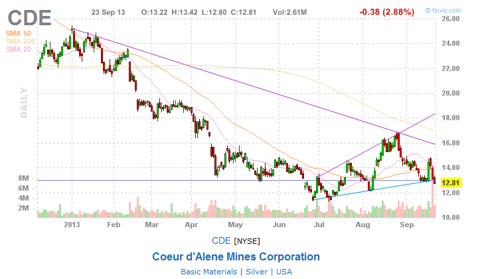 The Rebirth of Rochester
One of the things Coeur Mines included in yesterday's announcement was an update on its Rochester Mine located in Nevada. The company's press release noted the fact that "the company contained proven and probable reserves totaling approximately 86.0 million silver ounces and 605,000 gold ounces, representing increases of 91.5% and 96.4%, at its Rochester mine in Nevada. In addition to these reserves, Coeur also estimates that as of September 16, 2013, Rochester contains approximately 69.3 million silver ounces and 560,000 gold ounces of measured and indicated resources and approximately 26.2 million silver ounces and 105,000 gold ounces of inferred resources."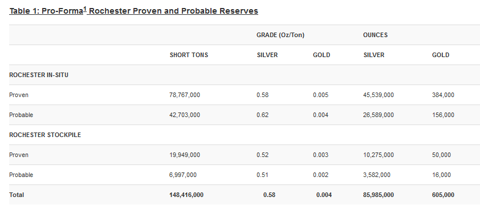 Based on these numbers, Rochester possess significant upside and in the wake of today's revised outlook, it should be noted that management has also done a very good job of keeping the company's capital expenses to a minimum which therefore enhances any profit that has the potential to be made over the next 12-36 months.
Mitchell J. Krebs, Coeur's President and Chief Executive Officer, recently noted that, "Rochester represents a unique and attractive source of growth for our stockholders with relatively minimal capital requirements, high expected returns, an attractive jurisdiction and lower execution risk given its operating history of more than 25 years." Not only will cost-effective project planning play a key role in the company's presence at Rochester but so will its ability to increase its crushing rates on a year-over-year basis.
A Look At The Coeur's Crushing Rates
When it comes to a company's crushing rate, it seems to me that more stone that is crushed the higher the production volumes have a potential to be. Therefore, any continued increase in the company's annual crushing volume, a higher potential for increased production should exist (although in some instances it does not, and that's a conversation for another day).
For example, Rochester's annual crushing rate in 2012 was approximately 9.0 million tons, which resulted in production of 2.8 million silver ounces and 38,066 gold ounces. In 2013, the company expects to crush approximately 12 million tons at Rochester and one would think that it would expect an increase in production as a result of its efforts.
Based on the company's long-term expectations for crushing rates (which are expected to ramp up to a range of 13 - 16.5 million tons by 2014 and exceed 18.5 million tons by 2017), I strongly believe that its crushing capability could produce significant increases in the production of both silver and gold over the next 5 years.
Conclusion
When it comes to those who may be looking to establish a position in Coeur Mining, I'd continue to keep a watchful eye on a number of additional catalysts. In this instance, I'd keep a closer eye on both the company's projected consolidated silver and gold production throughout the remainer of 2013 and first half of 2014, and any key developments that could continue to enhance the company's production potential at its Rochester Mine in Nevada.
Disclosure: I have no positions in any stocks mentioned, but may initiate a long position in CDE over the next 72 hours. I wrote this article myself, and it expresses my own opinions. I am not receiving compensation for it (other than from Seeking Alpha). I have no business relationship with any company whose stock is mentioned in this article.