The BlackBerry (NASDAQ:BBRY) saga continues to unfold with a highly tentative "bid" announced by Fairfax Financial (OTCPK:FRFHF) at $9.00 a share subject not only to due diligence but also to financing. Finding the money might be the hardest part, after the bloodbath BlackBerry announced with its $1 billion estimated loss for the quarter including a massive write down of inventory of from $930 to $960 million
The inventory write down is hard to swallow. Blackberry had an inventory total of only $603 million in its audited 2013 financials dated March 2013 and $887 million in its unaudited Q1 statements. During the second quarter, BlackBerry says 5.9 million devices were sold to end users, although it had recognized 2.2 million of these in its first quarter so only 3.7 million were recorded as sales in the pre-release of the quarter's results. We will see final statements for the quarter September 27, 2013 when BlackBerry makes its normal release.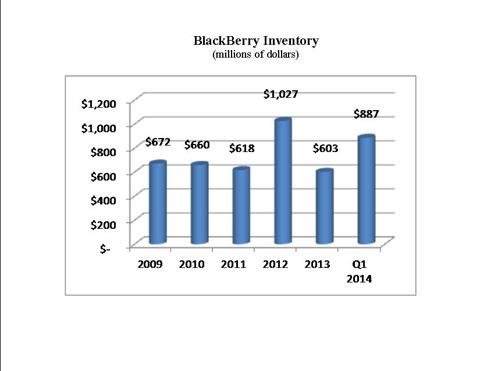 Source: BlackBerry financial statements
An inventory write down is not new to BlackBerry. It wrote down inventory of its Playbook tablet not that long ago. In addition, the notes to its financial statements show that it has been building a sizeable reserve for inactive and obsolete inventories for quite a while, reaching over $450 million at the end of its first quarter of fiscal 2014.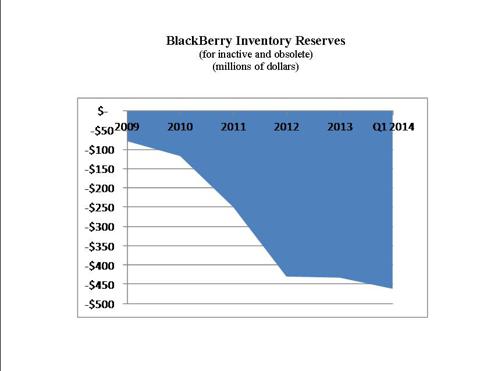 According to Tech Insights the bill of materials for a BlackBerry Z10 amounts to about $154 per unit. Add another $50 for overhead and the inventory cost of a Z10 is about $200.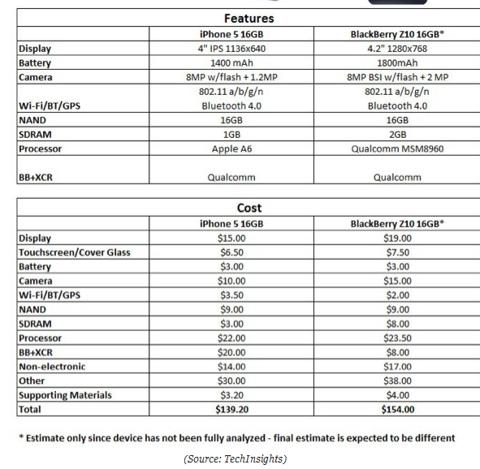 BlackBerry says the write down is primarily inventory and purchase commitments related to the Z10. A $960 million write down amounts to 4.8 million Z10 units if written off completely. However, there is a market for the Z10 at some price and the actual number written off would have to be much larger, possibly 6 to 8 million units. Since BlackBerry reported selling only 6.8 million units of all models of its smart phones in Q1, it is hard to imagine it would build 6 million Z10 units in excess of demand in a single quarter. Further, some portion of the $450 million reserve at the end of Q1 undoubtedly related to Z10 inventory one would think.
There has to be some other explanation and perhaps on the Q2 conference call we will get one. Whatever that explanation is, it is not likely to be pretty.
In any event, on the heels of the massive write down along comes Prem Watsa and Fairfax with its highly conditional "offer" at $9.00 U.S. per BlackBerry share. I am a big fan of Prem Watsa and he is legendary in Canada for buying valuable assets cheaply. But in this case, pregnant with the Fairfax holding of 10% of BlackBerry shares purchased before the wheels fell off, he may be desperate. By announcing a bid it is possible Fairfax simply wants to put BlackBerry in play.
The conditions on his bid are the things to watch. In General Electric some colleagues of mine in the apparatus business used to have a saying worth passing on. The liked to say: "Every time you make a bid you run the risk of getting the order".
I have been long BlackBerry for some time, painfully enough. On the news of the Fairfax proposal, I bought calls on a further 100,000 shares at a strike close to the market for a few pennies a share. While I knew that purchase was odds-on to be a total loss, it also had the potential to make a lot of money if there was a competing bid for BlackBerry.
Yesterday I learned that Fairfax's proposal does not involve a commitment of new money by Fairfax (who I understand will simply roll over its existing holding into the acquiring entity), is subject to financing and other conditions, and has a "break fee" in favour of Fairfax should a deal not proceed. Those circumstances lead me to believe the Fairfax offer is "bluff poker" and not likely to proceed. The market is likely to call that bluff.
Whatever the facts underlying the massive BlackBerry write down and regardless of the merits of the Fairfax bid, the news cannot be positive for the operations of the company. Confusion is not a strong selling pitch. Large losses do not inspire confidence among corporate customers. Uncertainty is deadly.
Accordingly, at the opening today I will buy puts that match the number of calls I own at least. If there is a bid, I will profit from the calls if it exceeds my strike by at least the premium I paid. If not, and the company falters further, I will profit from the puts as the stock price falls further. I will of course take a bath if the stock simply trades more or less where it is until the options expire. It won't be my first bath in the market, and I don't expect it to be my last.
I want to thank SA member Marcap for his consistency in commenting on the risk of owning BlackBerry shares. I would have done well to listen to him more closely.
Disclosure: I am long BBRY. I wrote this article myself, and it expresses my own opinions. I am not receiving compensation for it (other than from Seeking Alpha). I have no business relationship with any company whose stock is mentioned in this article.
Additional disclosure: I am long BBRY calls. I intend to buy BBRY puts at the open tomorrow