Peabody Energy (BTU) is a $4.9 billion coal miner operating in the Unites States and Australia. Cyclical weakness in the industry has driven valuation multiples down to less than half their five-year averages. Despite the near-term weakness, coal is still the fastest growing energy source in the world and is expected to see consumption grow by 65% to 2035. The near-term fear in the market presents a perfect opportunity for investors to add Peabody Energy to a portfolio focused on long-term growth.
Looking past the cyclical weakness for a bright future
Shares of Peabody Energy are off almost 80% from their 2008 high and have been falling almost non-stop since coal prices peaked in 2011. The stock touched a low just under $15 per share earlier this year but has rebounded to $18.32 recently.
The impetus behind the stock's fall is due to the cyclical downturn in coal prices and the rise of natural gas as a viable alternative. Two markets, the United States and China, have contributed most to the industry's problems.
In the United States, a revolution in oil & gas production caused natural gas prices to see historic lows of $2 per mmBtu in 2012. This, combined with new regulations by the Environmental Protection Agency (EPA), has led to the shutdown or conversion of many coal-fired electricity plants.
Chinese GDP growth has fallen from double-digit averages to just 7.5%, bringing growth in electricity generation down along with it. Growth in Chinese electrical production has slowed from as high as 27% per year in 2010 to a range of between 5% and 10% this year. An oversupply of coal and buildup at ports has also weighed on prices over the past year.
Despite near-term trends in the two largest markets, coal is still the most used energy source in electricity production. Globally, 41% of electricity generation is by coal with most of the fastest-growing emerging markets using coal for more than two-thirds of production. The most recent annual energy report by BP shows that coal is also the fastest growing fuel in the world with growth in consumption of 2.5%, compared to growth of 2.2% in natural gas.
In the U.S. market, fears of a dramatic shift to natural gas are overblown. There have been 15 gigawatts (GW) of coal-fired capacity shut or converted since 2009, just 4.5% of the 318 GW used in power generation. A total of 3.8 GW are expected to be shut in 2014, just over 1 percent of total capacity, compared to 10.9 GW closed in 2012. The share of U.S. electricity generated by coal is down to 37% in 2012, from over 50% as late as 2003, but expected to stabilize around 40% over next few years.
In fact, price competition between natural gas and coal has already shifted with the increase in gas prices over the last year. While Appalachian coal is still relatively expensive compared to current spot prices for natural gas of $3.69 per mmBtu, Powder River Basin (PRB) and Illinois Basin (ILB) coal is more competitive for use in energy production.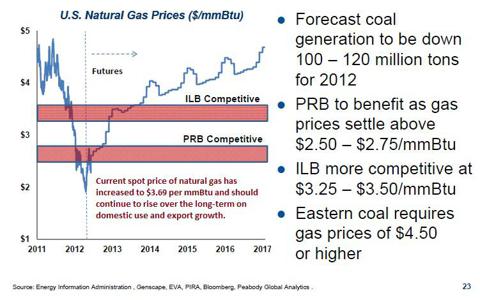 Click to enlarge
Through acquisitions and closures, Peabody has shifted to higher-growth, lower-cost regions like PRB and Illinois, and this price competitiveness should help growth going forward.
While the long-term fundamentals in global coal will support competitors, I like Peabody for its international focus and fewer eastern coal assets. Arch Coal (ACI) has almost 20% of its reserves in the Appalachia area. Alpha Natural Resources (ANR) sees 46% of its revenue from eastern coal. Alpha Natural has recently announced layoffs in West Virginia, to scale back operations in the region.
In the European market, U.S. exports of the commodity surged 26% in 2012, as cheaper coal and a phase out of nuclear power leaves Europe burning more. The E.U. region exited six consecutive quarters of declining GDP recently and stronger economic growth should lead to an increase in energy use and support the coal market.
The emerging markets are where the real growth story lies for the coal industry and for Peabody Energy. More than 300 GW of coal-fired capacity is expected to be built by 2017 with 90% in developing Asia. The increase is driven largely by urbanization in China where 300 million people are expected to move to the city over the next six years. This group, roughly the size of the entire U.S. population, will require infrastructure and electricity.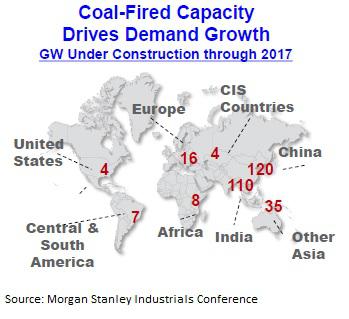 Even with talk of bursting port inventories and oversupply, both China and India have seen annual increases in coal imports to meet demand. China produces more than 70% of its electricity from coal and has increased imports by a compound annual rate of 17% over the last three years. India has increased imports at an even faster 22% compound rate since 2010, and should see strong demand from the 110 GW of capacity scheduled to be built through 2017.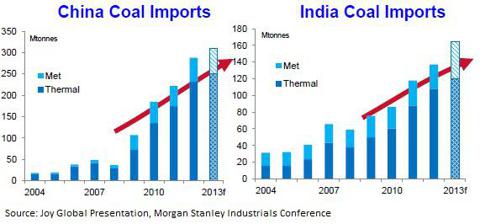 Click to enlarge
Natural gas has staged an impressive rally in the United States but is just not economically feasible as an alternative to coal in most of the world. The rise of the emerging markets has led the International Energy Agency (IEA) to forecast a 65% increase in global coal demand to the year 2035. Near-term growth should be supported by infrastructure demand, requiring a vast amount of coal to create the steel necessary, while longer-term demand will come from electricity production.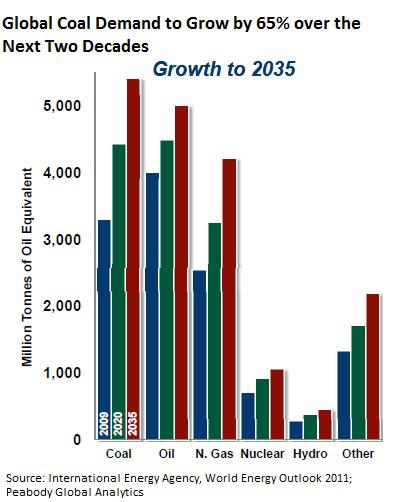 Stable fundamentals and valuations that do not account for long-term potential
More than two-thirds (70%) of Peabody's operating profit is from U.S. operations but the company has been positioning for emerging market growth over the last few years. Its acquisition of Macarthur Coal in Australia (2011) helped increased its reserves in the region to 1.2 billion tonnes. The company has nine offices in Australia, and Asia, including two in China.
Peabody continued its process of cost-cutting in the second quarter, reducing cost per ton in Australia to between $70 and $80 and lowering planned capital expenditures to $350 million from $450 million.
Free cash flow plummeted in 2012 to $253 million from $786 in 2011, but the reduction was largely due to an increase of $415 million in capital expenditures. The company reported a net loss of $1.80 per share in 2012, but earned $2.05 per share when adjusting for one-time items.
The shares now trade for just 1.1 times book value, roughly the industry average but less than half the company's five-year average of 2.4 times book. Even more promising is that the shares are trading for just 0.6 times sales, almost one-third the 1.5 times average over the last five years.
Inaugural addition to my Long-term Growth and Dividends Portfolio
Given its low valuation and the strong long-term upside to the industry, Peabody Energy is a perfect first addition to my new growth and dividend portfolio.
The long-term portfolio will hold investments for a minimum of one year but generally for more than five years. The investment thesis will revolve around opportunities to add positions in stocks that might have some near-term headline risk or weaker fundamentals but with stronger long-term potential.
While a dividend payout will not be a requirement, most of the additions will have a cash yield to balance current returns with the longer-term outlook. After tax consequences, I think long-term capital appreciation is better for many investors relative to annual dividends but the regular cash returns are important if the long-term growth thesis does not meet expectations.
My own model for Peabody sales this year and in 2016 is shown below. Revenue growth will probably be sluggish again in 2014 but should pick up to $8.2 billion by 2016. I have used margin estimates around the company average and adjusted net income for one-time items. Using an average of a price-earnings estimate and an enterprise value-EBITDA estimate yields a target of $27.13 per share by the end of fiscal 2016.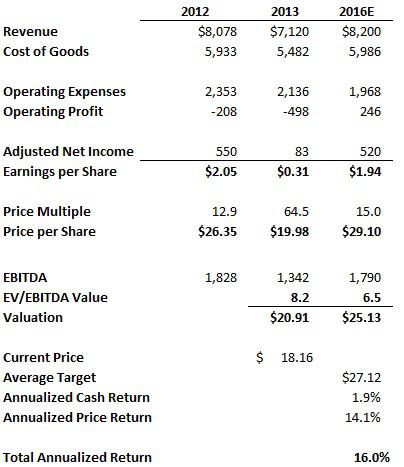 Combined with the 1.9% dividend yield brings the total annualized expected return to 16% over the three years. While I think the shares could move much higher on positive sentiment for longer-term fundamentals, the conservative return estimates justify inclusion in the portfolio. I will reevaluate the return potential at least annually to adjust the target price and position in the portfolio.
I will be adding one position per week to the portfolio and a minimum of 10 holdings. I will update the portfolio regularly here on Seeking Alpha with an emphasis on specific risks and expectations. I look forward to any comments, suggestions or questions you might have on the portfolio.
Disclosure: I am long BTU. I wrote this article myself, and it expresses my own opinions. I am not receiving compensation for it (other than from Seeking Alpha). I have no business relationship with any company whose stock is mentioned in this article.