Looking for the next Internet search portal to take market share from Baidu (NASDAQ:BIDU)? Look no further than Qihoo 360 Technology (NYSE:QIHU).
Qihoo 360 is the largest Internet security provider in China, with over 461 million monthly active users, representing a penetration rate of 96% in arguably the world's largest web market. That's right. You are talking about the largest common-language/culture Internet market in the world and QIHU is now the No. 2 portal.
With that kind of access to the Chinese market, why haven't we heard of this $7 billion upstart before as a threat to Baidu? And where does the search element come in?
The Story Is Out
Qihoo 360 Technology offers a broad spectrum of Internet and mobile security products. Its core Internet and mobile security products include 360 Safe Guard and 360 Anti-virus 360 Mobile Safe, 360 Safe Browser, 360 Personal Start-up Page, 360 Application Store and 360 Safebox.
In a brilliant strategy move, Qihoo 360 began offering its cloud-based Internet security products for free to users. And this has allowed them to monetize their significant audience through online advertising services, including paid links as well as Internet value-added services, such as offering access to third-party Web games and virtual items.
More recently, the company's launch of so.com, its Internet search engine, is the game-changer for the company as it leverages its broad reach in China to capture lucrative search market share. The "360" brand stands for Internet security to the company's users, and these users are a ripe audience for advertisers. Take a look at how savvy (and China-connected) investors tripled QIHU shares in the past five months after the launch of so.com, once they realized the growth potential: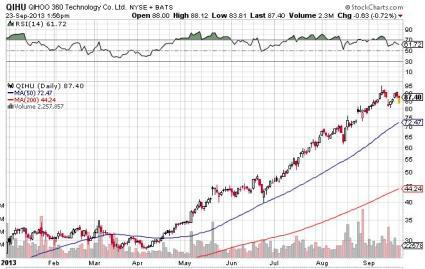 Mobile Search and Gaming
Earlier this month, the company launched 360 Yingshi Daquan, the mobile version of 360 Video, Qihoo's video vertical search engine. 360 Yingshi Daquan is a 360 mobile app that enables users to search for and view videos from Qihoo partners on Android based smartphones.
Like Qihoo's 360 Mobile assistant, the new mobile app will serve as a mobile traffic hub for the company, attracting mobile users who ultimately can be monetized by the company. According to CNNIC (China Internet Network Information Center), during the first half 2013 there were 160 million Internet users accessing online video using mobile devices in China -- a 34.4% utilization rate. As mobile devices evolve with new technologies including larger screens, video will continue to be in great demand among mobile users.
What else do Chinese PC and mobile users rely on Qihoo 360 for? Gaming! Here's how one analyst characterized the growth potential: "We believe Qihoo possesses a solid mobile search entry point supported by the strong distribution capability of its app store which is ranked no. 1 with 21.6% market share by number of times used in July, according to iResearch. For example, number of downloads of 'Plant Vs. Zombie 2' reached 10mn in 36 hours on 360 mobile assistant, compared to 25mn downloads in two months on iOS app stores."
Rich Valuation, Compelling Opportunity
There is no doubt that QIHU shares ran quickly to near full valuation (average analyst target price is $100) once the story was out that they were grabbing significant search engine traffic from Baidu. The leader currently owns over 60% of the market, while the newcomer is pushing 20%.
I recommended this stock three weeks ago in the low $80s as an aggressive growth and trading opportunity. It traded back above $90 and has since come off a bit. For investors, keep an eye on the earnings momentum. After their last earnings report, which beat consensus estimates by 100% (just like the previous three quarters), analysts bumped next year from $1.26 to $1.55 -- that's 80%-plus year-over-year growth.
At $85, that's also a forward P/E of 55X. But if the aggressive growth trends of QIHU keep muscling in on Baidu's turf, this company may sustain that multiple.
Apple: Free Stock Analysis Report (email registration required)
Baidu: Free Stock Analysis Report (email registration required)
Google: Free Stock Analysis Report (email registration required)
Qihoo 360: Free Stock Analysis Report (email registration required)