ZAGG (NASDAQ:ZAGG) Overview


In this article I want to show that ZAGG is a seriously undervalued stock representing a tremendous opportunity. ZAGG is a $141 million market cap company that made its name manufacturing protective coverings for portable devices. It is currently trading at $4 after its stock fell 25% after reporting Q1 earnings of $51 million in May and has been trading in the mid 4 dollar range since then. It declared Q2 earnings of $51 million again which is seen as quite disappointing as for 2012 ZAGG had declared $55 and $61 million for the same quarters and for Q4 2012 had declared a record of $87 million. ZAGG cited weak sales in Europe and an absence of new product introductions by mobile computing OEMs. However it is also a seasonal business, with demand peaking at the end of the year due to the holiday season. The stock was in my view already undervalued and after having taken a beating for these "poor" earnings is now even more so. I believe the market has unfairly battered this company, making it a great opportunity for value investors.
ZAGG's Business
ZAGG designs protective coverings, audio accessories and power solutions for consumer electronics and hand held devices. Headquartered in Salt Lake City, Utah it has 250 employees. The company's flagship segment is the invisibleSHIELD segment, a thin film that covers and shields portable devices. That is one of the many devices it sells under the ZAGG segment as well as ZZAGGaudio (first releases in 2008, mainly earbuds and includes their flagship product ZAGGaquabuds, water resistant earbuds introduced at end 2010), ZAGGskins (customisable high-resolution images on invisibleSHIELD film), ZAGG Power Products (portable batteries that can recharge smartphones up to four times before they need to be recharged themselves), ZAGG Keyboard Products.
ZAGG acquired iFrogz, another company that manufactures protective cases for mobile devices in June 2011 for $103 million. iFrogz began in 2006 by creating protective cases for Apple iPods and in 2007 began offering cases for other Apple products. It also started releasing a line of audio products, mainly earbuds, headphones and speakers. It was behind several impressive innovations such as the Boost Plus, a speaker that picks up the audio from a mobile device without needing to be wired. The Boost Plus was an Innovations Design and Engineering Awards Honoree at the 2013 International Consumer Electronics Show. In August 2012, ZAGG also released a headset for gamers under the iFrogz brand.
ZAGG also has an investment in HzO, a company engaged in the development of water-blocking technologies for consumer and industrial applications.
There are several reasons I like the overall business. First-of-all, it is simple to understand and transparent. Second it is a business with a future as smartphones and tablets is one of the fastest growing markets in the world. InvisibleSHIELD products are extremely quickly configured and packaged which means they are available for purchase at the time or within days of the launch of new electronic devices.
Balance Sheet and Earnings
As of Q2 2013, ZAGG had EUR 13.56 cash for EUR 12.65 million debt. With a working capital of (104.52 - 29.61) EUR 74.91 million, it is in an excellent financial position.
ZAGG's growth has been nothing short of spectacular with revenues going from $ 2.78 million in 2006 to $264.43 million FY 2012 with an average growth of 124% p.a since 2007.
Its cash from operations was at $4.96 million for Q2 2013 and after deducting capital expenditure of $420,000, it had a solid free cash flow of $4.54 million compared to a negative $5 million for Q2 2012. It is also good to see a constant level of capex, sign that ZAGG is looking to improve the scope of its operations but still keeping a lid on it to maintain sufficient liquidity.
It has also started to expand internationally and currently receives 6% of its revenues in Europe and 7% in other countries. Revenues from Europe have been growing at an even faster rate from $1.39 million FY 2008 to $15.87 million FY 2012.
Q2 2013 revenues were disappointing mostly due to a lack of new product introductions and a quite slow expansion of the distribution channel but also due to the seasonality of the business with the most sales occurring in the last quarter of the year.
The less positive aspects of ZAGG's performance is the constant decrease in gross margins which were at 42% for Q2 2013 compared to 79% at Q3 2007 which is partly due to a higher sales mix shift as a higher percentage of total sales is comprised of sales going through indirect channels with lower margins compared to website sales directly to the consumer. This trend will alas probably continue as the business continues to grow.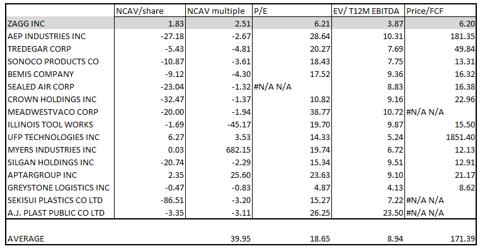 Source: Bloomberg terminal.
Our thesis that ZAGG is undervalued stems from the fact that it only trades at a small multiple to net current asset value. At Q2 2013 it reported current assets worth $ 104.52m and total liabilities of $48.26 million which means it has a net current asset value of $ 56 million. With 31 million shares outstanding, that creates a net current asset value of $ 1.83 per share. With the stock trading at $ 4.58, it is trading at 2.5x NCAV which is very little, especially compared to its peers. Before looking at comparable companies, it is trading at a P/E of 6.21 and a Price/Book of 1.17.
This table compares ZAGG to 15 comparable companies on four factors namely how much it is trading times NCAV, P/E, EV/Trailing 12 month EBITDA, and Price to FCF. Across all these ratios, it is significantly undervalued versus its peers. The NCAV is negative for almost all of its peers because in general companies will have more liabilities than current assets, which is not the case for ZAGG, a sign of its health. With a P/E of 6.21, it is the lowest of all its peers. EV to EBITDA is at 3.87 the lowest of all its peers as well as for Price to FCF.
Disclosure: I have no positions in any stocks mentioned, and no plans to initiate any positions within the next 72 hours. I wrote this article myself, and it expresses my own opinions. I am not receiving compensation for it (other than from Seeking Alpha). I have no business relationship with any company whose stock is mentioned in this article.