Stocks of the U.S. Integrated Oil group, made up of four buy-recommendations, ConocoPhillips (NYSE:COP), Marathon Oil (NYSE:MRO), Chevron (NYSE:CVX) and ExxonMobil (NYSE:XOM), have the lowest median McDep Ratio (0.75) among the six industry groups in our coverage (range 0.75-0.94). McDep Ratios for the lagging group have begun to pull out of a three-year slump (see chart below).
In the context that lower McDep Ratio stocks should return more than higher McDep stocks, CVX has outperformed XOM over three years and MRO has underperformed during the same period. In contrast, COP has retained its lowest McDep Ratio position throughout the period. MRO and COP declined much more than XOM and CVX during last year's weak market and thus may have extra potential with market values advancing again. CVX's stronger relative performance has been helped by its highest concentration on oil (70%).
Oil's average futures price for the next six years recovered quickly from last year's slump and is trading consistently above its 40-week average. Belated strength for natural gas with the third week's confirmation of the new rising trend should help COP and XOM proportionately more with global concentration of 21% and 30% respectively. The four stocks are also bargains at median cash flow multiple (EV/Ebitda) of 5.5 and pay respectable dividends at the median rate of 3.3% a year.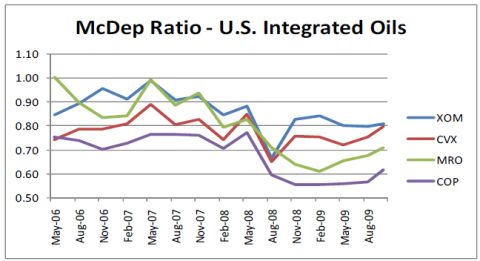 Originally published on October 13, 2009.
Disclosure: McDep or its employees may take positions in stocks the firm covers for research purposes. No trades in a subject stock shall be made within a week before or after a change in recommendation.