Chevron (NYSE:CVX) had quite a run over the last years. Chevron remains one of the best performing large-cap oil- and gas companies with a five year stock return of over 44% (not including dividends). Naturally, investors ask whether Chevron's outperformance of peers can continue. In light of Chevron's disappointing Q2 2013 performance it is time to reevaluate Chevron's market valuation and determine whether a re-pricing is necessary to accurately reflect its intrinsic value.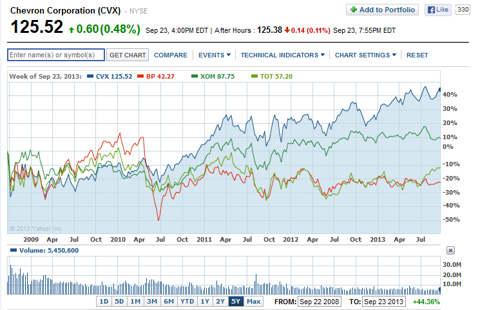 Click to enlarge
Q2 2013 results below last year's figures
On August 2, 2013, Chevron released its Q2 operating performance which came in below Q2 2012 figures:
Chevron Corporation today reported earnings of $5.4 billion ($2.77 per share - diluted) for the second quarter 2013, compared with $7.2 billion ($3.66 per share - diluted) in the 2012 second quarter. Sales and other operating revenues in the second quarter 2013 were $55 billion, compared to $60 billion in the year-ago period.
A breakdown of Chevron's up- and downstream profitability is provided below:

Click to enlarge
CEO John Watson explained lower earnings with "softer market conditions for crude oil and refined products" and as "a result of repair and maintenance activities in U.S. refineries." Fracking activity, which might have a prolonged impact on energy prices in the future, further threatened market prices as new supplies hit the market. In order to mitigate commodity pricing risk Chevron operates an alternative energy business, which probably will continue to gain in importance but will not dominate the energy mix currently employed by Chevron.
In Chevron's international upstream business the average sales prices for crude oil and natural gas declined compared to 2012. Crude oil fetched $94 a barrel, compared to $99 in 2012. Average natural gas prices declined 3% from $6.10 in Q2 2012 to $5.93 per thousand cubic feet in 2013.
Market offers better alternatives to Chevron
On an relative basis Chevron is clearly not expensive: The shares trade at just a little above ten times earnings and pay a 3.2% dividend. Those are clearly decent metrics. However, companies such as Total (NYSE:TOT) and BP (NYSE:BP) offer more downside protection with a P/E multiple of only eight and higher dividend yields: 4.67% for Total and 5.11% for BP. From a comparative point of view Exxon (NYSE:XOM) is one of the least attractive valuation plays: It is the most expensive of the peer group with a P/E of nearly eleven and exhibits the lowest dividend yield. As a contrarian investor, I believe lower valued companies with higher dividend yields and lagging performance offer a more attractive risk/reward ratio and a larger margin of safety. I have written before about the only integrated oil- and gas exploration company that I consider to be a bargain buy right now.

Click to enlarge
Free cash flow projections indicate overvaluation
Chevron's free cash flow per share in 2012 came in at $6.40 down from around $8.00 in 2011. With a current share price of $125.52 the P/FCFE ratio stands at nearly twenty. This is a fairly unattractive valuation ratio even though factored-in capex will eventually create operating cash flow. Over the last five years free cash flow has been fluctuating wildly mainly because of capital expenditures that have increased more than 50% from 2010-2012. The average free cash flow over the last five years stands at $6.09 per share. My FCFE projections can found below: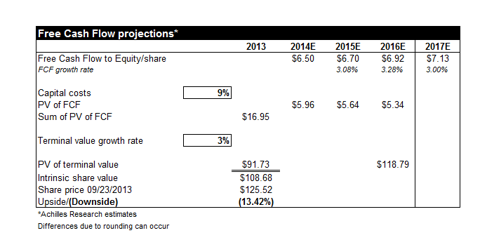 Click to enlarge
Conclusion
Chevron's energy mix and product portfolio is attractive but the run-up in share price has made Chevron the most expensive in the peer group from an earnings perspective. Also, Chevron is outperformed by Total and BP on valuation and dividend metrics which are prime criteria for value investors. The free cash flow to equity valuation approach indicates overvaluation with a fair value of $108.68 per share marking about 13% downside from the current share price. Investors looking for cheap large-cap oil and gas plays might want to take a closer look at BP or Total instead.
Disclosure: I am long BP. I wrote this article myself, and it expresses my own opinions. I am not receiving compensation for it (other than from Seeking Alpha). I have no business relationship with any company whose stock is mentioned in this article.