IPOs tend to be binary events. In many cases a stock either soars or tanks from the offering price. Noodles & Company (NDLS), which went public in late June, is an example of the former. The stock, priced at $18/share, opened at $32/share, and moved up to a high of $51.97 two days later before settling down and trading mostly in a range between $40-$46/share since then. The stock finished the trading day Monday at $43.29.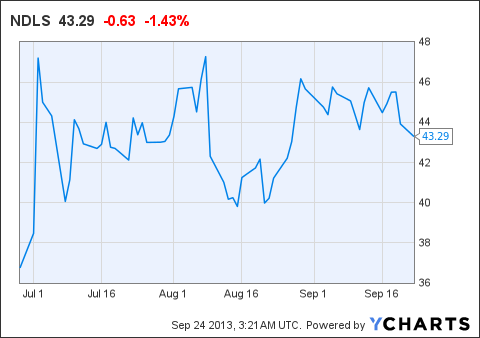 Background
Founded in 1995, and currently consisting of 350 locations, Noodles & Company offers a "fast casual" dining concept with an internationally diverse menu of noodle dishes. It offers every kind of noodle dish from simple mac-n-cheese to penne rosa, to pad thai. Its eclectic offerings and other options such as sandwiches and salads are designed to counter the "veto vote" by not identifying with any one type of food (i.e Italian, Asian etc.) As such, NDLS has no real direct competition.
Affordable Upmarket Dining
Noodles offers an upscale attractive dining atmosphere with a hybrid service model in which customers order at the counter and are served their selection on real plates with flatware and limited table service. Ingredients are fresh and dishes are made to order. Yet, average check size is under $10. Customers get great food in a pleasant atmosphere without the extra tax of having to tip or the time required for a sit-down menu. This model has worked well within the fast casual segment for the likes of Panera (NASDAQ:PNRA), Bruggers Bros. Bagels or Chipotle (CMG)
Strong Management Team That Produces Results
The comparison to Chipotle above is no accident. Both CEO Kevin Reddy and COO Keith Kinsey came to Noodles from Chipotle where they were instrumental in that company's early growth stage. Over the past five years the duo of Reddy and Kinsey has managed to grow the number of Noodles locations by 70% while driving an average annual same store sales growth rate of over 4%.
The Numbers
The company recently completed its first quarter as a public company and reported earnings of $.13/share on revenue of $89.24 million. Restaurant level margin was 21%. Same store sales growth was 4.7%. The company forecast a full-year profit of $.39-$.41/share which was a bit less than the street had expected and shares dipped into the low $40s initially but quickly recovered and have been trading in the $44-$45 range for the past several weeks. At the current price, the stock is trading at a multiple of over 100x the high end of guidance.
Why the High Valuation?
NDLS was the first IPO in the "fast casual" segment in several years. Prior to that, as a non-publicly traded entity, the company had a history of long-term sustainable growth so the business model is not an unproven concept and investors seem to be taking the "long term" viewpoint in terms of future potential. The initial offering itself was only 6.2 million shares (including the 800k share greenshoe), and was over-subscribed at $18/share. The combined "long term" outlook and limited number of shares in the float have created a "scarcity value" that has certainly contributed to lofty price.
Long-Term Investment Scenario
The company has significant growth prospects. Starting with its base of 350 units located primarily throughout 26 Midwestern states, substantial opportunity exists to expand into markets on the both the east and west coasts. Because of the above-mentioned experience of top management with CMG, it is not unreasonable to assume that NDLS will follow a similar growth strategy and pattern as Chipotle. Indeed a correlation of sorts has already been drawn that shows a curious and telling similarity of locations between Chipotle and Noodles in Minnesota. The inference of course is that NDLS is the "next" CMG in terms of unit growth and Noodles and Company signage will become as ubiquitous as Chipotle. As the charts below illustrate, both companies are adding units at the rate of 15%+ per year.

Noodles unit growth is supported by strong numbers, with revenue also growing at a comparable 15-17% rate, average unit volumes at a healthy $1.2 million and, due to lower input costs (pasta is pretty inexpensive), margins of around 20% (as compared to 15-17% for the fast casual peer group). In addition, same store sales have been solid, posting positive comps in 28 of the last 29 quarters vs. only 11 of 29 for the peer group.
Brand Recognition
The Noodles "brand" is not ostensibly grasped by consumers at first. That is, diners do not understand "noodles" as a meal like they would with more traditional fares such as burgers or pizza. That is both good news and bad news. Obviously the "bad" part of the news is that the dining public needs to be educated about the concept. To that end, management is spending $1.75 out of every $100 of revenue on advertising, although instead of a mass marketing campaign, the company is using less traditional methods such as local billboard media, email marketing and local PR events. The "good news" of this equation is that there is significant room to grow and develop a loyal customer base. Indeed, the company reports that 40% of its customers visit at least once per month.
To keep driving repeat traffic, NDLS has successfully promoted limited time menu offerings and with an average check size of about $8-9, there is the opportunity for an additional 1-2% annual price increase to be implemented without alienating that client base. A quick check of some of the top players in the segment shows NDLS has one of the smallest average check sizes in the fast casual category.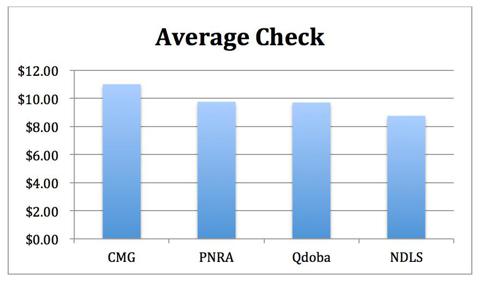 Potential Pitfalls
The biggest potential pitfall for NDLS is the same thing that makes it most attractive to investors - its rapid growth. While the market has placed a premium on this high growth concept, any growth that outpaces the company's ability to manage the process can quickly short-circuit its success. Given the fact that 80% of NDLS capital spend will be on new units, the choice of where and how quickly to build new units is most likely going to be the biggest single issue for management to consider. The preferred end-cap unit of roughly 2,500 square feet in size is one of the most desirable and sought after locations - not only by other fast food and fast casual competitors, but also by other retailers as well. Unlike the pre-recessionary real estate environment, NDLS management is going to have to compete on price for these spaces and will have to be disciplined in its spending habits.
The Bottom Line
Scarcity value has driven the price up to its current lofty level and the market appears to be willing to look at NDLS though the lens of CMG and PNRA as examples of what a high multiple success story can look like in its early stages. As the brand gains recognition and market share, it is not a stretch to pencil in average unit volumes in the $1.8-2.0 million range (in line with CMG and PNRA) and margins rising proportionately to 25%. Targeted top line growth of 15-17% and 25% EPS is a formula that has proven successful before.
However, while NDLS's comparison to CMG is reinforced by similarities in unit growth, its jump off the line at the IPO (CMG priced at $22, first traded at $44), management pedigree and the same home turf of Denver, investors would do well to remember that at the time of its IPO CMG had same store sales comps that were in the double digits. While NDLS has strong numbers, it is not that strong. At $45/share, the market has assumed a lot of growth for NDLS in the next few years. Caution and patience are the name of the game as this stock is priced for perfection.
Disclosure: I have no positions in any stocks mentioned, and no plans to initiate any positions within the next 72 hours. I wrote this article myself, and it expresses my own opinions. I am not receiving compensation for it (other than from Seeking Alpha). I have no business relationship with any company whose stock is mentioned in this article.