I don't subscribe to the idea that innovation is over. Thirst for new technology has increased the speed at which people expect new innovative product development. Innovation is the most important factor for growth in any industry especially in networking and communication. Customer demands have increased for more sophisticated, multi-tasking products and technologies that can handle and process large amounts of data in less time.
Now a days there is a new technological force sweeping the world called IoE (internet of everything). According to a report by Cisco (NASDAQ:CSCO) this force has the potential to boost aggregate corporate industry profits by 21% worth $14 trillion over the next decade.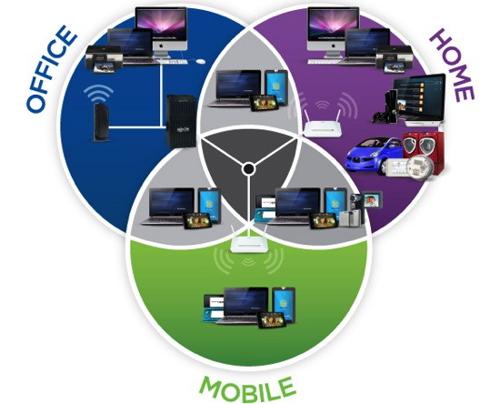 Source: Engadget

Cisco Systems Inc. is one of the companies bringing IoE to life through its networking and communication equipments. IoE is important because it is the next step in internet evolution, where everything from appliances to automobiles will be connected to share data and communicate over the internet. Cisco is the leading provider of networking and communication equipment in the industry and has the innovative ability to provide networking solutions. I look forward to analyze fundamentals of this company in order to identify if this presents an attractive investment opportunity or not.
Cisco share price has shown a mixed trend since the release of Q4 2013 results. Despite solid performance the company share price fell, as shown in the figure below.

Source: Y-Charts
The volatility in the share price is because of the company's decision to reduce its work force by 5% and lower its current quarter expectations. In my view, these are positive developments as the company follows one of the best strategies to grow and the recent layoffs are a part of its long term strategy for growth.
Performance
Cisco has reported a very strong Q4 performance despite a challenging environment in some of the key markets. The company reported revenues of $12.4 billion and net income of $2.3 billion, an increase of 6% and 18% respectively. This led to an increase in earnings per share of 17% as compared to the same quarter last year.
The overall increase in revenues is attributable to 7% in America and 12% in emerging markets.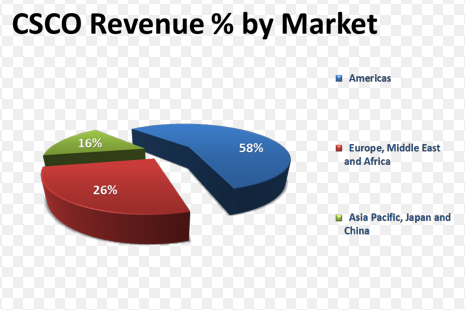 Source: Cisco product and revenue Supplement
As seen from the above figure, American region contributes 58% to the total revenues of the company and 7% increase in the US is a significant and good sign regarding future prospects of the company. In FY 2013 revenues increased by $2.5 billion and the American region's contribution toward the rise was $2.1 billion.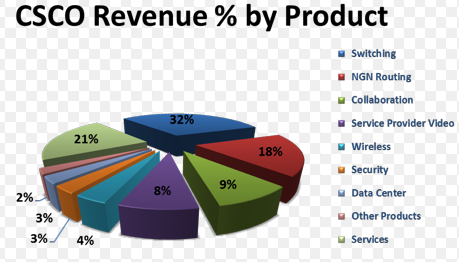 Source: Cisco product and revenue Supplement
In terms of products, core revenue generators are switching and routing products which together account for 50% of the revenues. In order to boost revenues from the company's core operating products, Cisco launched nPower chips. These chips can pump as much as 400 gigabits of data per second and can translate into hundreds of millions of transactions per second. With this new technology more people, processes and data will be interconnected by 'Internet of everything'. This new innovative product will serve as a catalyst for future growth of the company and will drive significant revenues.
Another reason to be optimistic about Cisco is its aggressive growth strategy. By rapid acquisition and heavy spending on R&D its strategy is to acquire new technologies and quickly integrate them into its existing product portfolio instead of developing new products itself.
SSD device market
In the recent press release Cisco announced that it intends to acquire SSD device maker WHIPTAIL for $415 million in cash. This seems to be a good move because SSDs are rapidly becoming popular in Global storage market as compared to other storage devices like HDDs due to features like lower power consumption, high data transfer rate and better physical properties (strength and weight).
According a report by IHS worldwide shipments of SSD devices are expected to reach 83 million in fiscal year 2013 up from 39 million in fiscal year 2012.It is expected that by 2016 shipments will reach 239 million units as a result of which Cisco will be able to capture significant market share of a rapidly growing industry.
WHIPTAIL's technology will help Cisco to extend its converged infrastructure, combining components such as servers, data storage devices, networking equipment and software into one offering. WHIPTAIL revenues are between $20 to $30 million and the company has about 80 employees. It is expected that WHIPTAIL's revenue will see a rapid growth after the acquisition because of Cisco's exceptional selling and marketing capabilities and strong customer relationships.
Historically, the moment a company makes an acquisition; the acquired technology/product gets many times more exposure to the end-user industry, where otherwise it had very limited reach. This exposure increases revenues rapidly and helps pay off acquisition costs. This acquisition will enable Cisco to keep its presence in fast growing segments/ industries which is part of Cisco's long term growth strategy.
Return Comparison

Source: Y-Charts
In term of total returns (both price appreciation and dividend payments), Cisco has outperformed its competitors and the market index over a period of one year. Investor return was more than 28% which is way higher than the return provided by its competitors and the market.
During fiscal year 2013 the company rewarded its shareholders heavily both in the form of dividends and buybacks. The company paid $0.62 in form of dividends per share in 2013, an increase of 120% from prior year. $2.8 billion were rewarded to shareholders in the form of buybacks during the fiscal year 2013 and the company has further $3.1 billion authorized under future share repurchase programs.
The company's commitment to meet its dividend obligation and repurchase agreement can be supported by strong operating cash flows and huge amounts in cash and cash equivalents as shown in the figure below.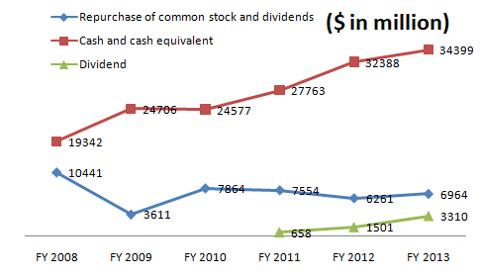 Source: Annual Report 2012, 2009; FY 13 balance sheet, Income statement
The above chart shows that despite the acquisition, heavy dividend payments and repurchases the company cash position has been improving in the last few years. This means that the company can carry on with its juicy dividend payments and repurchase program while keeping its acquisition strategy which is a key to long term growth potential for the company.
Valuation Comparison
A few year back EMC Corporation (EMC) and Cisco used to operate as strategic partners but last year VMware, which is majority owned by EMC, paid $1.26 billion for Nicira, a next-generation networking company. That deal pitted EMC and Cisco against each other by not only reducing EMC'S need for Cisco's products, but also putting the two companies in direct competition for selling network gear. EMC is trading at trailing price to earnings multiple of 21, way higher than Cisco's price to earnings multiple of 13.1. EMC's projected dividend yield is also lower as compared to Cisco's. Black Box Corporation regardless of its small size is another direct competitor of Cisco in communication and equipment industry. Black Box Corporation (BBOX) is yielding 1.2% to investors in the form of dividends and is currently trading at price to earnings multiple of 16. Among these, Cisco appears to be undervalued and presents a good investment opportunity.
Cisco price to earnings multiple of 13.1 is almost two times lower than the industry price to earnings ratio of 31. Share repurchase and increase in earnings per share has moved its forward price to earnings ratio to a further low level of 11.7.It makes Cisco relatively undervalued and means that you won't have to break a bank to acquire it. With such a cheap valuation and attractive dividend yield of around 3% Cisco presents an attractive investment opportunity to cash on.
Bottom line
In the era of Internet of Everything, Cisco will greatly benefit because of its aggressive growth strategy by acquisitions in segments which present huge growth potential and ability to integrate new technologies to its core business operation. Supported by its strong balance sheet and also on the basis of attractive valuation and decent returns I will recommend buying the stock.
Disclosure: I have no positions in any stocks mentioned, and no plans to initiate any positions within the next 72 hours. I wrote this article myself, and it expresses my own opinions. I am not receiving compensation for it (other than from Seeking Alpha). I have no business relationship with any company whose stock is mentioned in this article.